These Are The Only Two Characters To Appear In Every Episode Of CSI: Miami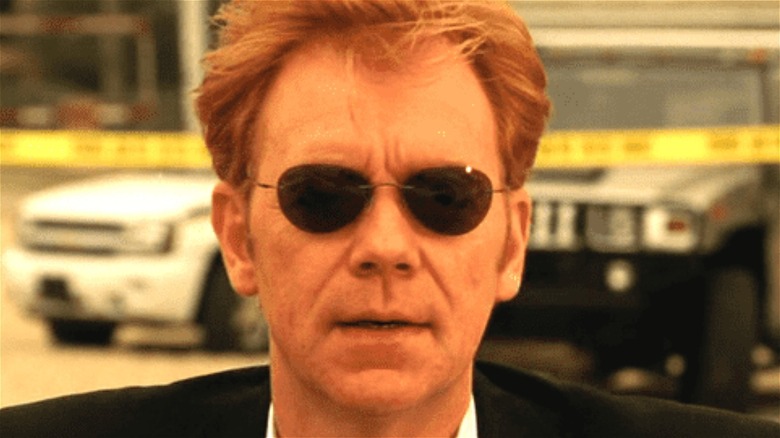 CBS
CBS' "CSI: Miami" became a success in its own right after spinning off from "CSI" in 2002. The show lasted for precisely 10 years and 10 seasons, concluding in 2012. That's a lot of seasons, and during its long run, "CSI: Miami" swapped out much of its cast multiple times (per IMDb). Characters like Natalia Boa Vista (Eva LaRue) and Frank Tripp (Rex Linn) became a beloved part of the show's landscape but were not a part of the show's original cast; even Eric Delko (Adam Rodriguez) was only a regular for eight out of the series' 10 seasons. 
But two characters stayed with the show for its entire run, from its first outing all the way to the last one. That gave these two characters a lot of time to grow and change onscreen, developing over the years under the watchful eyes of its audience. Can you recall these individuals who went the distance and appeared in every single episode of "CSI: Miami"? 
Horatio heads the pack ...
Among the 13 characters who made up the main cast of "CSI: Miami" during its run, only Horatio Caine (David Caruso) and Calleigh Duquesne (Emily Procter) appeared in every single episode of the series (per IMDb).
Since we see much of the show's world through Horatio's eyes, it's not surprising that he pops up in every single episode of "CSI: Miami." Throughout the show, Horatio generally remains the same dedicated man we meet in the pilot, determined to protect all potential victims at any personal cost to his own body. Along the way, he develops a strong bond with his team and becomes less and less ethical in his approach to cases. 
Horatio's blunt, no-nonsense style becomes his hallmark, and he never fails to side with abused or molested children and women, a fact that echoes back to his own tragic past. By the time "CSI: Miami"'s series finale has rolled around, Horatio has loved and lost — a Season 4 marriage to Delko's sister, Marisol (Alana de la Garza), ended with Marisol's tragic murder — but gained himself a family in his colleagues.
... with Calleigh at his side
Calleigh Duquesne starts the show as a CSI Level 3 and eventually becomes Horatio's assistant supervisor. Over the span of 10 seasons, the character goes from underestimated southern belle to a well-respected ballistics expert, beloved by her colleagues. Comparative to her career, Calleigh's romantic life is less than smooth throughout the show's run; her connection to Detective John Hagen (Holt McCallany) is brief, and a prior connection to undercover ATF agent Jake Berkeley (Johnny Whitworth) results in major complications for the team when he goes rogue. 
Calleigh and Delko eventually settled into an on-again/off-again romance that remained up in the air when the show reached its conclusion. Calleigh was understandably distracted at the time; In Season 10, she adopts Austin North and his sister Patty. Patty and Austin were the children of Randy North (Ethan Embry), an escaped fugitive who shot Caine and nearly killed Boa Vista in the Season 9 finale. It's a long way from single gal to happy mom, but Calleigh manages the switch with time.