Will Ferrell's Breakout Role That Almost Ruined His Career Before It Started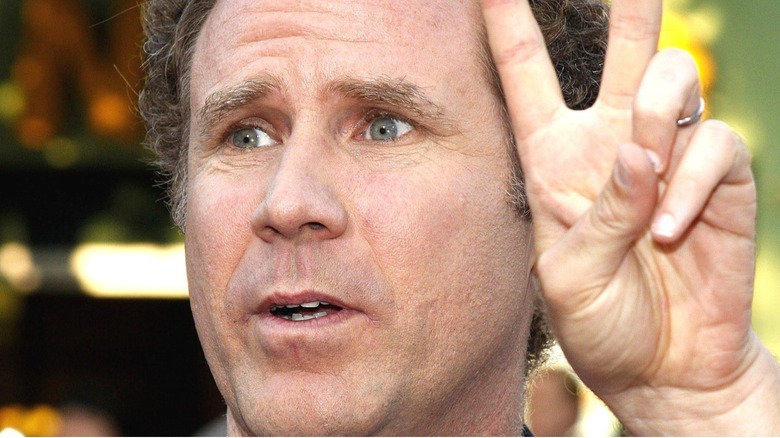 Tinseltown/Shutterstock
Will Ferrell first came into the public eye as a cast member on "Saturday Night Live." From 1995 to 2002, he was a regular on the NBC late-night sketch comedy show, according to his IMDb page. He is best known for his roles as a Spartan cheerleader, a cowbell-playing member of the rock band Blue Oyster Cult, and more. He also cemented his "SNL" fame with spot-on impressions, including former president George W. Bush and the late "Jeopardy" host Alex Trebek.
During his time on "SNL," Ferrell made the occasional movie appearance. He popped up in '90s comedies, including "A Night at the Roxbury" and "Dick." By the early '00s, he had proven himself such a capable actor that he began to move away from smaller roles and projects linked to "SNL" creator Lorne Michaels, like "The Ladies Man" and "Superstar." After he departed from the sketch show in 2002, he made the hard pivot toward movies and, in hindsight, clearly succeeded with hits like "Old School" and "Step Brothers."
But, when it comes to career regrets, Ferrell has gone on record with at least one. After leaving the steady late-night gig, the comedian's first major feature film made him very nervous. Not only did he have second thoughts about the role, but he feared it would ruin his career forever.
Will Ferrell once regretted joining the 2003 Christmas movie Elf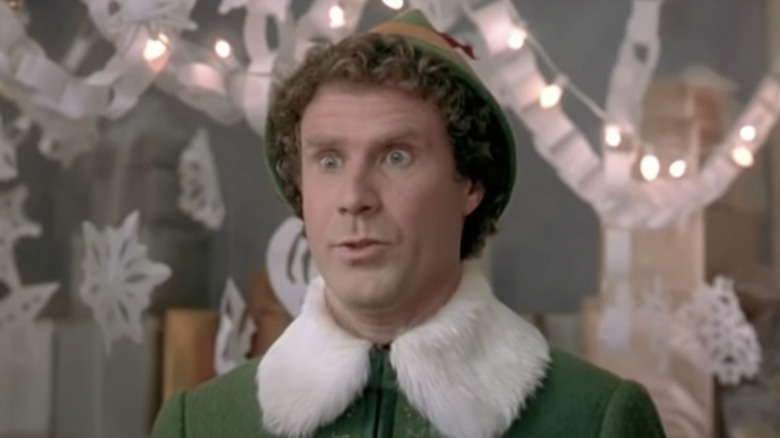 Warner Bros.
In 2003, Will Ferrell played Buddy the Elf in director Jon Favreau's holiday movie, "Elf." The film featured veteran actors James Caan and Mary Steenburgen, who took on the straight-laced roles of Buddy's parents. Meanwhile, Ferrell donned tights, a pointy hat, and elf shoes to play a man-child looking for his human family years after he is adopted by Santa and raised by elves at the North Pole. In the movie, Buddy embarks on a quest to find his real dad in New York City, and the shoot featured multiple scenes on location in the Big Apple.
During a December 2018 appearance on "The Late Late Show With James Corden" (via YouTube), Ferrell opened up about his initial "Elf"-related worries. He recalled how he became nervous that people would recognize him from "Saturday Night Live" but now only see him "running around New York City in yellow tights" during filming and wonder what was going on with his career. "This is either going to be a home run, or people are going to go, 'Whatever happened to you? Why did you do that one about the elf?'" he told host James Corden. He even revealed that Caan admitted that he initially thought Ferrell was "way too over the top" as Buddy.
Will Ferrell's fears were lifted when he attended the Elf premiere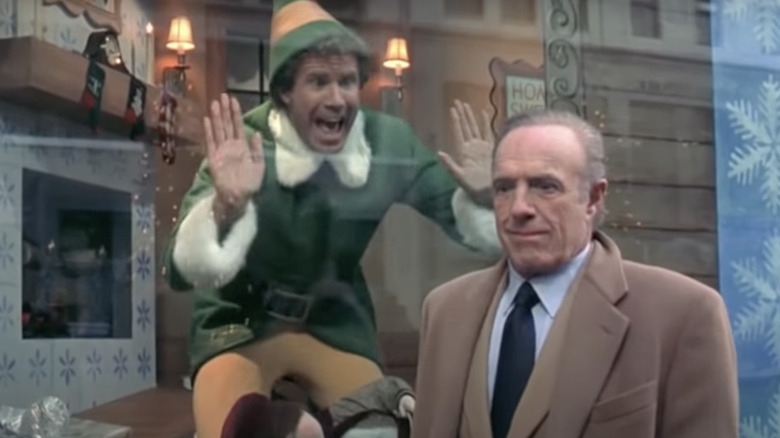 Warner Bros.
Despite Will Ferrell's worries that it would bomb at the box office, "Elf" remains one of the highest-grossing holiday movies of all time (via Forbes). According to Box Office Mojo, the Jon Favreau film raked in nearly $224 million worldwide and still holds an 85% critics approval rating on Rotten Tomatoes. "Elf" even inspired a Broadway musical (via The New York Times), further proving its hit status.
But long before the film's global success, Ferrell made peace with the Buddy role while at the "Elf" Los Angeles premiere, to be exact. In a 2018 interview with Rotten Tomatoes, he recalled how nice it was seeing Buddy's Christmas spirit in a heartwarming scene. In fact, it was so nice that it got him choked up at the screening. He noted that he was happy to bring "a nice breath of innocence to the world and especially to [New York City] at that time in the early 2000s. "I'm really proud of it," he told Rotten Tomatoes. "If it's ever in a theater or playing on television, I love to check in on it."
Ferrell was even on board for an "Elf" sequel, according to his co-star James Caan. Unfortunately for fans, the "Elf 2" movie never happened because "the director and Will didn't get along very well," Caan told a Cleveland radio show in 2020, according to The Wrap. "So, Will wanted to do it, he didn't want the director, and he had it in his contract, it was one of those things."