Why Walking Dead Fans Think This Major Character Is The Next To Die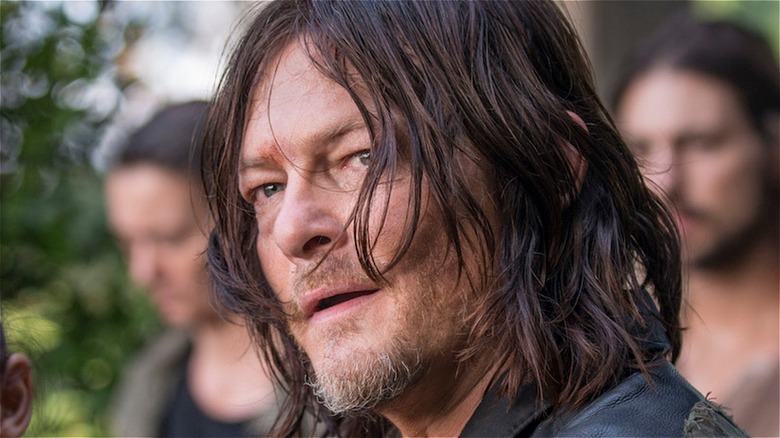 AMC
Contains spoilers for "The Walking Dead" Season 11, Episode 8, "For Blood"
On Sunday, AMC aired the eighth episode of "The Walking Dead" Season 11, titled "For Blood," which marks the conclusion of the first third of its final season. Instead of releasing the eleventh season all at once, AMC has divided the season into three separate batches of eight episodes. Each part of Season 11 has a different premiere date, and all three are spread across the calendar. This means "The Walking Dead" will end in either mid-2022 or possibly even later that year (via Deadline).
Some big plot twists are assuredly in store as "The Walking Dead" approaches the series finale, especially considering there are 16 episodes left in Season 11. The long-running AMC series has never been stingy about killing off characters. As the finale draws closer, the fates of some major "Walking Dead" characters may already be in question. In fact, a moment in Sunday's "For Blood" episode has led some fans to speculate that a significant character death could be in the series' near future.
Fans think Rosita is in danger
In a discussion thread about Season 11, Episode 8, "For Blood," on the Reddit r/thewalking dead, two users separately speculated that Rosita (Christian Serratos) may be in trouble. Redditor u/girlfromthenorthco commented, "I feel like Rosita had the same look on her face when she re-entered the house as Carl did right after he got bit." 
This is in reference to a scene in the episode wherein Rosita temporarily steps out of a house that serves as a safe haven during a thunderstorm and walker attack that are happening simultaneously. She leaves to handily dispatch a pack of walkers before re-entering the house and quipping, "Let's stay away from the windows." User Girlfromthenorthco's comments seem to theorize that one of the walkers bit Rosita off-camera as she fought them single-handedly, given that, after her return, she resembled Carl (Chandler Riggs) when he was bitten in the Season 8 midseason finale (via The Hollywood Reporter). Their comment was met with more than 120 upvotes and multiple comments agreeing with the theory.
Redditor u/TheBFlem27 similarly posted, "I bet Rosita got bit," and received more than 20 upvotes. That said, some commenters in both threads, like u/hayleybc, have noted that Rosita is in a trailer for Season 11B, seemingly confirming her survival. U/Glittering-Dance-132, however, theorized that even if she survives, a bite from a walker could still potentially necessitate losing a limb, while original commenter u/girlfromthenorthco argued that her preview appearance could simply occur before her death.
"The Walking Dead" Season 11B will presumably reveal Rosita's fate when it premieres on February 20, 2022.