Things Only Adults Notice In Hey Arnold!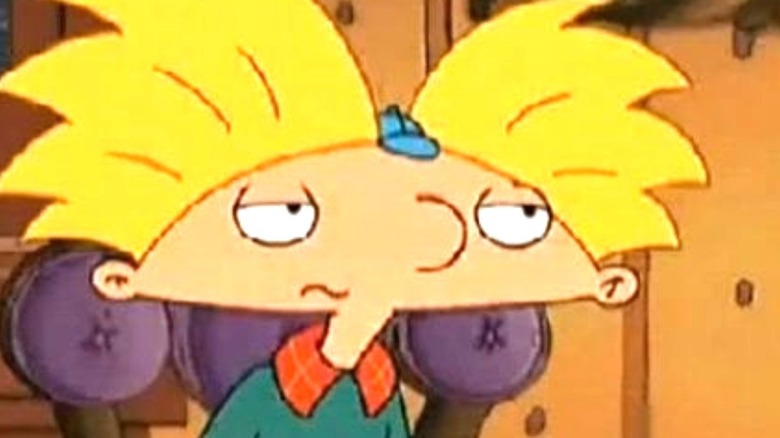 Nickelodeon
From 1996 to 2004, the children's television series "Hey Arnold!" ran on Nickelodeon. Created by Craig Bartlett, the popular show followed titular protagonist Arnold as he navigated life in the fictional city of Hillwood with his neighbors and friends. Over time, the beloved cartoon earned steady praise for its thoughtful and nuanced take on childhood. Its enduring appeal was largely rooted in its ability to handle mature themes in a way that respected the perspectives of both adults and young children. From economic instability to the traumas of war, "Hey Arnold!" tackled difficult and complex topics with a compassionate eye.
In an interview with Vox, Bartlett revealed that he pitched the story to Nickelodeon as "Charlie Brown for the '90s." As the animator explained, he hoped to dig into the triumphs and disappointments of growing up. He was particularly drawn to the inherent melancholy of situations that often feel like a loss of control for young children. He noted, "[We were] making a show about a sensitive kid that really reflected emotionally what it's really like to be a kid. You're kind of powerless..." At the same time, Barlett also sought to imbue the narrative with a kindhearted ethos, one that pivoted upon helping others, regardless of the outcome.
Considering the reflective mindset behind its conception, "Hey Arnold!" certainly was not afraid to wade into deep waters. Let's explore a few moments in the show that only become clearer once you re-watch them as an adult.
Arnold's parents have been missing for years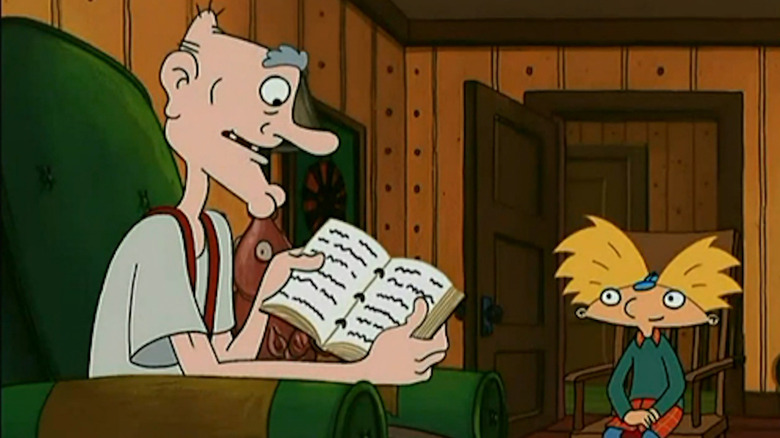 Nickelodeon
Throughout the series, Arnold lives in a city boardinghouse located under a freeway overpass. The building, which his grandparents run, boasts an eclectic mix of residents who habitually argue, laugh, and bond like a large, eccentric family. While many of the spaces, including the kitchen and living room, are communal, Arnold has his own room in the attic. Notably, not much is shared about why he lives with his grandparents until the third season. Until then, questions about his upbringing mainly exist in the background, slowly building up to the significant and heartbreaking reveal in "Parents Day."
In this episode, Grandpa Phil regales Arnold with descriptions of his parents and their epic exploits in the jungles of Central America. Eventually, the audience discovers that Arnold's parents disappeared when he was just a toddler. At the time, the couple decided to travel to the fictional city of San Lorenzo in order to help cure its residents of a mysterious "sleeping sickness." However, in a dark twist, Arnold's parents are never seen again (though, finding his parents in South America would later be the plot of the 2017 TV film "Hey Arnold! The Jungle Movie.")
Here, Arnold confronts his personal grief about his parents' absence. At the same time, he also learns to appreciate all that his grandparents have done for him. It is a moving episode that acknowledges the emotional complexities when facing real-life loss and uncertainty. It also pays tribute to the idea that there are many different kinds of families — and that being different from your peers is okay.
Helga is neglected by her parents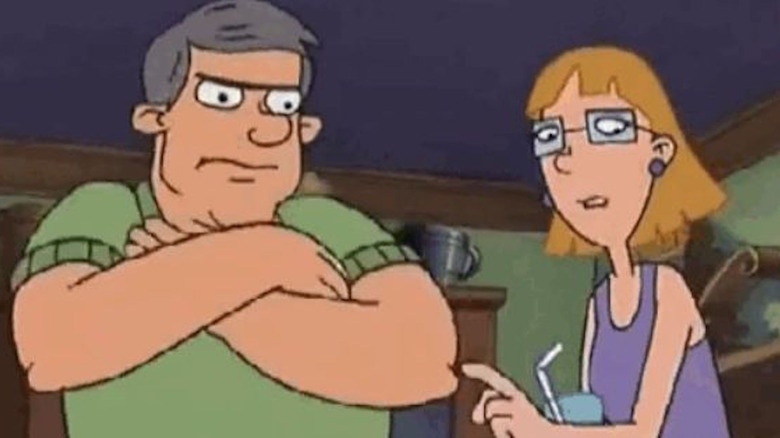 Nickelodeon
When watching "Hey Arnold!" as an adult, it becomes heartbreakingly obvious that Helga G. Pataki suffers from emotional neglect. Her parents often ignore her due to their own personal demons, leading to a dysfunctional household. Helga's mother, Miriam, appears to struggle with alcoholism. She is frequently shown making "smoothies," which causes her to slur her speech or pass out at the kitchen table. Frequently, she does not seem to know what day it is or where she is. As a result, Helga is usually unable to reach out to her mother for meaningful support.
At the same time, Helga also grapples with how to establish any kind of connection with her father, Bob. An overbearing and loud character, he often interrupts Helga and issues long, angry tirades about his job. He is typically depicted as pushy and domineering, failing to take notice of Helga's plight or her occasional pleas for help.
Moreover, Helga's parents only occasionally demonstrate an interest in family bonding — and it is solely reserved for when her older sister, Olga, visits. Upon her arrival, Bob and Miriam shower Olga with affection and praise. This, in turn, quietly devastates Helga, who is consistently snubbed and mistreated by the very people meant to care for her. Throughout its run, "Hey Arnold!" poignantly added depth and dimension to the inner workings of Helga's life, creating an authentic and multifaceted character who put up an angry façade to hide her pain.
The show subverted female stereotypes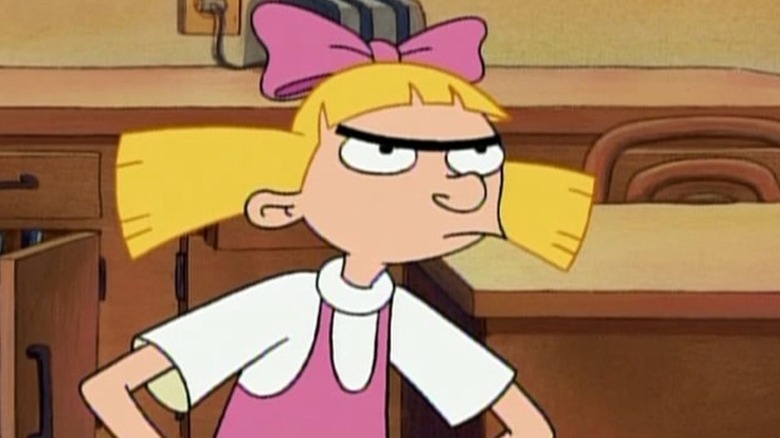 Nickelodeon
By providing context for Helga's home life, she herself transforms into an emotionally rich figure who is unsure whether to tear down her walls or stay "strong" and impassive. While internally struggling with her self-worth, Helga maintains a strong sense of identity at school. Despite her prickly and audacious nature, this type of gumption is admirable. She refuses to cower down or make herself smaller in front of her peers.
While speaking to Vox, Bartlett shared that women have regularly approached him over the years to thank him for his portrayal of Helga. According to the creator, these female fans often saw themselves in the rambunctious character. Frequently listed as one of the great feminist cartoon characters on TV, the introduction of Helga was an affirming moment for many young girls. Significantly, Helga was not punished for speaking her mind. She was allowed to demonstrate her intense and chaotic feelings without having to change who she was. In this way, the series did not dismiss Helga's complicated emotions but instead validated her anger.
Rather than promote a more palatable version of girlhood, one that encouraged quiet, meek behavior, "Hey Arnold!" featured the human messiness of real girls and women. Helga was a breath of fresh air for children who were loud and confused and not always perfectly "likable."
Most of the kids live in working-class neighborhoods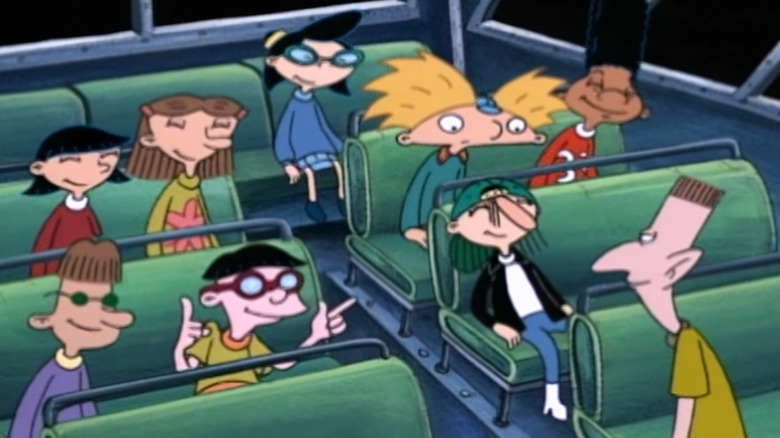 Nickelodeon
Unlike other popular family TV shows, which often take place in affluent suburbs, "Hey Arnold!" followed a cast of kids who lived in a lower-income urban neighborhood. While Arnold resides in a boardinghouse with his grandparents, other characters similarly live in smaller city residences. They also rely primarily on public transportation for travel. In an interview with Bloomberg, Bartlett said, "I wanted to show that these kids don't have a lot of money. They're not completely poor, but they're growing up in working-class families, so public transportation is the option you take." The series often delved into multifaceted issues related to economic instability and upheaval.
In "Ms. Perfect," a group of girls at school are threatened by the arrival of Lila, a seemingly flawless character who woos everyone around her. However, after attempting to prank her, they discover that Lila lives below the poverty line with her father. From this point forward, the students realize not to assume they always know or understand someone else's home life or economic status.
At the same time, the show also spotlighted the simple beauty that shines even in seemingly neglected areas. Arnold and his friends experience true childhood joy, exploring their city like a giant playground and making fiercely happy memories. They are not always tied to struggle. As Bartlett articulated, "I think that just because something's rundown and old doesn't mean it's ugly. Beauty is definitely in the eye of the beholder" (via Bloomberg).
The show tackles the devastating aftermath of war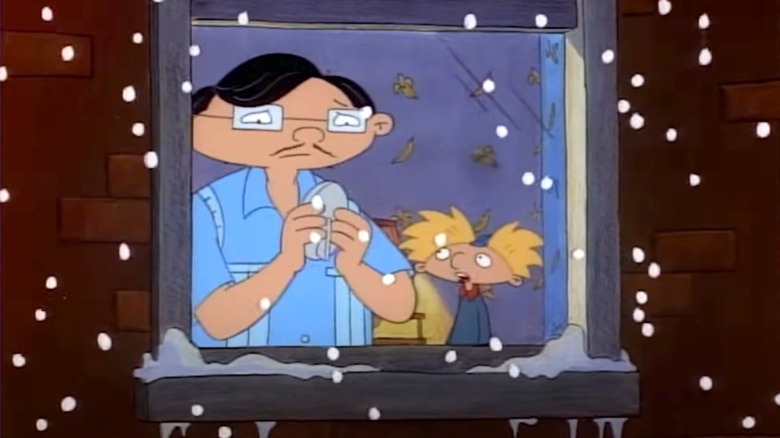 Nickelodeon
The show's very first holiday special in 1996, "Arnold's Christmas," depicted the traumatic consequences of the Vietnam War. During the episode, a boardinghouse resident named Mr. Hyunh describes the fall of Saigon in 1975. During the upheaval, he attempted to escape with his daughter, Mai. However, unable to flee, Mr. Hyunh left Mai with an American soldier, who told him he would take her to Hillwood. In a tragic turn, he was only able to reach the city after 20 years, during which time he had failed to find Mai. Profoundly moved by the story, Arnold and his friends work to locate his daughter. By the end of the episode, Mai is finally reunited with her father. 
Bao Nguyen, a Vietnamese-American director, offered his own insight regarding the potency of the story: "This was really the first time where I felt like the Vietnam War story was completely centered around the Vietnamese perspective. It wasn't diluted in a way to cater for a white audience. It was unapologetically the Vietnam perspective" (via NBC). Notably, the voice actor for Mr. Hyunh, Baoan Coleman, was also a Vietnamese refugee and had contributed to the drafting of the script. This added deeper layers of authenticity to a plotline rooted in real and devastating history. Repeatedly, "Hey Arnold!" took important and necessary risks with its storytelling to shed light on social and political aspects of American life usually ignored or dismissed.
It talks honestly about social alienation and isolation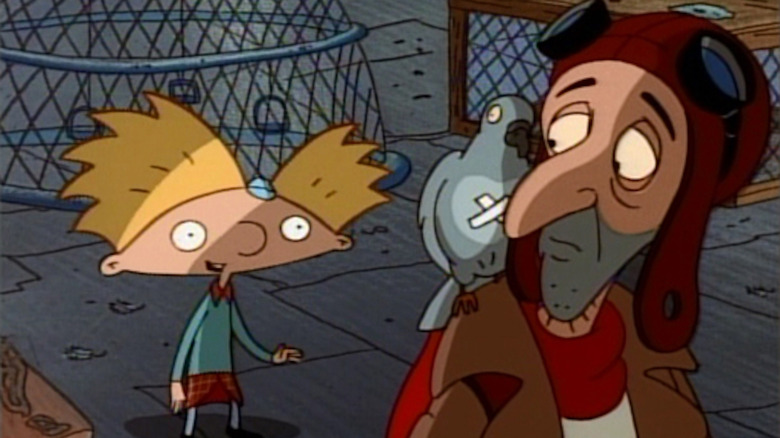 Nickelodeon
In a similar vein, "Hey Arnold!" also crafted a bittersweet episode devoted entirely to navigating the sorrows of social alienation. In "Pigeon Man," Arnold discovers an injured pigeon on his roof. He seeks out the help of a character called "Pigeon Man," who has isolated himself due to a difficult adolescence. Revealing that his real name is Vincent, the man informs Arnold of his childhood love for pigeons and his commitment to caring for them. Growing up, his community mocked and shunned him for his interests, which ultimately led to him living alone on a roof, surrounded by birds.
Arnold's kindness draws out the warmth and humor in Vincent's personality. After talking, the two characters decide to go out for pizza. During this time, a group of boys find Vincent's rooftop pigeon coop and destroy it. When the duo return, Vincent once again finds himself losing hope in the good of humanity. While he thanks Arnold for his sympathy, he chooses to leave, realizing that he cannot remain in a place where he is not wanted.
The episode movingly navigates social isolation and the ways in which it becomes easier to hide away rather than face deeper mistreatment. Despite Arnold's attempts to "fix" the situation, he is still a kid. His thoughtful efforts help Vincent's demeanor, but they cannot fully remove the ills of the world.