This Is Where Grown Ups Was Actually Filmed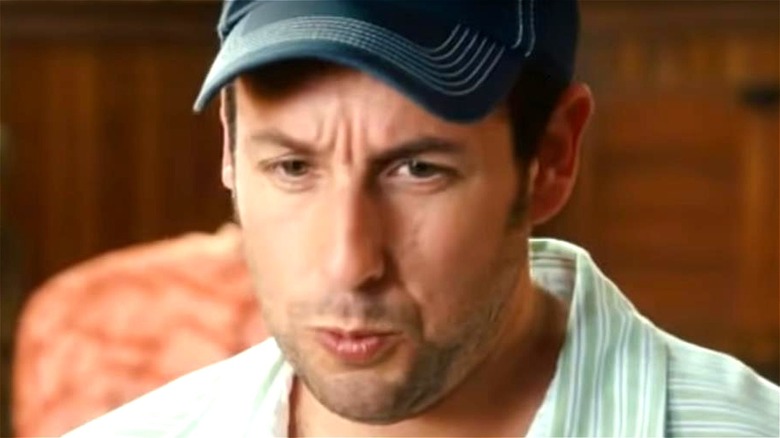 Sony Pictures Releasing
The 2010 Adam Sandler comedy "Grown Ups" might not be remembered as the height of cinema (it has an 11% critical score on Rotten Tomatoes), but it's a fun summertime flick that features a lot of familiar faces and a relatable story. In addition to Sandler, who co-wrote the movie with Fred Wolf, "Grown Ups" stars Kevin James, Chris Rock, David Spade, and Rob Schneider as five childhood friends who reunite as adults with their families at a lake house in their hometown. While the trip is originally meant to commemorate their former basketball coach (Blake Clark) following his death, it proves to be one full of shenanigans and emotional catharsis for the lifelong buddies.
Part of the draw with big comedy movies like "Grown Ups" is the location because it lets you conjure up some fun summertime vibes without having to leave your couch. If you're looking for your next lakeside vacation destination, or if you enjoy knowing where Sandler movies are shot, here's all the info you need about the filming locations for "Grown Ups."
Grown Ups was filmed in picturesque New England location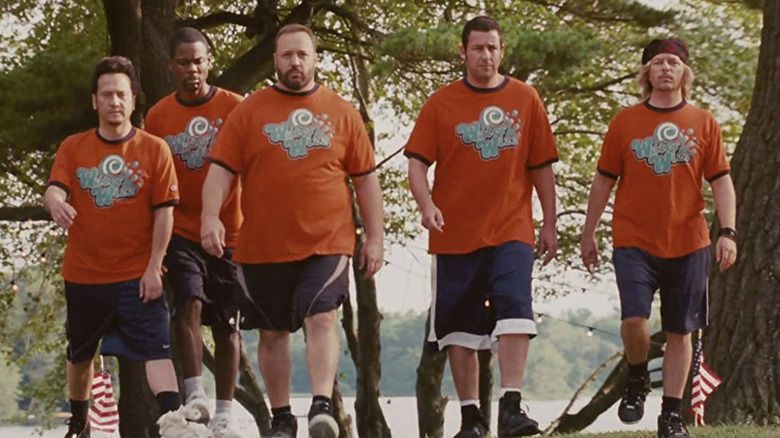 Sony Pictures Releasing
The "Grown Ups" movie is, for the most part, set at a lake house location in New England. In the movie, the house is near the fictional Amoskeag Lake. In reality, Chebacco Lake, a 209-acre reservoir near Essex, Massachusetts, doubles for Amoskeag Lake (via Lake Homes). Technically, Chebacco is classified as a "great pond," which, in turn, is defined as any pond or lake bigger than 10 acres (via Mass.gov). But the location is breathtaking enough in the movie that audiences will be charmed by it regardless of classification.
Another key scene in the 2010 comedy takes place at the fictional restaurant called "Woodman's Eat in the Rough." The restaurant location used to film this scene has some similarities in name to the movie restaurant. "Grown Ups" director Dennis Dugan and the movie's creative team opted to use the real-life eatery Woodman's of Essex. The production shut the restaurant down for three rainy days in June, the first time the restaurant had closed in 95 years (via Sea Coast Online).
As for the rowdy water park sequence, the "Grown Ups" team chose to use Water Wizz, which is both the name of the location in the movie and in real life. The water park is an eight-acre theme park located in nearby Wareham, Massachusetts. The location was also featured in the 2013 Steve Carell film "The Way, Way Back" (via The Boston Globe).