Will We Ever Get The Martian 2?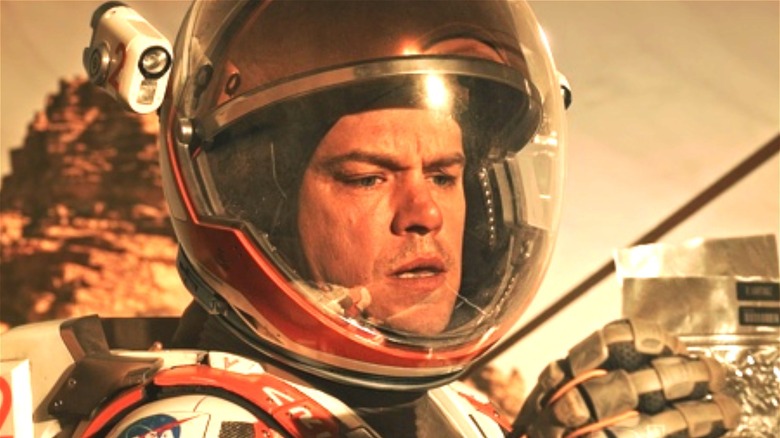 20th Century Fox
When the big-screen adaptation of Andy Weir's 2011 best-selling sci-fi novel "The Martian" was released in U.S. theaters on October 2, 2015, it already had the makings of a blockbuster. Directed by legendary "Blade Runner" and "Alien" filmmaker Ridley Scott, the production certainly had heaps of credibility on the creative side, which was bolstered by a massive ensemble cast, including actor-slash-Oscar-winning screenwriter Matt Damon, Oscar nominees Jessica Chastain and Kristen Wiig, and acclaimed actors Jeff Daniels, Benedict Wong, Michael Pena, Sebastian Stan, and Donald Glover.
"The Martian" is a riveting tale about an international effort to rescue Mark Watney (Damon), a NASA astronaut stranded on Mars after he's hit by debris and presumed dead in an emergency evacuation by his crew from the Red Planet. While living quarters had already been erected by the crew members, Mark still needs to get resourceful and find a way to grow food — potatoes, specifically, even though he has resorted to a disgusting source to fertilize them — as well as communicate with Earth until his colleagues can figure out a way to retrieve him.
The film was embraced by critics and earned a stellar 91% "fresh" critic and audience rating on Rotten Tomatoes, and fans went along for the ride as the film earned $630 million worldwide (via Box Office Mojo). The love for "The Martian" continued into awards season, as the film snagged seven Oscar nominations including Best Picture, Best Adapted Screenplay for Drew Goddard, and Best Actor for Damon.
In short, "The Martian" had so much going for it that a sequel seemed inevitable — but are fans going to get one?
A sequel to The Martian is not in the works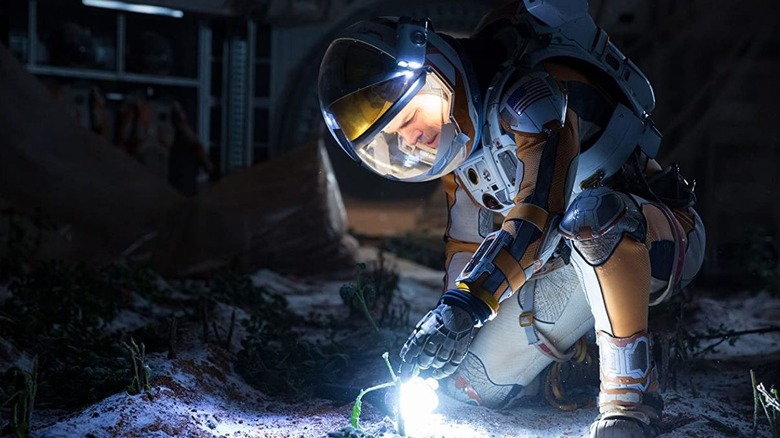 20th Century Fox
Despite heavy doses of rumor and speculation (via Half Guarded) that a "Martian" sequel is — or at least, was — underway, "The Martian 2" never attained liftoff, much less a countdown to launch. Instead, Andy Weir has another space adventure underway, but this one is based on his crime thriller set on the moon.
Following up on the success of "The Martian," the Los Angeles Times reported in 2017 that Weir's next movie adaptation would be of his novel "Artemis." IMDb, however, lists "Artemis" as in development, with "The LEGO Movie" and "21 Jump Street" filmmakers Phil Lord and Christopher Miller listed the directors.
While the plot outline of "Artemis" is unique, it hardly could be considered as a sequel to "The Martian." In an interview with Indulge Express, Weir said the story "takes place in a city on the moon in the late 21st century. The main character is a woman who is a small-time criminal, and she gets in way over her head."
The Martian and Artemis have similarities, Andy Weir says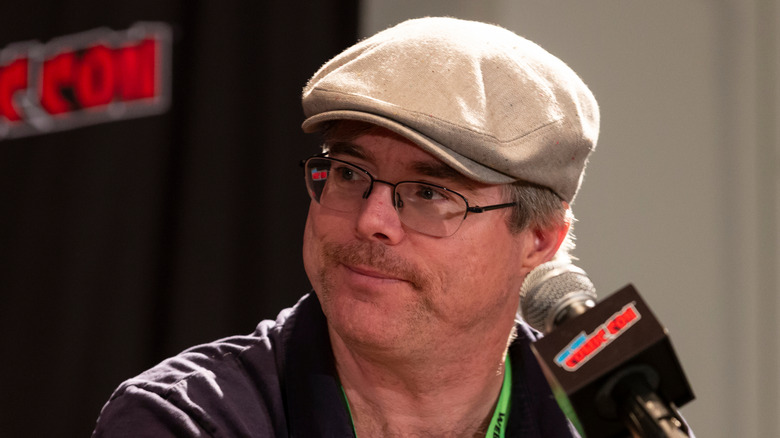 lev radin/Shutterstock
Noting the differences between "The Martian" and "Artemis," Weir said the latter is a story about "colonization, not exploration."
"I think we will colonize the moon before we colonize Mars. While Mars has more raw materials, the moon is just so much closer, it's considerably easier to colonize," Weir told Indulge Express. "Also, unlike Mars, the moon could be a tourist destination, due to the comparatively short travel time to get there."
That's not to say there aren't similarities between "Artemis" and "The Martian." Weir told the publication that "they both involve scientific solutions to complicated scientific problems." However, Weir added that "The Martian" was more of a tale of humans versus nature and a story of survival. "'Artemis' is a crime story with mysteries involved — a plot that was harder to write but also more interesting, I think," he shared.
"Artemis" has no release date scheduled. Meanwhile, Matt Damon and Ridley Scott have reunited for the historical medieval drama "The Last Duel," which is set to open in theaters on October 15.