The Political Thriller That Almost Ruined George Clooney's Career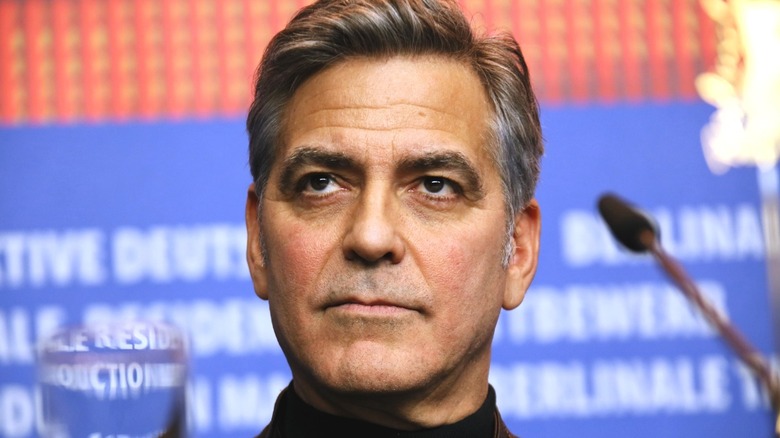 Denis Makarenko/Shutterstock
Over the course of an illustrious career, George Clooney has become one the most famous figures in Hollywood. He rose to prominence as Dr. Doug Ross on the NBC medical drama "ER," a role that garnered Clooney two Primetime Emmy nominations. Clooney's filmography has gone on to include films such as "From Dusk Till Dawn," "Batman & Robin," "Ocean's Eleven," "Burn After Reading," and "Tomorrowland," among others.
He also made his directorial debut in 2002 with "Confessions of a Dangerous Mind," with his latest effort, titled "The Midnight Sky," premiering on Netflix in December 2020. In addition to his commercial success, Clooney has also enjoyed critical success, with numerous Oscar nominations for acting, writing, directing, and producing.
However, there is one film that threatened to derail Clooney's career in an abrupt fashion. While Clooney has been able to jump from genre to genre with ease, it wasn't an action film or strenuous comedy that led to this, but rather a political thriller.
Clooney suffered a major injury while shooting Syriana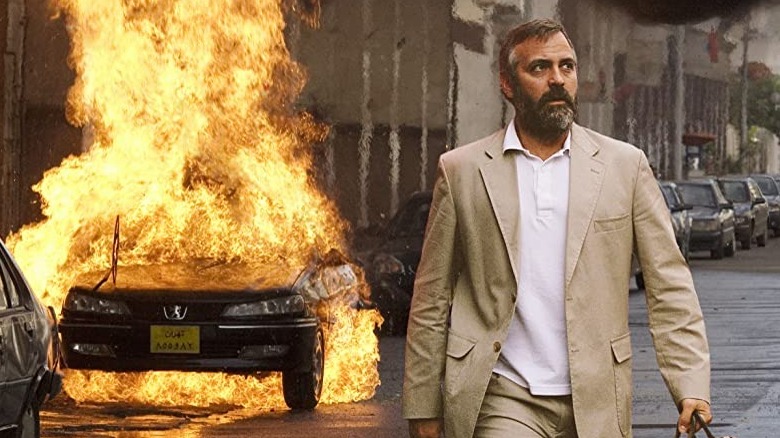 Warner Bros.
"Syriana" is a 2005 political thriller that starred Clooney as Bob Barnes, a CIA officer who finds himself on the outs with the agency after an assignment goes south. The film was directed by "Traffic" scribe Stephen Gaghan, who went on to do the 2020 film "Dolittle," and Clooney's work in the film earned him both a Golden Globe win and an Oscar win for Best Supporting Actor.
Despite the accolades, however, shooting the film was no easy feat for Clooney. Speaking to The Hollywood Reporter, he talked about how, while shooting a scene where Barnes is tortured, he fell and injured his head to the point that spinal fluid was coming out of his nose. He immediately returned to the U.S. from Morocco — where the film was being shot — and checked himself into a hospital, but it was another three weeks until he was able to get a diagnosis on what had happened to him, thanks to Lisa Kudrow's brother, who is a neurologist.
It turned out that Clooney had suffered extensive injuries, including a tear to his dura, which is the outermost layer surrounding the human spinal cord. The treatment required blood to be injected into his spinal cord through a long needle, and to compound the situation, he had to be conscious during the procedure.
After 15 such injections, Clooney ended up going in for a nine-hour surgery in late 2005 that was ultimately successful.
The pain drove Clooney to contemplate suicide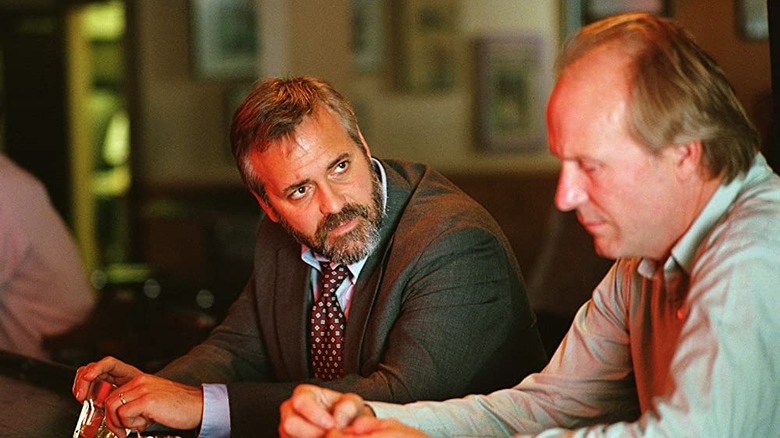 Warner Bros.
In his interview with The Hollywood Reporter, George Clooney admitted that he considered suicide due to the pain from the hospital stay and the subsequent treatments he had to go through. "I thought I was going to die. Talk to any doctor about a CSF — a cerebral/spinal fluid leak — and they'll tell you it's way up there on the pain scale. There was this whole coming to terms with [mortality]." Clooney told the publication.
In an interview with Rolling Stone, Clooney expounded on the tremendous physical pain he felt after his surgery. "I was at a point where I thought, I can't exist like this. I can't actually live.' I was lying in a hospital bed with an IV in my arm, unable to move, having these headaches where it feels like you're having a stroke, and for a short three-week period, I started to think, 'I may have to do something drastic about this,'" he said.
"Syriana" is currently available to rent or buy on iTunes, Amazon, and Google Play.
If you or anyone you know is having suicidal thoughts, please call the National Suicide Prevention Lifeline​ at​ 1-800-273-TALK (8255)​.