In Steven Seagal's Action Career, One Movie Stands Above The Rest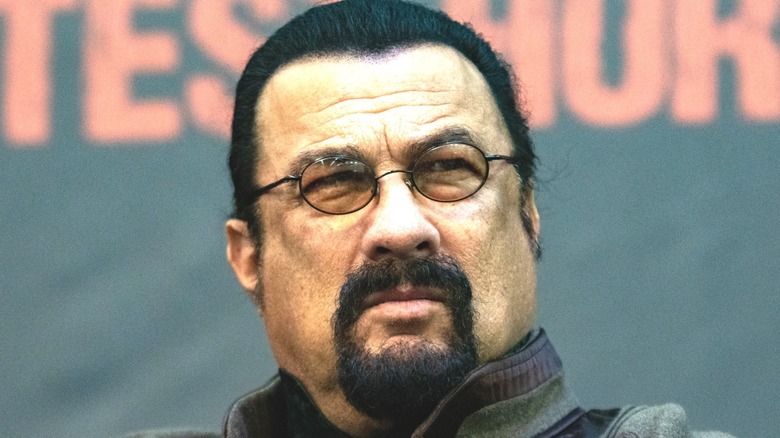 Markus Wissmann/Shutterstock
Steven Seagal has been in a lot of terrible movies. In fact, it's fair to say he's mostly been in terrible movies. A look at his IMDb shows a whole lot of forgettable action flicks that went straight to the medium of the era, whether video, DVD, or on-demand. He pioneered the low-effort "geezer teaser" style of filmmaking (via Variety) that has since been adopted by higher-tier stars like Bruce Willis, Nicolas Cage, and John Travolta.
But he wasn't always so bad, at least not as an action movie star. The 1991 cast of "Saturday Night Live" would say he's always been bad. But there's a reason he's been able to keep his career going as long as he has. Early in his career, his martial arts skill and weird charisma made him a good action star. He starred in a handful of box office hits and even got some critical praise.
The stuntman-turned-actor's run of success started with his debut starring role in 1988's "Above the Law," which movie blogger Will Sloan hilariously described as a film where ​​"an artist emerges fully-formed." He got bigger and bigger in the early '90s thanks to his next three movies, "Hard to Kill," "Marked for Death," and "Out for Justice." He peaked -– creatively, critically, and financially –- with his fifth movie.
Steven Seagal's best movie may be Under Siege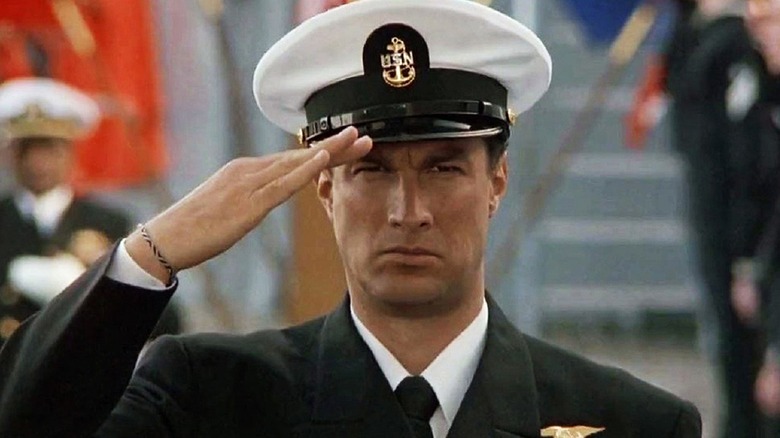 Warner Bros.
"Under Siege" came out in 1992. The movie tells the story of Casey Ryback, a former Navy SEAL who's working as the culinary director on a soon-to-be-decommissioned battleship. When terrorists posing as caterers hijack the ship, Ryback has to go back into butt-kicking action to save the day, with the help of a Playboy Playmate named Jordan Tate (Erika Eleniak), who becomes his sidekick. It's basically "Die Hard" on a boat.
"Under Siege" gave Seagal some unusually potent co-stars who helped elevate the movie with their villainous performances. Tommy Lee Jones played William Strannix, the leader of the terrorists. Jones reunited with director Andrew Davis the following year for "The Fugitive," an excellent movie that won him an Academy Award for Best Supporting Actor. Gary Busey was great as Commander Krill, the ship's corrupt executive officer. And Seagal himself was used sparingly for someone who was billed as the lead star, which maximizes his impact. The movie played to his strengths as a stuntman and wisecracker without overdoing it.
By every metric, Under Siege overachieves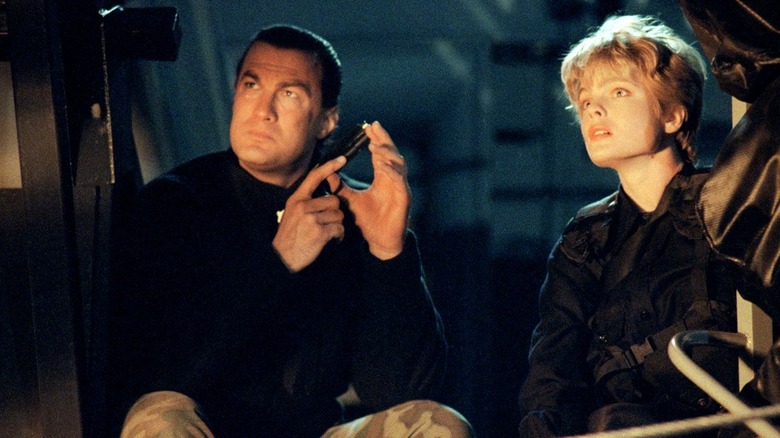 Warner Bros.
"Under Siege" is the only movie with Seagal's face on the poster to have a positive score on Rotten Tomatoes, at 79% "Fresh." Roger Ebert gave it three out of four stars and called the cast "effective."
It wasn't just a critical success, either. It connected with audiences better than any other film of Seagal's. It has a 62% audience score on Rotten Tomatoes, the only positive score on a Seagal-led movie with more than a handful of ratings. And it's the highest-grossing movie of Seagal's career, grossing more than $156 million worldwide, according to The Numbers.
On retrospective lists ranking Seagal movies, "Under Siege" is always at or near the top. ScreenRant put it at No. 1. Ultimate Action Movies put it at No. 3, behind "Above the Law" and "Out for Justice." Den of Geek ranked it fourth. Giant Freakin Robot called it his "most iconic movie."
Finally, it stands out for being a Seagal film that actually got an Academy Award nomination – two of them, in fact, for Best Sound and Best Sound Effects Editing. It didn't win either of them, but for a Steven Seagal movie to be nominated at all, it may as well have won.