The Hellraiser Reboot Just Cast A Groundbreaking New Pinhead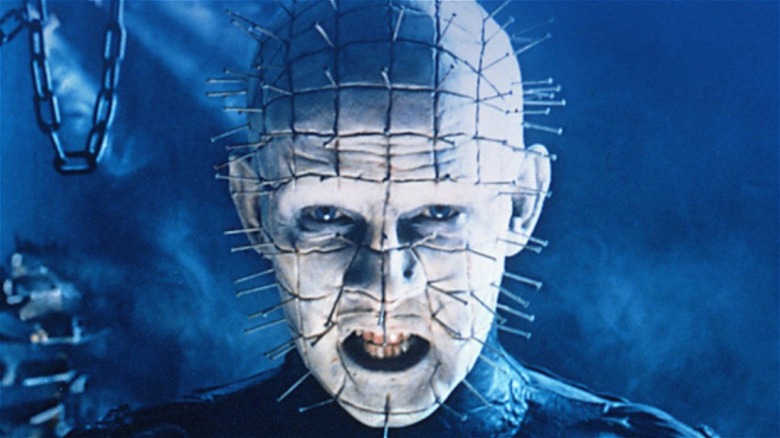 Entertainment Film Distributors
The "Hellraiser" franchise hasn't seen mainstream success in a very long time. Every film in the franchise after the fourth entry, "Hellraiser: Bloodlines," was a direct-to-video affair, and the last two films — "Hellraiser: Revelations" and "Hellraiser: Judgment" — struggled specifically because neither actor who took over the iconic role of Pinhead from Doug Bradley could quite match his performance.
However, hope springs eternal for fans of creator Clive Barker and his sado-masochistic cenobites, and that hope may finally have found purchase. Clive Barker is producing the new film along with Marc Toberoff, David S. Goyer, and Keith Levine. "V/H/S" director David Bruckner is directing the film from a script written by Ben Collins and Goyer.
The behind the scenes stuff isn't nearly as exciting as the casting announcements, though. In addition to "Grand Army" actress Odessa A'zion starring in the reboot, the confirmed cast also includes Brandon Flynn ("13 Reasons Why"), Goran Visnjic ("The Boys"), Drew Starkey ("Love, Simon"), Adam Faison ("Into the Dark"), Aoife Hinds ("Normal People"), Selina Lo ("Boss Level"), and Hiam Abbass ("Succession").
Most important of all, though, is the casting of the new Pinhead, who will be played by none other than "Sense8" actress Jamie Clayton — and, yes, that's a very big deal.
We opened the box and Jamie Clayton became Pinhead
While it's been hard for the "Hellraiser" franchise to soldier on without Doug Bradley as Pinhead, that's only on the movie side of things. In the realm of comic books, and with the approval of Clive Barker himself, Boom! Studios crafted a run of "Hellraiser" comics that saw Bradley's character Elliot Spencer returned to his human form so that someone else could take up the mantle — "Hellraiser" final girl Kirsty Cotton. Yes, the first woman to survive the cenobites became their leader. A woman in the role of Pinhead, one who had fought against her predecessor no less, was a breath of fresh air to say the least.
We may not know how Jamie Clayton's character will become Pinhead, but knowing that the latest film is, if only in one small way, borrowing from the best idea to come from the Boom! comics is great news. In addition to it being wonderful news to see a transgender performer take on such an iconic part, it also represents Barker himself finally getting to tell a trans story, an idea he's been batting around since he pitched his "The Mummy" reboot back in the late 1980s (via Bloody Disgusting).
"Having seen some of the designs from David Bruckner's new 'Hellraiser' film, they pay homage to what the first film created, but then take it to places it's never been before," Barker said in a public statement. "This is a 'Hellraiser' on a scale that I simply didn't expect. David and his team are steeped in the story's mythology, but what excites me is their desire to honor the original even as they revolutionize it for a new generation."
"Demons to some. Angels to others," tweeted Clayton along with a picture of her holding the Lament Configuration.