Agatha Harkness Spin-Off In The Works At Disney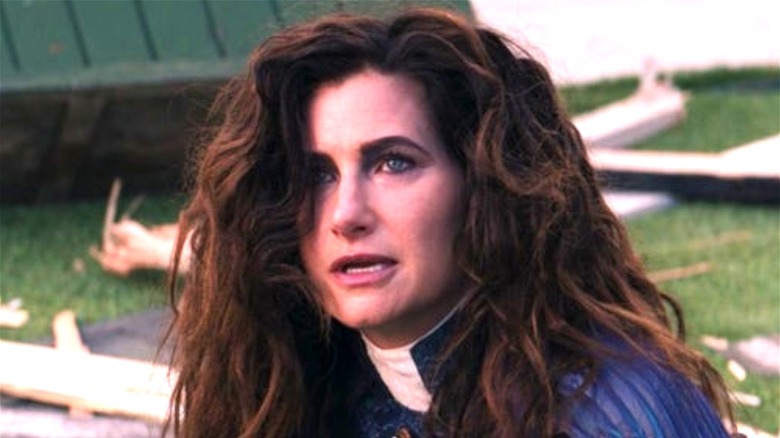 Marvel Studios/Disney+
Who's getting her very own spinoff? It's been Agatha all along!
People tuned in for "WandaVision" to see the continuing adventures of Wanda Maximoff (Elizabeth Olsen) and the android Vision (Paul Bettany) in the aftermath of the events of "Avengers: Endgame." It turns out Wanda wanted a little bit of the simple life for the two of them, and they've taken up residence in a quaint, little town. However, not everything is as it seems, which should've been abundantly clear from the start, seeing how Vision died at the hands of Thanos in "Infinity War."
However, it was the quirky neighbor Agnes (Kathryn Hahn) who stole the show. Within the first couple of episodes, she seems to just be Wanda's best friend. She helps out with dinner and makes wisecracks about her deadbeat husband. However, there's more to her than meets the eye when she's aware of the fact she's in a TV show. As many fans surmised, Agnes was actually Agatha Harkness, another witch who wants Wanda's powers for her own. The fan-favorite character was left in a precarious situation for the finale, but it seems like fans haven't seen the last of the magic-user. Variety reports she's getting a spinoff on Disney+.
No other details are available for the Agatha Harkness project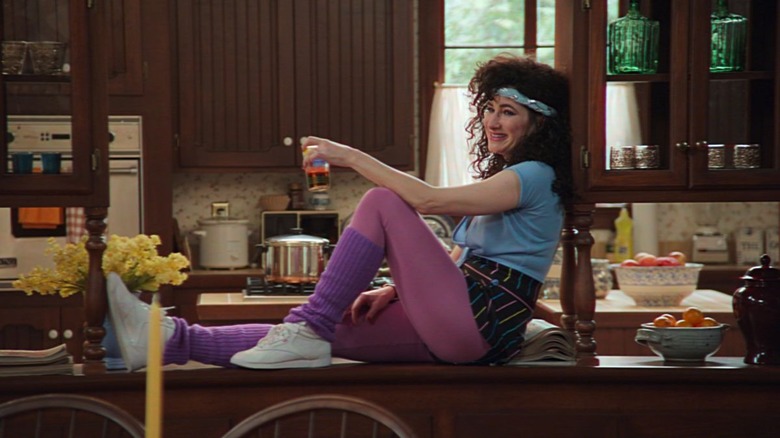 Marvel Studios/Disney+
The last time we saw Agatha, she just lost in battle to the newly crowned Scarlet Witch. Wanda wasn't too pleased to learn of her former friend's betrayal, but instead of killing her, she reverts her back to her sitcom self as the nosy neighbor. Agatha seemingly didn't remember her actual identity, as the last thing she says is a quirky comment on Scarlet Witch's new outfit. It's unclear if the spinoff will follow this version of Agatha or if we'll go back in time to see what she was like before Westview. 
We get a brief flashback of Agatha's past at the Salem Witch Trials, where she barely escapes with her life. Since she's been alive for the last several centuries at least, the spinoff could also follow her through the ages, dealing with various magical events. Maybe she'll solve mysteries with Harry Houdini. We don't know anything at this point because, according to Variety, Marvel has stayed quiet on the exact details. 
What we do know is that the show will see the return of "WandaVision" head writer Jac Schaeffer. She will serve as an executive producer and writer on the show, and apparently, the series itself is being described as a "dark comedy." There are plenty of Marvel series coming to Disney+ over the next several years, but Agatha's show is definitely one to keep an eye on.