There's Someone Inside Your House Review: A Satisfying Slasher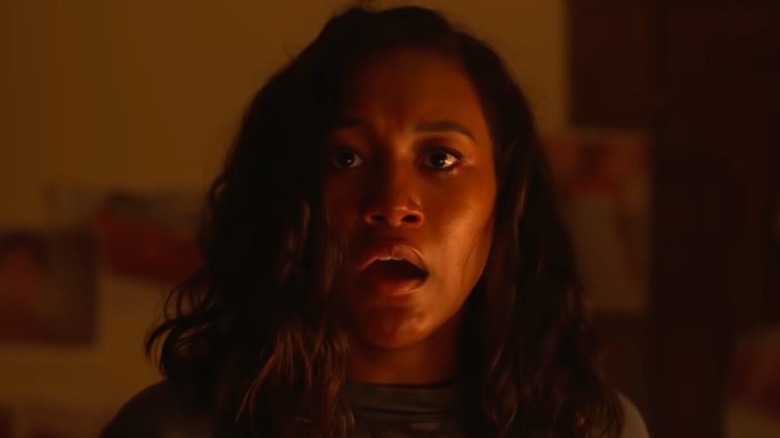 Netflix
We seem to be living in a time of renewed interest in slasher films, and in slasher films revolving around teens in particular. Between "Freaky," the "Fear Street" trilogy, another "Scream" sequel on the horizon and more, it's a very good time for people who enjoy movies about people running around in the dark with knives, inflicting their own brand of judgement on everyone around them.
Our fixation on slashers again at this exact moment is due to a combination of factors. It's undoubtedly, in part, a cyclical thing driven by nostalgia, marketing, and various other pop culture factors. There's another, deeper reason we as a culture seem to be especially into slasher films at the moment, though — one that feels particularly relevant to a film like "There's Someone Inside Your House," director Patrick Brice's adaptation of Stephanie Perkins' horror novel of the same name. "My Heart is a Chainsaw" author and Bram Stoker and Shirley Jackson-award winning horror writer Stephen Graham Jones has pointed out, rather astutely, that the slasher subgenre is a "justice fantasy," set in a world where the killer gets to inflict their own brand of harsh justice on a series of victims. Whether we're talking about teenagers who had sex when they weren't supposed to or people whose only sin was wandering into the wrong place at the wrong time, in the eyes of the killer in a slasher film, the world must be ordered according to their very specific set of rules, according to their own particular sense of justice. In a time that seems packed with injustice, perhaps that's a twisted comfort of some kind.
It's that sense of warped, deliciously violent justice that drives "There's Someone Inside Your House," a film that's determined to play with various literal and metaphorical means of finger-pointing at a time when teenagers are arguably more socially conscious and eager to communicate about such things than they've ever been. The result is a slick, fun, not-too-preachy slasher film anchored by a solid young cast, and featuring a couple of very memorable kills.
Hitting the right slasher notes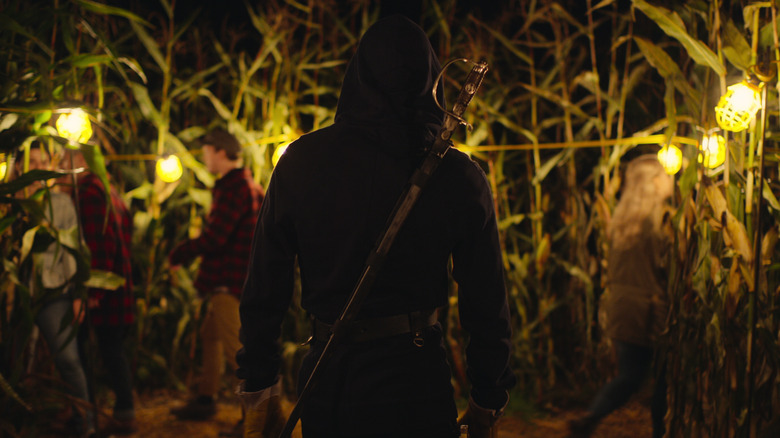 Netflix
In a small town in Nebraska, a killer is striking, and the motive seems very clear. What begins with the murder of a local boy who's outed as a bully soon spreads to other victims from the local high school, and each body has something in common: They had a secret, something they were deeply invested in keeping from everyone else. For Makani (Sydney Park) that's especially frightening, because she also has a secret, one that she's kept from everyone in town, one that she moved away from her old home specifically to avoid. If she wants her secret to stay that way, and she wants to stay alive in the process, Makani has to find out who's murdering her classmates, and it might take facing a few painful truths with her friends Ollie (Theodore Pellerin), Alex (Asjha Cooper), and Darby (Jesse LaTourette) along the way.
The slasher gimmick at work, beyond just the targeting of local teens who have secrets, is that the killer wears a mask specially made to look like exactly like their victims, so in their final moments they're forced to face not some Halloween-masked monster or faceless knife-wielder, but themselves. It's a handy visual metaphor for the kind of slasher we're watching, and something that Brice and writer Henry Gayden use to great effect over the course of the film. Brice's slasher sensibilities are at times rather firmly rooted in various genre forebears, but that doesn't stop him from delivering on some very fun slasher tension, making creative use of some interesting death scenes, and staging one or two kills that will have your jaw on the floor by the time the scene is over. Gayden's script, which takes Perkins' novel and hones it down to a wicked, fast-paced edge, is sometimes perhaps just a bit too on the nose, hitting a kind of "Who's the real villain here?" beat a little hard for my taste, but the film is usually far too infused with the kind of free-for-all fun of the best of the slasher genre to notice.
What's even more impressive than the ways in which Brice and Hayden execute their concept on a scene-by-scene scale, though, is how every piece of the "There's Someone Inside Your House" production team seems to hit its mark with room to spare. Cinematographer Jeff Cutter infuses the murder scenes and the broader look and feel of the time with a certain sense of teenage wonder, making the whole thing feel more grand and apocalyptic, particularly toward the end. Composer Zachary Dawes finds that slasher movie score sweet spot, while production designer William Arnold captures the kind of emotional desperation of small town kids just looking for some sense of fulfillment whether he's working with corn mazes or bedrooms at home. It all works together to create a feeling of getting happily lost in this little world, walking alongside these characters as they march to either redemption or doom, depending on what the masked person out in the dark has in store for them.
Immersive performances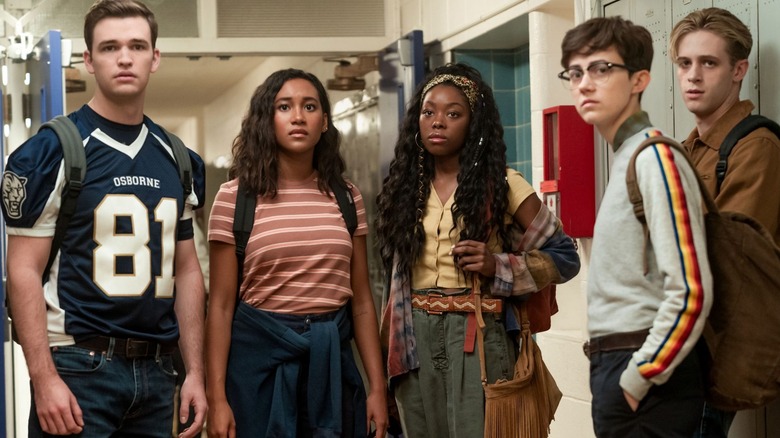 Neflix
That sense of losing yourself in the world of "There's Someone Inside Your House" is helped along tremendously by a cast that's extremely game for the kind of horror fun the film has in store and extremely committed to infusing some genuine emotion into the film amid some of the more pleasantly over-the-top horror elements. This begins and ends with Park, who plays a charming and instantly endearing hybrid of Laurie Strode and Sidney Prescott, a nice person with an edge, a bright beacon in town who also carries unspeakable darkness about her. It's through her that we develop the greatest emotional connection to the material, and she rises to the challenges of becoming the through line of the film with vulnerability and power. Opposite her is Pellerin, who has the almost equal challenge of playing the outsider guy who everyone seems to suspect at some point, and together they create a tension-laced environment where they seem just as likely to bleed out as triumph over evil at any given moment. Teenage slasher films thrive on creating an environment in which the heightened emotions of high school life bleed over into the all-out terror of the horror narrative, and while those two ideas are a match made in heaven, it's not always as easy to execute as it looks. Park, Pellerin, and their classmates manage to make it look easy in this film, and it's one of the great joys of "There's Someone Inside Your House."
While it doesn't carry the meta-textual cleverness of "Scream," the genre-bending zaniness of "Freaky," or the timeless feel of "Halloween," there's something instantly and tremendously appealing about "There's Someone Inside Your House." It's a film that feels like it could only be made in the slasher subgenre right now, and that's a feature, not a bug. It succeeds because of that now-ness, not in spite of it, and though it's hard to tell at the moment exactly how kind time will be, right now you should definitely curl up on a Saturday night with a bowl of popcorn, turn the lights down, and enjoy some pure slasher fun.
"There's Someone Inside Your House" arrives October 6 on Netflix.