The Character Everyone Forgets Matthew Morrison Played On Grey's Anatomy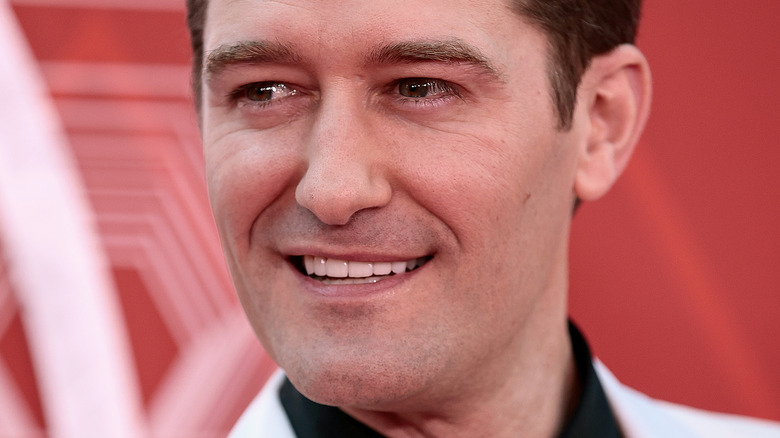 Dimitrios Kambouris/Getty Images
This article contains mentions of domestic violence.
Stage and screen actor Matthew Morrison performed in a wide variety of productions before landing the plum role of Will Schuester in the Fox musical dramedy "Glee." Per his IMDb page, he has also appeared in multiple well-known weekly dramas, including "Sex and the City," "Law and Order: Criminal Intent," "CSI: Miami," "The Ghost Whisperer" and "Numb3rs." He played Connor Fox for six episodes of "The Good Wife" and was Trevor Kirchner in the "1984" season of "American Horror Story."
That's a lot of variety to pack into a single career. With all of those dramas on his resume, it's probably not surprising to learn that Morrison was one of many actors to pop up on the nighttime medical serial "Grey's Anatomy" for a brief time. But his four-episode arc on the series strongly impacted a number of beloved characters and ultimately provided a change of pace for the actor, who's better known for bringing nicer, more easy-going Schuester-esque types to life. What part did he play?
Matthew Morrison was Dr. Paul Stadler on Grey's
Dr. Paul Stadler first pops up in the 23rd episode of Season 13 of "Grey's Anatomy," "True Colors." He's attending a Minimally Invasive Surgery Conference in California, which also boasts Dr. Alex Karev (Justin Chambers) as a participant. Alex soon realizes that Stadler is his girlfriend Dr. Jo Wilson's (Camilla Luddington) abusive ex-husband, and he fantasizes about beating him up the way Paul beat up Jo. While Alex spends the whole episode tailing Paul, they never come to blows. Instead, Alex rejects Paul's offer to split a cab to the airport, a gesture of kindness and goodwill he would later regret. 
Stadler heads to the airport and doesn't resurface until the 8th episode of Season 14, "Out of Nowhere." For Jo, the then-new chief resident at Grey Sloan Memorial Hospital, the episode's title proves to be prophetic. Stadler shows up unexpectedly in the middle of a hacking crisis at the hospital and does so at the tail end of the episode, wrecking Jo's emotional equilibrium.
In Episode 9 of Season 14, "1-800-799-7233," which is also the number of the National Domestic Violence Hotline, the audience learns he'd figured out Jo's pseudonym and tracked her down because he wants her to sign a divorce agreement so he can marry his new fiancée Jenny (Joy Lenz). After the papers are inked, Jo reaches out to Jenny, concerned Paul might be abusing her as well. Jenny denies that there's anything wrong with their relationship. But Jo knows Paul too well. She slips Jenny a piece of paper bearing the titular number, and Paul later confronts Jo over the gesture, informing her that Jenny told him about the note and that he's withholding it from his fiancée, strongly hinting that time hasn't changed him at all.
Paul left Grey's with a bang
In Episode 10 of Season 14, "Personal Jesus," Paul makes his final appearance, and this time he's a patient at Grey Sloan Memorial, following a hit-and-run accident. 
When Dr. Meredith Grey (Ellen Pompeo) worries aloud that Jo and Alex might have committed attempted vehicular homicide on Paul, they both deny it. All are relieved when Dr. Amelia Shepherd (Caterina Scorsone) diagnoses Paul with a simple concussion, but he refuses to remain hospitalized for further observation. Meredith tells Amelia he has the right to discharge himself, but Amelia ropes Jo and Jenny into trying to talk sense into Paul.
It becomes clear over the course of their conversation that Paul is indeed physically abusing Jenny and she is ready to involve the police. Jo offers to act as a witness, and Paul goes into damage control mode. When the women refuse to back down, he furiously lurches out of bed, determined to force Jenny to take him back. But instead, Paul slips, falls, and bangs his head on the bed frame and then the floor. He winds up with second-impact syndrome and is soon declared brain dead. Since Jo is still legally married to Paul, it falls to her shoulders to pull the plug on him. She and Jenny put their heads together and decide to donate Paul's organs before letting him go.
While Paul was, to put it simply, not a nice guy, he definitely impacted the plot of "Grey's Anatomy," ultimately freeing Jo from an unwanted marriage. Morrison's work also proves that can play more than square-jawed heroes, a fact he would back up with his work as Trevor on "AHS: 1984."