Mike Flanagan's Next Horror Series Has Netflix Fans Buzzing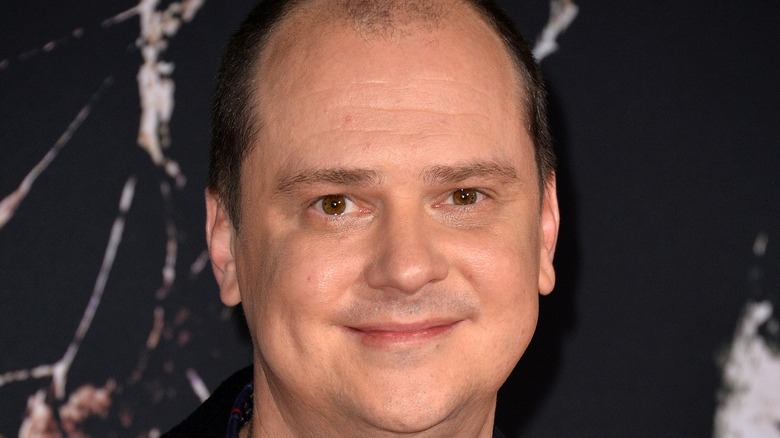 Featureflash Photo Agency/Shutterstock
Netflix Geeked just dropped some exciting news for fans of "Midnight Mass" director and writer Mike Flanagan, and the internet was more than happy to respond. According to the official Twitter account, Flanagan is bringing even more of his unique blend of horror, tension, and deeply unsettling existential questions to the streaming service, teaming up with Intrepid Pictures to create a brand new eight episode limited series based on the works of literary legend Edgar Allen Poe. 
The series is titled "The Fall of the House of Usher," and while the name refers to a short story first published in 1839 for Burton's Gentleman's Magazine, it was also included in the collected "Tales of the Grotesque and Arabesque," (via Britannica) so it's possible the series will cover more than the terrifying tale of the malignant Usher mansion.  Flanagan is no stranger to houses that turn on and afflict their inhabitants ("The Haunting"), so it's a fitting project for the horror headliner, whom Morbidly Beautiful's Jamie Alvey refers to as "the heir apparent to the throne of gothic horror." Moreover, the transition from adapting the works of writers like Shirley Jackson ("The Haunting of Hill House") and Stephen King ("Doctor Sleep," "Gerald's Game") to adapting the work of their collective predecessor Poe seems a natural (or supernatural) one. 
Although there's no word yet on the series' projected release date, another of Flanagan's projects for the streaming service has at least two episodes in post-production already (via IMDb), and the response to this influx of Flanagan has been one of overwhelming anticipation. One follower theorized that "Flanagan is kind of challenging himself to see if he can create something bad," because, "So far he is flawless...How many hits in a row can a guy achieve? let's find out." 
Mike Flanagan is also bringing Pike's "The Midnight Club" to Netflix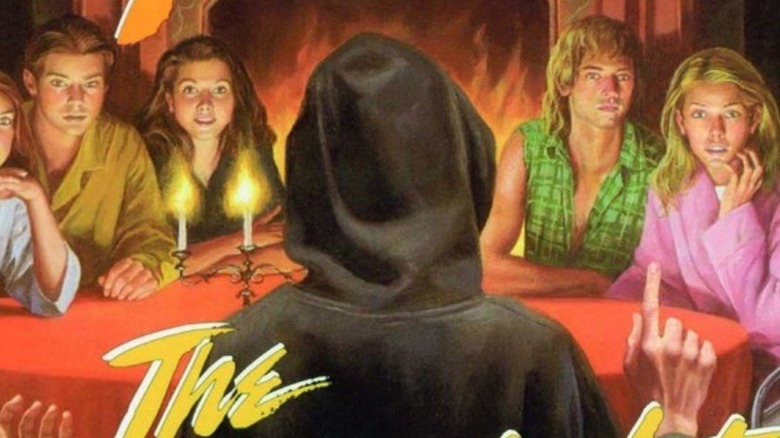 Simon and Schuster
To the further delight of fans, Netflix Geeked followed their announcement with a reminder that "Mike Flanagan and Intrepid Pictures' next Netflix horror series is the previously announced THE MIDNIGHT CLUB, an adaptation of Christopher Pike's novel." This past spring, Flanagan shared his enthusiasm for the project with followers, calling it a "dream come true" and revealing that he "began brainstorming an adaptation of THE MIDNIGHT CLUB as a teenager." The novel centers around a group of dying teens in a hospice home — who, as the title suggests, get together at midnight each night — and make a Houdini-esque "pact that the first of them to die would make every effort to contact the others...from beyond the grave" (via Nerdist). As one fan wrote in response to the duel feature news, "You guys keep making em. I'll keep watching em." (via Twitter)
"The Midnight Club" will feature a handful of familiar faces from Flanagan's "Midnight Mass," including Samantha Sloyan, Zach Gilford, and Annarah Cymone. The director, writer, producer, creator, and Salem, Massachusetts native (no surprise there) told followers that it was "an honor to introduce a new generation of young horror fans to the world of Christopher Pike" (via Twitter). Although no official release date for the series has been announced, fans can look (and are looking) forward to the series reuniting Flanagan with "Once Upon a Time" and "The Magicians" writer Leah Fong, whom he worked with on "The Haunting of Bly Manor."
Flanagan Fans are urging Netflix to hold on to Flanagan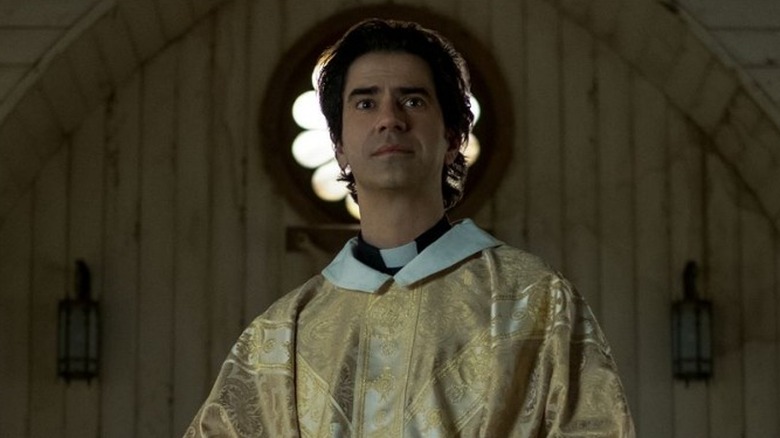 Netflix
As one follower so succinctly put it in response to the news, "Flanaganverse and we just live in it." The sentiment was echoed by many, including @GappyTime, who made a plea to the streaming service, tweeting "Netflix. don't let this man go anywhere. whatever he needs how many budgets. just give him. i want a lot of more genius-storytelling shows from him!!" Another user reiterated that Flanagan is "a force in horror, you should keep him employed forever, he has really delivered for Netflix," while @WhoIsKevinRamos coined a new catch phrase for the said horror force, saying simply that "Mike don't miss". 
Other fans were determined to help Flanagan cast his upcoming series: "Hamish would be perfect as Roderick please Mike," wrote one follower, referring to the "Midnight Mass" actor who played Father Pruitt, while another added "we want see hamish linklater again." For other fans, all this good news was almost too much to bear: "I'm gonna go throw up from excitement," wrote @monicajumper. Without doubt, Flanagan's ability to imbue his projects with the slow horror burn, sneaky revelations, and prolonged tension required to sustain a scary story over the course of several episodes has served Netflix well. "I love every series he created so far," wrote one fan, in a Tweet that summarized the entirely of the Flanaganverse response (via Twitter).