Star Trek: Lower Decks Star Carl Tart Dishes On Bringing Tamarians Back To TV - Exclusive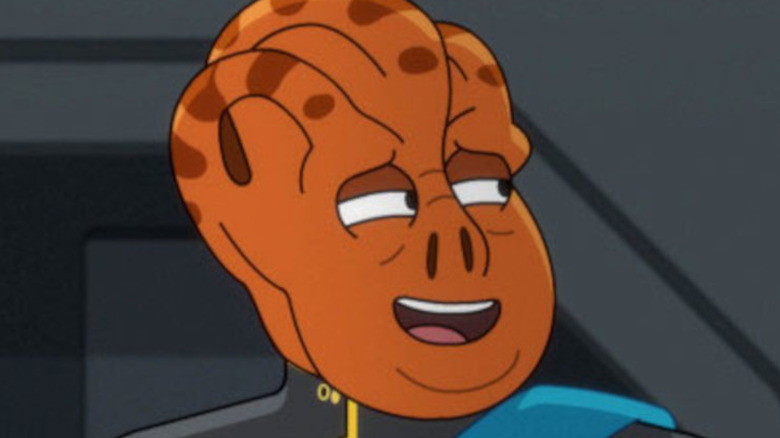 Paramount+
On September 28, 1991, "Star Trek: The Next Generation" aired the second episode of it's fifth season: "Darmok." The episode features an uneasy attempt to form an alliance between Starfleet and an "incomprehensible" race called The Children of Tama. Captain Jean-Luc Picard (Patrick Stewart) is forcibly transported down by the Tamarian Captain Dathon (Paul Winfield) where the pair face off against an invisible beast.
The prescient episode requires Picard to learn the Tamarian language on the fly, which, it turns out, is a language of poetical memes and references. In short: If you've ever seen two like-minded nerds communicate with one another through discussions of their favorite TV shows, movies, and books, then you understand what the Tamarians are all about — and why it took Picard a while to comprehend their language.
"Darmok" marked the one and only appearance of The Children of Tama for 30 years. However, thanks to "Star Trek: Lower Decks" (a Trek show which spends no shortage of time referencing the franchise's storied past), The Children of Tama are back in the form of the first ever Tamarian Starfleet officer, Kayshon (Carl Tart).
Looper sat down with Tart to talk about what it was like to bring one of Trek's most iconic one-off aliens back to life.
Becoming a Tamarian is more challenging than you think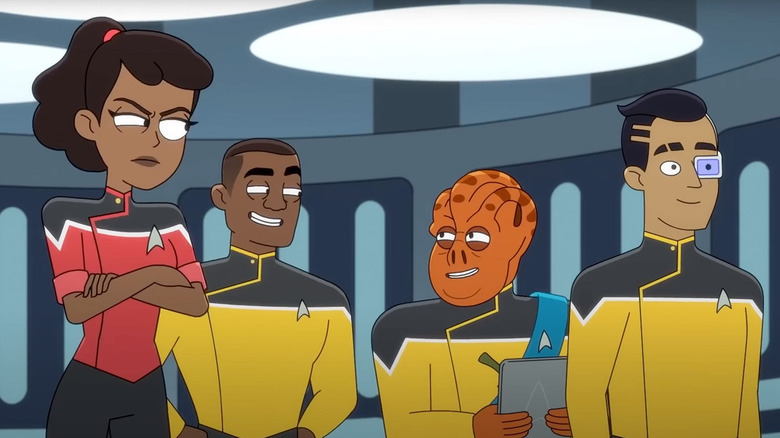 Paramount+
There's more to the Tamarian language than most people probably realize. Looper asked Carl Tart how he prepared to bring them back.
"I definitely had to study quite a bit," says Tart. "And during the recording sessions, we had to drill certain words and certain things to make sure I got it correct, because [fans are] serious about it. So I didn't want to mess anything up. But yeah, that was interesting to just kind of — when I first received the scripts and received what I was going to be saying — I was like 'Oh, okay, it's going to be hard for me to practice this,' but the writers are so cool and they're so immersed into it and they know how it goes."
Tart also talked about how working with the main cast (some of whom he is already friendly with thanks to his work with the Upright Citizens Brigade) helped him get in touch with the Tamarian Kayshon.
"Ben Rodgers, who's one of the writers and who's also been on the show, and Chris Kula, another guy that I know," Tart says of those who helped him with the keying into the Tamarians. "He's helped me probably the most because he's in every recording session with me."
Our biggest question, though, was whether or not Kayshon would say the epic Tamarian phrase, "Shaka, when the walls fell," which represents a tragic failure. He's already said it once before over not being able to get a woman to share a drink with him, but will he say it for real before season two of "Lower Decks" ends?
"Oh, I don't know. I don't know. You got to watch."
"Star Trek: Lower Decks" streams new episodes Thursdays on Paramount+.