Drifting Home - What We Know So Far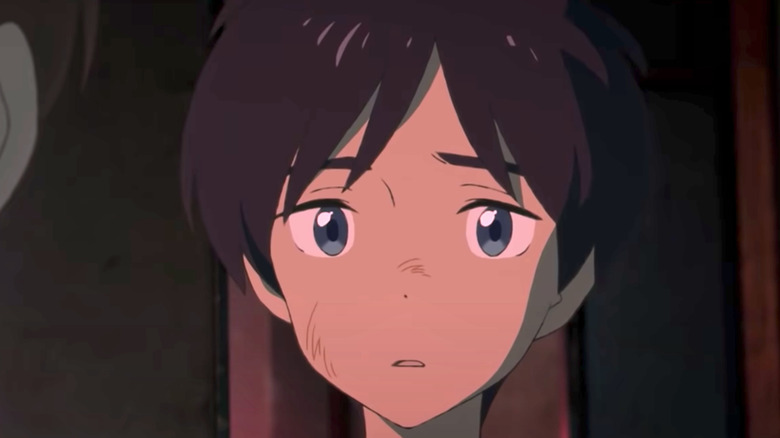 Netflix/Studio Colorido
Over the past few years, Netflix has begun to invest a lot more in anime television and movies, likely picking up on the medium's rising mainstream popularity. Some of the most successful Netflix Original anime have been "Blood of Zeus," "Violet Evergarden," and "Trese," while the streaming platform also carries some classic favorites like "Attack on Titan" and "Neon Genesis Evangelion," among others. 
Going into 2022, Netflix plans to expand on this area of original projects even more, and there are quite a few interesting upcoming shows and movies to get excited about. The soccer-centered anime "Blue Lock," about Japan's search for the ultimate striker for the national soccer team, is scheduled to come out next year, as well as the long-awaited new season of "Tiger & Bunny," with Season 1 airing all the way back in 2011 (Anime Collective). Along with that, new seasons of other Netflix anime like "Aggretsuko" Season 4 and "Ultraman" Season 2 will arrive soon as well. 
But one specific anime project, a film called "Drifting Home" that tells an emotional story of young friendship, is really getting attention. Here's everything we know so far about "Drifting Home."
What is the release date for Drifting Home on Netflix?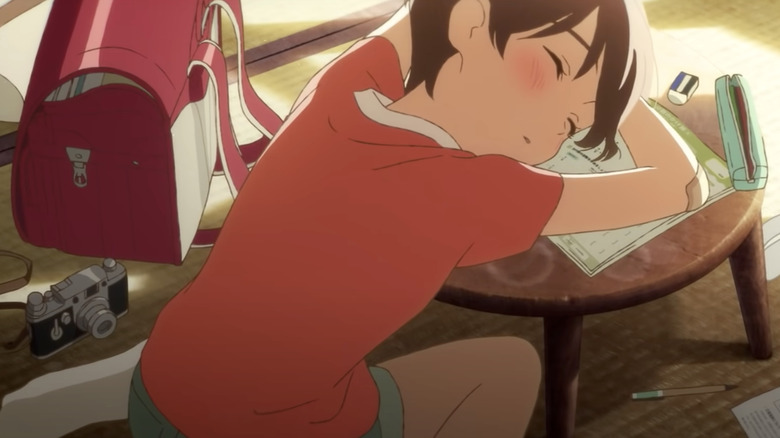 Netflix/Studio Colorido
At Netflix's TUDUM virtual fan event, which took place on September 25, 2021, the streamer paid special attention to the upcoming anime, which included "Drifting Home." The new film, which is produced by Studio Colorido, who is also behind "A Whisker Away" which came out in 2020, looks to be well on its way to release, with Netflix premiering a short teaser trailer at the event, as well as a hint at when to expect the movie (Deadline). But like with many anime, the release date mentioned at the event wasn't very specific. Netflix announced that "Drifting Home" would be coming out sometime in 2022, but there were no details released about a month or day to expect the movie, or even a season. People excited for the movie can hope to hear something more specific in the coming months.
Who are the characters of Drifting Home?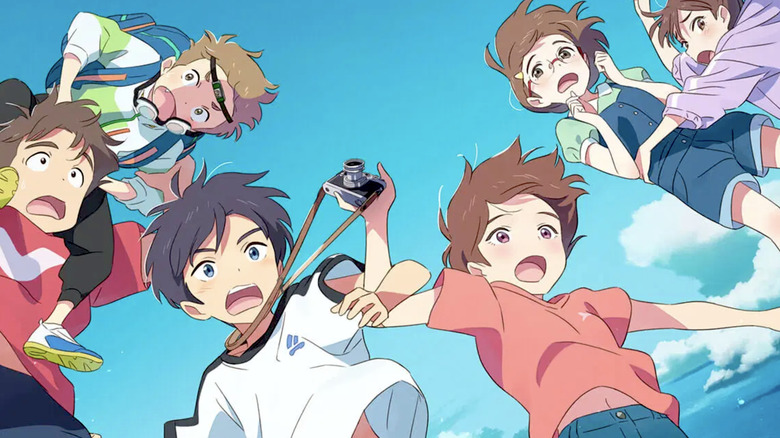 Netflix/Studio Colorido
As of right now, there isn't a lot out about the characters in "Drifting Home" and no cast members have been announced, but Netflix introduced the two main characters a little at the TUDUM event. The film will follow a young boy named Kosuke and a young girl named Natsume, who are described in the official synopsis as "friends since childhood, but as time goes on the relationship between the two sixth graders seems strained as they keep avoiding one another." They reunite at the building where they both grew up, but soon their casual hang out turns into a much bigger adventure. The film will follow Kosuke and Natsume's friendship as they navigate growing older and drifting apart. It looks like the two will have a few friends coming along for the ride, including two other boys and two other girls, but there are no details yet about their names, personalities, or stories. 
What is Drifting Home about?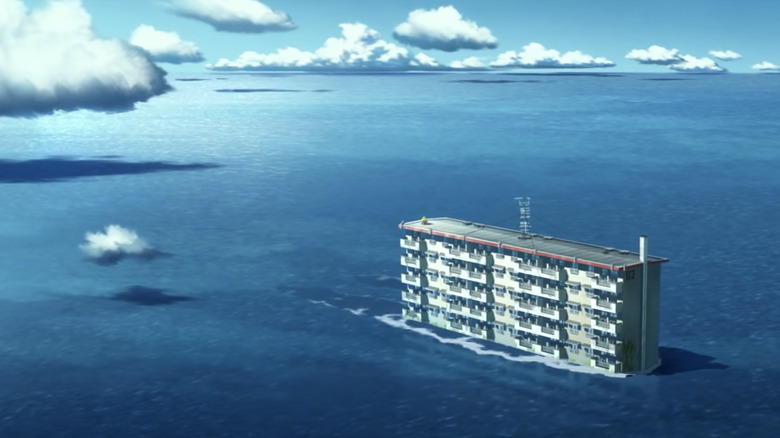 Netflix/Studio Colorido
In "Drifting Home," Kosuke, Natsume and their friends gather together during summer vacation at an old apartment building scheduled to be demolished, having fun and reminiscing about their childhood spent there. "But while playing, they suddenly get caught up in a mysterious phenomenon and when they regain consciousness, they see an entire ocean before them as the housing complex has drifted into a mysterious sea." It's unclear if they are transported to somewhere else on Earth, or another world entirely. 
The film then follows the group of friends on the floating apartment building as they try to figure out what's happening and how to get back home. They will face both human and mystical obstacles, with the teaser trailer hinting that the building is slowly sinking into the ocean. All the while, the kids at the center of "Drifting Home" will have to slowly come to terms with the increasing responsibilities and changes that they'll find in their normal lives once fall arrives.