What The Undertaker From Escape The Undertaker Looks Like Out Of Costume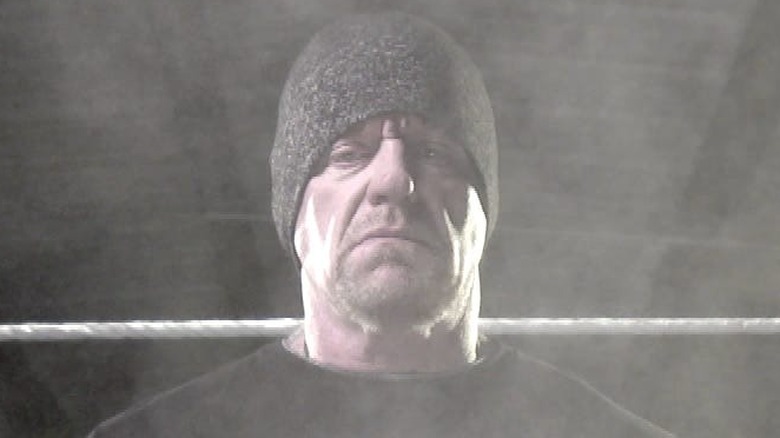 WWE
One of the most iconic wrestlers to ever grace the WWE is easily the Undertaker. He has been the subject of memes, been featured in many of the WWE video game, has plenty of action figures made with his likeness, and now he's starring in a Netflix interactive Halloween-themed special titled "Escape The Undertaker." The Undertaker is actually playing more of a supporting role in the new special, while WWE's trio The New Day (which consists of Kofi Kingston, Xavier Woods, and Big E) will be the true stars of the show.
"Escape The Undertaker" will get WWE fans into the Halloween spirit as the New Day tries to survive all the spooky and creepy surprises that lurk within the Undertaker's haunted mansion and overcome their greatest fears, and it's up to the viewer to decide what happens next. The Undertaker has been with the WWE since 1990, but many might not know the real face and name behind this WWE legend.
Meet Mark Calaway, the man behind The Undertaker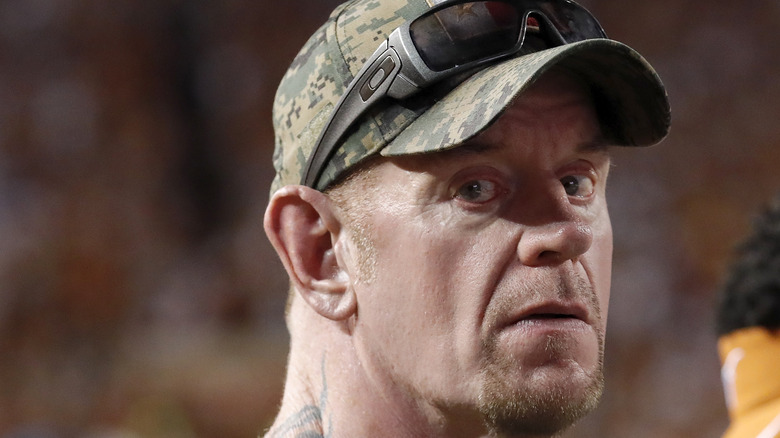 Tim Warner/Getty Images
Many know the name The Undertaker, and even many non-wrestling fans would be able to recognize his name thanks to his involvement in the viral John Cena prank call video, that has become an internet staple. The Undertaker's real name, however, is Mark Calaway. While The Undertaker is known for his long black hair, he has occasionally shortened it over the years, alternating back and forth as required for his character or his personal preference. 
In "Escape The Undertaker," Calaway is shown to be lurking in the shadows with his signature black crown hat obscuring some of his face. In real life, Calaway prefers to wear either a baseball cap or simply just a bandana. Calaway is still larger than life, with a height of 6'10", which would make for quite the intimidating encounter, but in real life, Calaway is a gentle soul and is even a dad of 4. Hopefully, The New Day kept this in mind when shooting the Netflix special.