Dwayne Johnson Shares Pic Of Rampage Motion Capture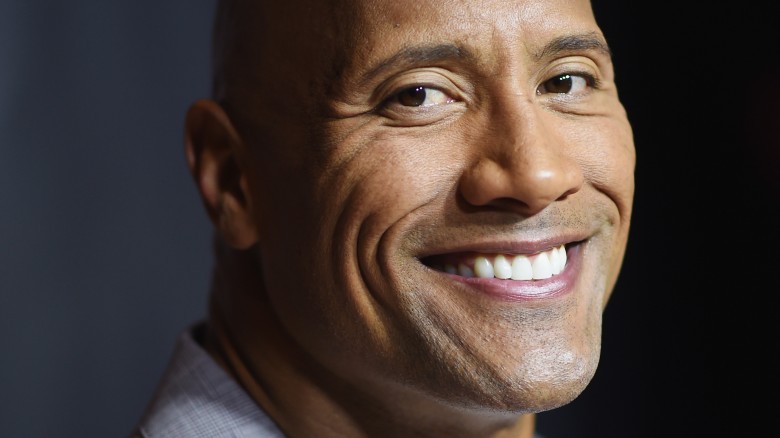 Getty Images
Thank goodness for movie magic. Dwayne Johnson recently shared a pic from his first day of filming the upcoming video game adaptation Rampage, and the pre-special effects look of the movie's biggest monster is... underwhelming.
In the movie, Johnson will play the head of an anti-poaching unit in Rwanda. His best friend, a rare albino gorilla named George, will be one of three animals infected with a serum that makes him grow in both size and aggression at an unprecedented rate. Johnson's motion capture pic shows him standing next to George pre-special effects, played by the 6-foot-9 Jason Liles, who has also performed motion capture for Men in Black 3 and The Conjuring 2. Liles, who has been studying gorillas for months, is suited up in a way that will let filmmakers turn him into the beast in post production, something which Johnson calls "the most fascinating advanced VFX/motion cap process I've ever worked with in my career."
Johnson praised Liles and the special effects team, calling them the "best mo-cap team in the world." The team, who has also worked on the upcoming War for the Planet of the Apes and are set for James Cameron's Avatar sequels, will also have to find a way to bring George's counterparts, a genetically enhanced wolf and alligator, to the big screen. "With all the cool advanced technology in our movie, the #1 thing you're gonna experience when you watch it, is FUN," Johnson promised. "Because when my best friend, George no happy, then me no happy. And when me no happy.. bad people become our lunch."
The Rampage cast also includes Oscar nominee Naomie Harris as the female lead, a geneticist with "a moral streak," Malin Akerman as the villain, Joe Manganiello (True Blood) as the leader of a private military group, Marley Shelton (Pleasantville) as a scientist and astronaut, and Jeffrey Dean Morgan (The Walking Dead) as a covert government operative. Jake Lacy, Breanne Hill, P.J. Byrne, Jack Quaid, and Matt Gerald round out the cast.
Rampage is set to be released April 20, 2018. Ryan Engle (Non-Stop) wrote the original script, with edits by Carlton Cuse (Lost), Ryan Condal (2014's Hercules) and Adam Sztykiel (Due Date), while San Andreas' Brad Peyton will direct. While we wait, see some other video game movies you didn't know were in development.