Some Korean Speakers Think Squid Game's English Subtitles Change The Show's Meaning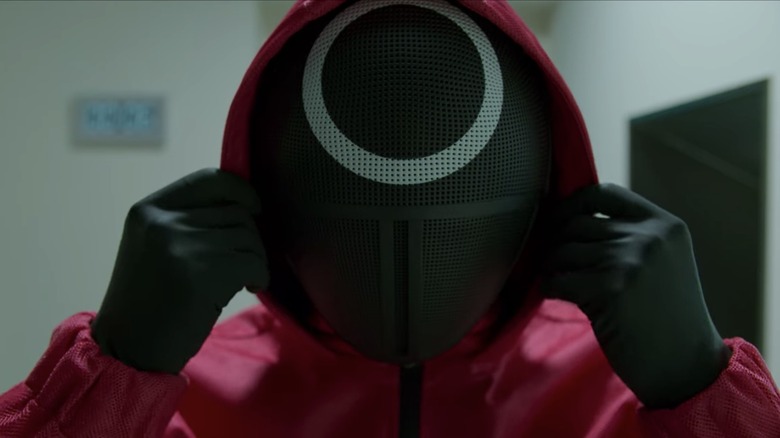 Netflix
When it released on Netflix on Sept. 17, "Squid Game" skyrocketed to Netflix's coveted Top 10 list and has become one of the most popular shows on the platform in the last few weeks. Fox Business reports that it has unseated "Lupin" as the most-watched foreign language show and is the show that Netflix CEO Ted Sarandos is most thankful for right now. The series, in which 456 desperate people compete in a brutal competition for a multi-million dollar prize, has clearly touched a nerve with its reflections about the current zeitgeist. 
However, ever since it launched, people who understand the Korean language have been alerting others over social media and other platforms that the English subtitles for the series aren't particularly accurate; in fact, they can change the show's dialogue in meaningful ways that reduce the show's depth. With the show remaining so popular across the globe, these critics are getting noticed. 
Internet critics are saying that the distinctions made them feel like they were watching a different show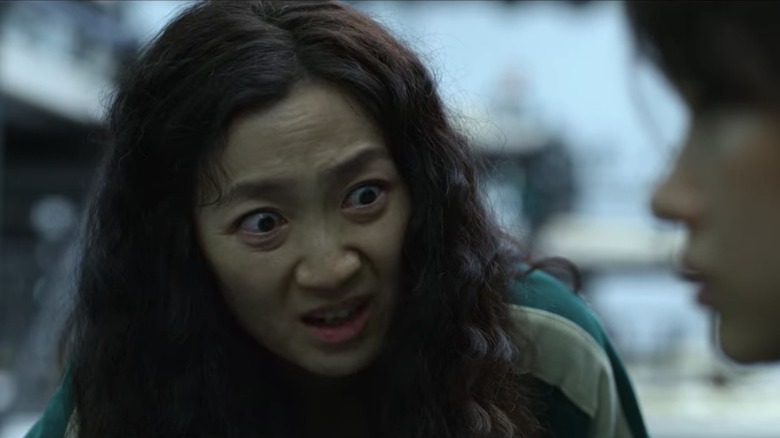 One of these critics is TikToker @youngmimayer (@ymmayer on Twitter). She pointed out in one video that the character Han Mi-nyeo (Kim Joo-ryeong) gets constantly shafted in the subtitles. The character is a low-class gangster who swears, the TikToker says, yet this is all sterilized. She says also that in one scene, when Mi-nyeo is trying to convince others to continue playing the game, the subtitles tell audiences that she says she's not smart, but she can work things out. @youngmimayer says that she's actually saying she's smart, but never got a chance to study — a major trope in Korean media that explains why the character exists in the first place. 
In another example pointed out by @akimillustrates, Sang-woo's (Hae-soo Park) mother is translated as saying she doesn't want her son to get her anything too expensive, when she actually says is something more like, "You don't have to buy me anything, just take care of yourself." The accurate translation makes her sound more motherly and caring, while the translation telegraphs more worry about money. 
Others agreed with the sentiment. @helllllen said she ruined her partner's watching of the show explaining what the more "accurate" translations of the subtitles were "and then we'd both miss whatever crucial story beat was next cuz I was screeching." Responding to the conversation about the show on Twitter, @Jayeamber1 said that two of them were watching on separate laptops and the English subtitles were different. "The distinctions were subtle but even that made it feel like we were watching different shows," they said. 
The disparities may be caused by closed captioning versus the English-translated version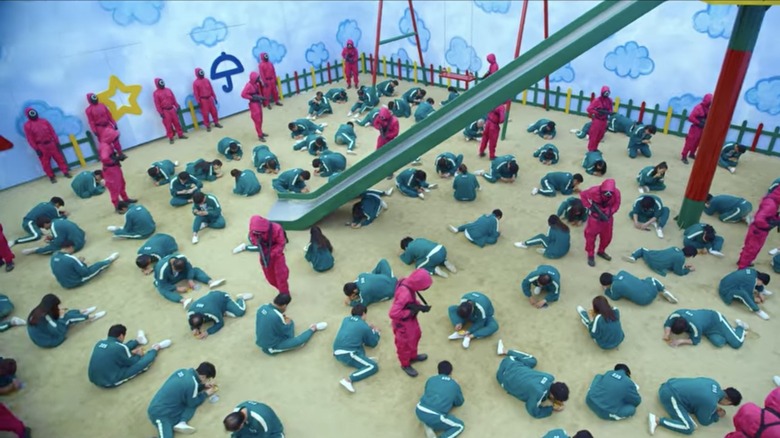 Netflix
Viewers have been pointing out that there's a difference between the automated closed captioning subtitles and the actual English translated-subtitles, and @ymmayer has since noted that she was discussing the closed-caption translations and that the subtitles that were actually translated into English were better, but still had problems (via BBC).
Her review sparked a conversation about translation and its complexity, especially in terms of the Korean language and "blending understanding with cultural context," as @boos_notboss noted. What many viewed as a botched attempt at both had many people chiming in — some of whom were offering to do the translation work for the next installment of "Squid Game" so that the brilliant writing could come through better. "English subtitles was so mad im about to volunteer for season 2," said @hooliejoolie.
And of course, others thought all the drama was unnecessary. @WilsonDeyonna posted, "We all still got the point of the show and the narrative of it...i don't understand why you guys love making such good things negative in a way." @ComradePossum put a positive spin on others, saying the English version feels like a "fake bootleg version" of the show: "It's so incredible that even the bootleg is really good for those of us who didn't know how much we were missing out on."