The First Clip From HBO's Peacemaker Show Will Have You In Stitches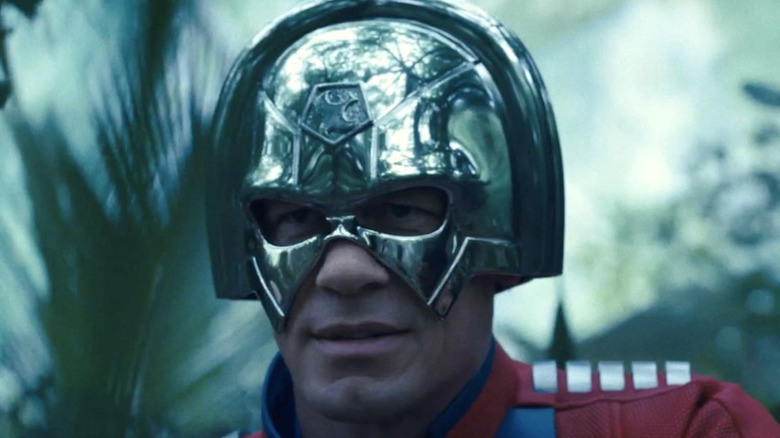 Warner Bros.
Since his appearance in James Gunn's directorial dip in the DC universe with "The Suicide Squad," fans have been eager to see Peacemaker (John Cena), aka Christopher Smith, return in his brand new show for HBO Max. Last seen looking a little worse for fear in "The Suicide Squad's" post-credit scene, we've got a brand new clip showing us the statuesque DC character in better form. 
The fresh bit of footage released by HBO Max shows Cena reprising his role as the toilet-helmet-wearing 'hero' that will kill any number of men, women, or children on the quest for peace. Looking to have received a clean bill of health since his altercation with Bloodsport (Idris Elba), Smith is back in his red, white, and chrome and still takes things very, very seriously. It's just his new teammates that are struggling with it all, especially when it comes to the feathered friend he's brought along for the action.
Peacemaker looks to be especially funny
Seen baffled by the absurdity of Peacemaker's look are John Economos (Steve Agee) and Emilia Harcourt (Jennifer Holland) — Amanda Waller's (Viola Davis) staff that were last seen double-crossing their employer and now look to be suffering the consequences. As punishment, they're now forced to work alongside the titular hero who arrives in full costume with his pet eagle, Eagley, during their secret meeting, at a diner. In the ranking of famous DC pet sidekicks, it's certainly not the best moniker for such a noble creature, but here we are.
Caked in James Gunn's top-tier sense of humor, this tease is more than enough to get us excited for what's in store for the eight-part series headed our way on HBO Max. Add in talent like Danielle Brooks as Leota Adebayo and Chukwudi Iwuji as Clemson Murn (also seen present at this awkward restaurant trip), and you've got another sure-fire hit from one of DC's most lethal and laughably ignorant assassins. See how they all handle things when "Peacemaker" arrives on HBO Max in January 2022.