Keanu Reeves Fans Just Got Excellent News About BRZRKR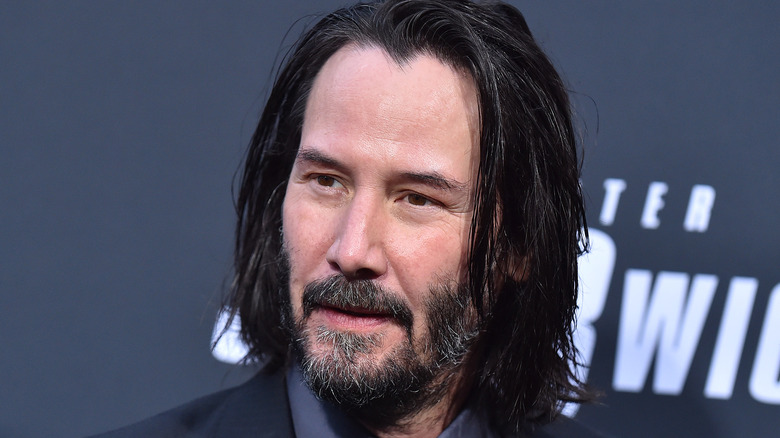 DFree/Shutterstock
If you like graphic novel adaptations — especially based on graphic novels that are ultra-violent to the point of absurdity — here's some good news. Keanu Reeves has given an update on the status of the "BRZRKR" live-action movie's production.
The "BRZRKR" comics came out earlier this year, and it was co-created and written by Reeves and Matt Kindt, with artist Ron Garney providing the visuals, and Bill Crabtree the coloring. The 12-issue series follows a man known only as "B," a half-mortal, half-deity, who is hired by the U.S. Government to take on its most dangerous and violent assignments, while also trying to learn the truth of his origins. After launching on Kickstarter, it went on to receive almost $1.5 million from its backers.
Those numbers were strong enough to warrant both a live-action and an anime adaptation, both of which will star Reeves (who is also producing), and both of which were announced back in March (via Deadline). And on Oct. 4, one day before the first four issues of "BRZRKR" will be released as a graphic novel, Reeves made it clear that the upcoming Netflix adaptation won't be too far behind.
The BRZRKR movie now has a writer
In an interview with Collider, Reeves revealed that the live-action film now has a writer: Mattson Tomlin. Previously, Tomlin wrote the 2020 superhero thriller "Project Power" with Jamie Foxx and Joseph Gordon-Levitt, and is also one of the writers for the 2022 Robert Pattinson vehicle "The Batman." 
"He's been cool and just starting to put things together. That's where we're at," Reeves said of Tomlin.
Reeves also shared some news on both of the upcoming adaptations. "We're working with Netflix who have been very cool. They're going to let us do an R-rated story which is cool," Reeves said about the live-action movie. "My ambition or hope is not to do a filmed version of the comic book so that they'll have things in common, definitely the main character and his kind of rule set, but that we can take it to other places as well."
Regarding the anime — a separate project — Reeves said: "We're talking to a couple of different animation companies and trying to figure that out. And, again, for me I'm hoping to be inspired and influenced...there are some rules to the story, but I also want other creators to do their version of it. So I'm hoping to do a different version of a metaverse where in the sense having different storytellers with one set of rules but go other places with it."
No release dates have been announced for either project. These are just two of Reeves' many projects currently in development, but hopefully the "BRZRKR" adaptations happen sooner rather than later.