The Devastating Death Of Marc Pilcher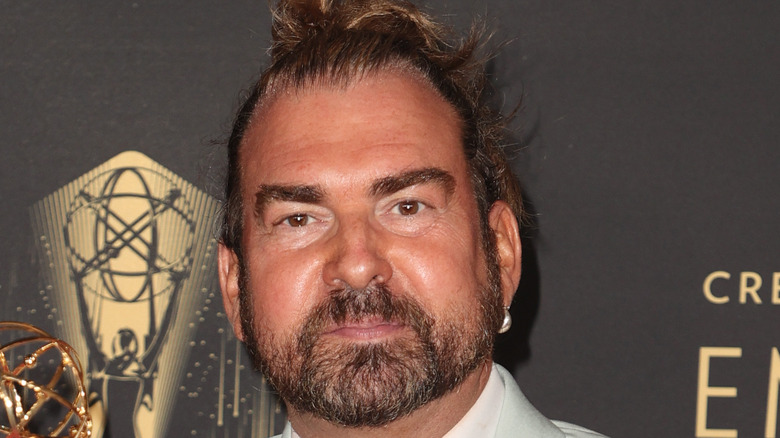 Kevin Winter/Getty Images
Marc Pilcher, the U.K.-based hair and makeup stylist responsible for the period looks on shows like "Bridgerton" and "Downtown Abbey," died Sunday of COVID-19. 
The 53-year-old hairdresser, stylist, and makeup artist began his work in theater in shows like "Company" and "Sunset Boulevard." He won a 2021 Emmy Award just a few weeks ago for Outstanding Period And/Or Character Hairstyling on the "Bridgerton" episode "Art of the Swoon." He did attend the Sept. 19 ceremony in Los Angeles, California. Deadline reports that he tested negative for the illness before coming to the U.S. for the ceremony, but fell ill upon his return. Sadly, Pilcher was double-vaccinated with no underlying health conditions.
The death was confirmed by Nicola Coughlan, who plays Penelope Featherington on "Bridgerton." She said in a set of Twitter posts, "So heartbroken by the loss of Marc Pilcher, the brilliant and visionary Hair and Makeup designer for 'Bridgerton' Season One. Marc was so passionate about his work and so tremendously talented. Not even a month ago he won his first Emmy award. It's a tragedy that he's been taken so young when he had so much yet to do. Please also use this as a reminder that Covid is still a very real and present danger, please get vaccinated and mask up to protect yourself and others. My heart goes out to his friends and family, especially to his wonderful team Lynda, Lou, Adam, Hollie, Tanya and Claire. He loved and cared for you all so much and my heart goes out to you all. Rest in Peace Marc."
The accomplished designer aimed to 'tell a story' with hair and makeup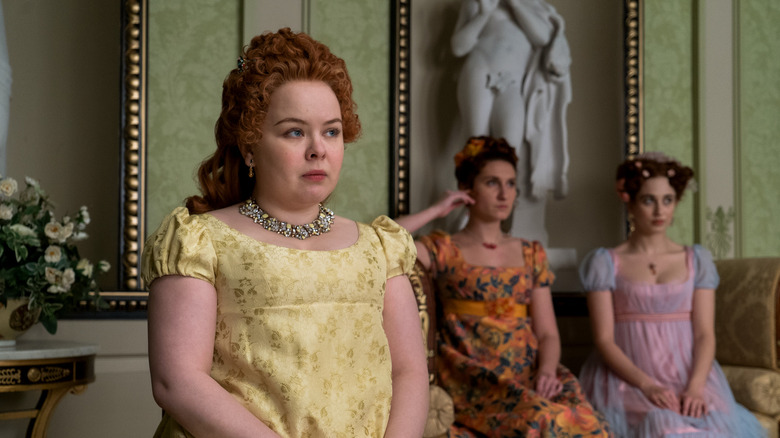 Netflix
A statement from Pilcher's agency, Curtis Brown (via Variety), describing him as "glamorous and extravagant," says that he worked in London's West End and around the U.K. for 15 years prior to entering the film and television industry. In 2016, he designed his first show as a lead stylist, post-war drama "The Collection," and in 2019 he was nominated for an Academy Award for "Mary Queen of Scots." He won three Hollywood Makeup Artist and Hairstyling Guide Awards for his work on "Bridgerton," "Downton Abbey" and "Mary Queen of Scots" (via The Hollywood Reporter). He also styled looks on movies like 2013's "Thor: The Dark World," 2015's "The Sound of Music Live," 2017's live-action "Beauty and the Beast," as well as several recent "Star Wars" movies, including "Solo: A Star Wars Story." His sense of style had a large impact on pop culture. 
In a June interview with AwardsWatch, he explained his approach to styling these looks for diverse cast members: "My aim is always to tell a story through the hair and makeup and give each character their own personal look. It's just more fun to look different rather than have everyone all look the same. In a period piece, it can be so easy because looks from those periods are quite often very similar, so it's nice to put your own slant on them," he said. 
Curtis Brown's statement says, "It is with the deepest of hearts we confirm that Marc Elliot Pilcher, Academy Award nominee and Emmy Award winning hair and makeup designer/stylist, passed away after a battle with COVID-19 on Sunday 3rd October 2021." 
He leaves behind loved ones, including his family and a cockapoo named Yuri.