In John Wayne's Acting Career, One Movie Stands Above The Rest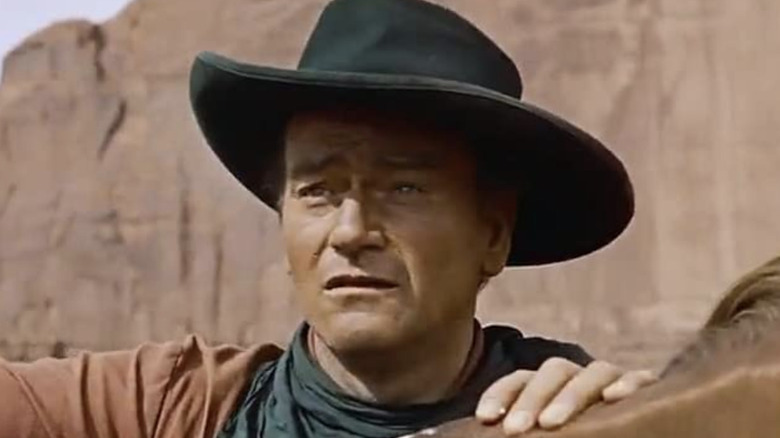 Warner Bros.
In Hollywood, there was no star quite like John Wayne. The veteran Western actor starred in more than 150 films over the course of his 50-year career, which began in the silent era, took a turn with his breakout role in 1939's "Stagecoach," and waned in the mid-1970s with lead turns in 1975's "Rooster Cogburn" and 1976's "The Shootist" (via IMDb).
During his time as a top-tier performer, Wayne became an icon thanks to his distinctive screen presence and no-nonsense way of speaking. He came to embody a kind of archetypal masculinity in movies thanks to the roles he took as cowboys, lawmen, and hard-bitten frontiersman, all of whom were gruff and unpretentious, but not without warmth and a secretly tender side reserved for women or those who needed his help. His most notable films were, arguably, those made with the legendary director John Ford, who worked with Wayne 21 times over three decades (via Roger Ebert). Their greatest collaboration, and the highlight of Wayne's career, is a haunting, influential Western considered by some to be one of the greatest movies ever made. 
Here's the one John Wayne film that stands head and shoulders above all his other projects.
The Searchers is a powerful Western masterpiece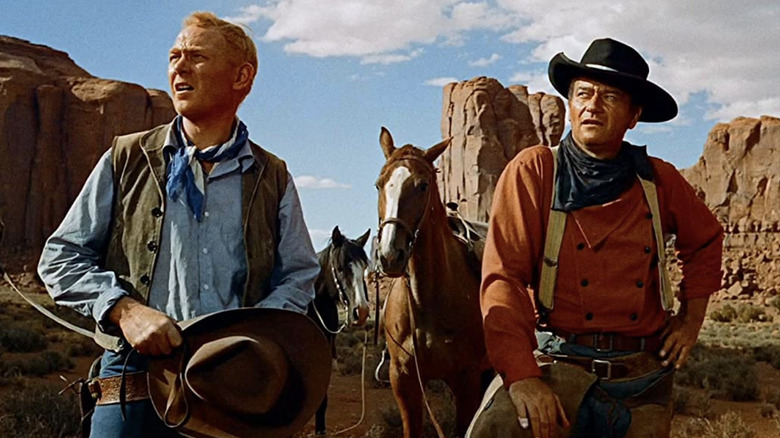 Warner Bros.
The 1956 film "The Searchers" is set in the years immediately following the Civil War (via IMDb). The John Wayne-starring feature has a fairly simple plot: Former Confederate soldier Ethan Edwards (Wayne) discovers most of his family died in a Comanche raid, but his niece, Debbie (Natalie Wood), has been taken by some members of the tribe. The ruthless, experienced soldier recruits Martin (Jeffrey Hunter), Debbie's adopted brother who is of partial Comanche heritage, with him in a years-long search for the missing young woman.
Director John Ford uses the story and Ethan's obsessive and violent behavior to analyze the racism, colonization, and racial prejudices that secretly fueled the Old West. Ethan is not a noble protagonist but rather an antisocial loner who is driven more by hatred of the Comanche Nation and revenge than anything else. It is implied that he may be prone to killing Debbie after he learns she has assimilated into the culture of her captors. Wayne's performance in "The Searchers" is his greatest and the one where he most totally subverts his heroic image.
"The Searchers" was a success on release and is considered one of the greatest films ever made. Notably, the movie was named one of the best Western movies by the American Film Institute. The simple but impactful story, as well as Ford's vast, eerie landscape shots, were a huge influence on "Taxi Driver," "Paris, Texas," and even "Star Wars," per Roger Ebert. Few films in Wayne's filmography can really rival the power of "The Searchers."