Venom 2 Director Andy Serkis Dishes About That Epic Mid-Credit Scene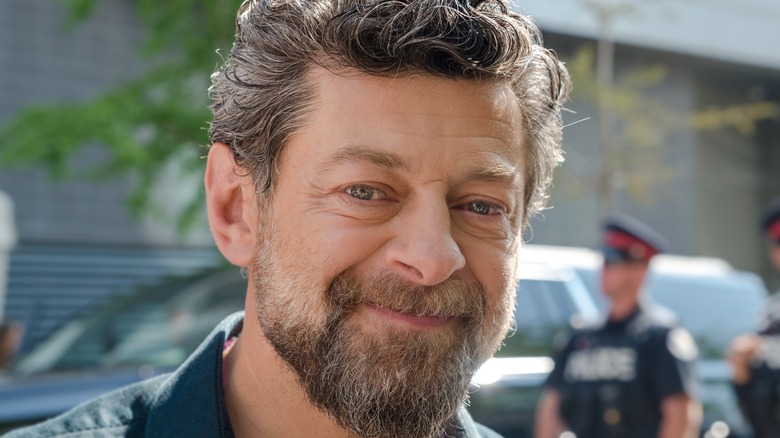 Alexander Demyanenko/Shutterstock
The sequel to 2018's "Venom" has finally arrived, and while fans have found plenty to like in "Venom: Let There Be Carnage," many are preoccupied with the shocking MCU connection that might have been established in the film's epic mid-credit scene. While viewers are still unpacking the implications of that reveal, director Andy Serkis offered some details about why it came to be and how it nearly didn't make it to the film.
The mid-credit scene for "Venom: Let There Be Carnage" sees Eddie Brock (Tom Hardy) hiding in a skeezy motel arguing with his symbiote about how much information he should be allowed to access. Just as Venom seems ready to show Eddie some of his cosmic knowledge, a bright light engulfs them both and transports them to a noticeably nicer hotel. As they adjust to their new surroundings, the television shows a couple of familiar faces, including J. Jonah Jameson (J.K. Simmons) of the Daily Bugle and his nemesis, Spider-Man (Tom Holland).
Considering that the "Venom" films are not technically a part of the MCU, the implications of this reveal could be massive. However, the film's director recently revealed that he was never really sure whether the scene would make it in the movie. Here's what Andy Serkis had to say about the mid-credit scene for "Venom: Let There Be Carnage."
Andy Serkis said Venom 2's mid-credit scene was '100 percent in flux'
When The Hollywood Reporter asked Andy Serkis whether the film's connection to the MCU was guaranteed, he assumed the interviewer that it was not. "[The mid-credit scene was] 100 percent in flux, yeah. It couldn't have been more in flux-y if you tried," Serkis said.
The inclusion of Spider-Man in "Venom: Let There Be Carnage" went through multiple iterations, from a mid-credit scene nod to a potential appearance in the film itself. Serkis explained, "There were moments where he [Spider-Man] was going to be in the story, potentially, and then he wasn't."
However, the filmmakers ultimately decided that the priority should remain on exploring Eddie Brock and his journey into what Serkis called "the Venom-verse." The film progressed through significant stages of production before a final decision was made on whether a connection to Spider-Man and the MCU would be made. "So as we were going through principal photography, the inevitable discussions had to be had, but it wasn't until very, very late on that we reached the precise notion of the teaser that we wanted to lay in there," Serkis told THR.
While there have been plenty of MCU post-credit scenes that haven't had much impact on the universe at large, there have been plenty that did. While fans will have to wait to see what the connection truly means, it seems like Marvel took their time to put plenty of thought behind what the scene might mean down the road.