The Real Reason Jess Is Missing From These New Girl Episodes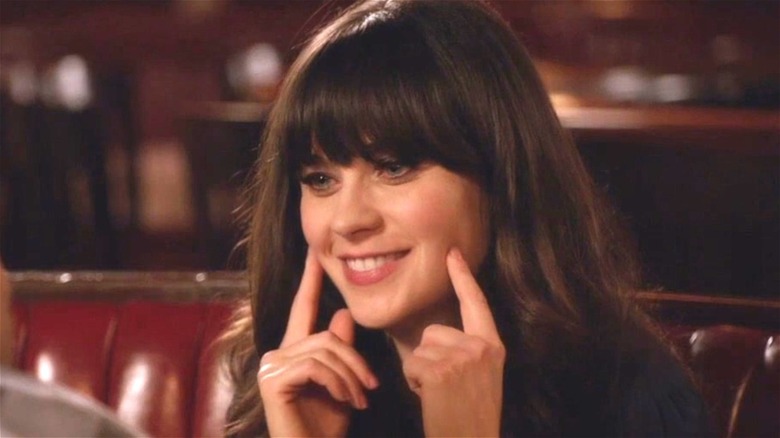 Fox
One of the best and most popular sitcoms to come out in recent years is "New Girl." Created by Elizabeth Meriwether, "New Girl" ran for seven seasons on Fox between 2011 and 2018. The series follows Jessica "Jess" Day (Zooey Deschanel), a quirky and exuberant teacher, who, after a messy breakup, moves into a loft with three male roommates: Nick Miller (Jake Johnson), Schmidt (Max Greenfield), and Winston Bishop (Lamorne Morris). Jess' best friend, Cece (Hannah Simone), a professional model, subsequently ends up spending a lot of time in the loft as well.
The show's title positions Jess as its main character — as does the initial premise — but the series quickly grows into more of an ensemble comedy, one in which each character is more or less on the same playing field. That said, it's noticeable in Season 5 when Deschanel's Jess is totally absent from a total of six episodes. Of course, the writers wouldn't just exclude a lead character for several episodes for no reason, which forces fans to ask: Why was Jess absent?
Within the show, Jess gets assigned to jury duty for a pretty serious case that requires her to stay in accommodations near the court. While she's gone, she misses out on things like going wedding dress shopping with Cece — who brings along Winston instead — and Nick falling for Reagan (Megan Fox), the woman subletting Jess' empty room. As for the real-life reason for Jess' absence, the answer is a surprisingly simple one. 
Read on to see what Meriwether had to say about Jess' brief "New Girl" hiatus back in 2016.
Zooey Deschanel was on maternity leave for part of New Girl Season 5
As it turns out, the reason Jess was absent from six episodes of "New Girl" Season 5 was that Zooey Deschanel was away on maternity leave, having given birth to her daughter in July 2015.
In an interview with HitFix (via Express), "New Girl" creator Elizabeth Meriwether revealed that there was a different storyline they considered using as a way of explaining Jess' absence before ultimately settling on the jury duty plot. "We talked about her maybe going back to Oregon to be back with her family," Meriwether said. "What was difficult was that it just didn't feel plausible that she wouldn't be in contact with them, that she wouldn't be emailing and calling."
In a different interview with Vulture, Meriwether also discussed what the "New Girl" set was like without Deschanel around. "What's cool is that it doesn't feel that different," Meriwether explained. "It definitely feels like we're in the same world, it's just that [Jess]'s point of view is missing, so her kind of 'let's everybody talk about our feelings' is missing, which is allowing other characters to step up to that plate."
All in all, "New Girl" fans would likely agree that, while the show worked just fine without her, they were still very happy to see Jess return in the latter half of Season 5.