Michael Gandolfini Gets Candid About His Casting In The Many Saints Of Newark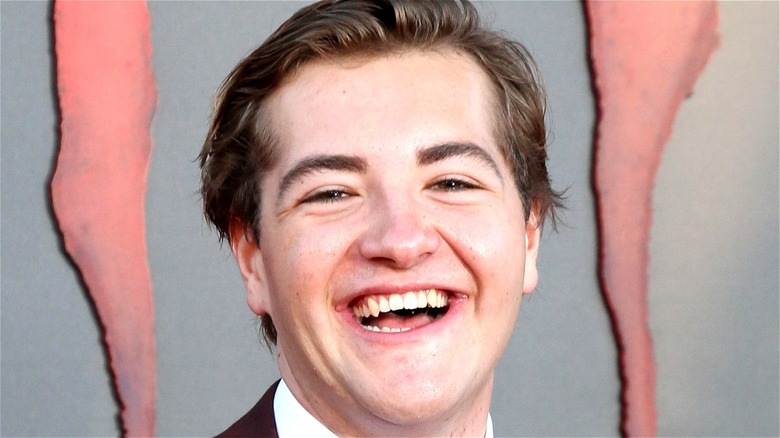 Kathy Hutchins/Shutterstock
On October 1, "The Many Saints of Newark" — a prequel film to "The Sopranos" — was released in theaters and on streaming service HBO Max. The movie features some familiar faces from the retired HBO drama, but the cast is mostly full of newcomers to the "Sopranos" universe.  Younger actors portray virtually every returning character due to the film taking place decades before the events of "The Sopranos."
Paulie "Walnuts" Gualtieri, for example, is played by Billy Magnussen in the drama, who described reprising a role already defined on-screen by original Paulie actor Tony Sirico as "a fun, fun challenge." Tony Soprano, meanwhile, is portrayed by Michael Gandolfini, the son of the late James Gandolfini. Though Michael Gandolfini admitted to having never seen an episode of "The Sopranos" before landing his role in the film, he binged the series' first season upon learning that he would be the next Tony.
Coinciding with the release of "The Many Saints of Newark," Gandolfini spoke further with Entertainment Weekly about how it felt to take on a role so intrinsically entwined with the work of his late father.
Michael Gandolfini talks The Many Saints of Newark
When discussing his time working on "The Many Saints of Newark," Michael Gandolfinish admitted it was quite the experience. "The whole process was one of the most incredible things I've ever gotten to do in my life," Michael Gandolfini told Entertainment Weekly. One part of that process he noted enjoying, in particular, was watching episodes of "The Sopranos" for the first time. "I was a kid; I didn't know what it was. I didn't know what it was about. Falling in love with the show was an incredible experience for me, and being very proud of my dad and proud of everyone that I've known for a long time."
Gandolfini characterized the process of auditioning for the movie as "very rigorous and complicated," but ultimately rewarding. "At first, I was conflicted on whether or not we should do it, or what is everyone going to say, and then slowly falling in love with David's writing and then being scared that I wasn't going to get it," he said. "At the end of the day, I got to work with these people here, which has been one of the greatest gifts. This is the first time I've ever gotten emotional. Everyone trusted me."
"The Many Saints of Newark" is out now and will remain on HBO Max through the rest of October.