Every Halloween Episode Of The Office Ranked Worst To Best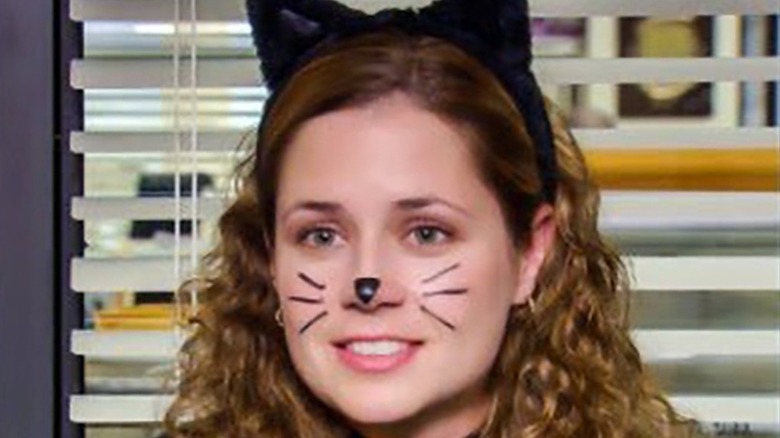 NBC
Each year as the spooky season draws near, lovers of Halloween revisit their favorite TV shows and compare their eeriest episodes — it's a time-honored tradition in many fandoms. So here we are, putting a spotlight on one of the greatest sitcoms of all time, "The Office," and reminiscing about its six Halloween-themed episodes.
The American mockumentary sitcom graced TV screens with its presence from 2005 to 2013. Now its legacy lives on via reruns and streaming services. Throughout nine seasons and 201 glorious episodes, there were plenty of holiday-themed moments –– the Christmas episodes will have you decking the halls in style, and there's even an episode called "St. Patrick's Day." For spooky season enthusiasts, though, we took up the honorable task of ranking every Halloween episode of "The Office." There are six. They're all pretty awesome, if you fancy "The Office" or enjoy the one night of the year when you can dress up as anything you want and not feel judged.
Not all of these episodes fully revolve around the spookiest night of the year. Some of them only feature All Hallows' Eve themes in their cold opens — but these sequences still deserve a mention. In every episode of "The Office," especially themed events, there are so many jokes and character dynamics at play that one person's least favorite episode could be another person's most beloved. Where did your favorite land on this ranking of every "The Office" Halloween episode, worst to best?
6. Season 6, Episode 8: Koi Pond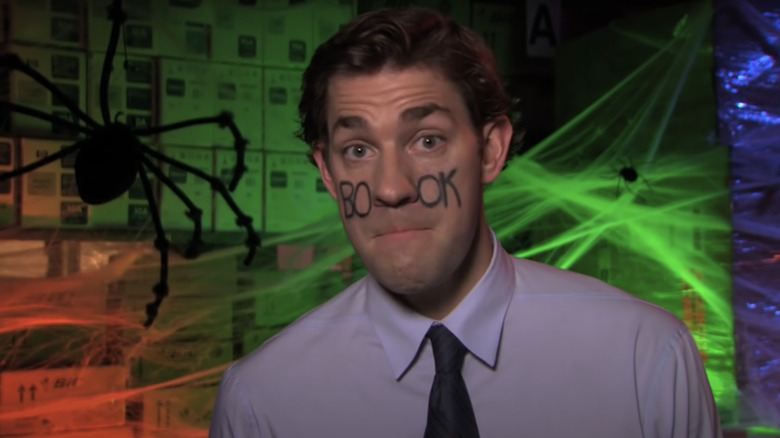 NBC
Season 6, Episode 8, "Koi Pond," isn't at all about Halloween. In fact, if you were to watch the episode on streaming services now, you likely wouldn't find any traces of costumes, trick-or-treating, witches, vampires, or the pleasantly cursed holiday. That's because the Halloween aspect of this episode was removed from the cold open.
In the omitted scene, Darryl Philbin (Craig Robinson) brings children through a haunted version of the Dunder Mifflin Paper Company warehouse and the employees attempt to scare the kids. Okay, things are going pretty well for an "Office" Halloween episode. This all seems well and good. But then the climax, featuring Michael Scott (Steve Carell), happens. In the distasteful climax, Michael pretends to kill himself, which isn't exactly suitable for a kid-friendly haunted house. Darryl even questions Michael's decision.
One silver lining of this cold open, though, is Jim Halpert's (John Krasinski) costume. He's written "BOOK" on his face. This is a low-effort nod to "Facebook," but Darryl misreads his costume as "book-face." Classic. Another perfectly splendid moment? Creed Bratton (Creed Bratton) dresses up as a vampire and briefly (and concerningly) mentions selling blood. Still, for all these comedic moments, the climax of the cold open is pretty insensitive, and it's probably for the best that this potentially harmful scene doesn't air or stream with the episode anymore.
If you or anyone you know is having suicidal thoughts, please call the National Suicide Prevention Lifeline​ at​ 1-800-273-TALK (8255)​.
5. Season 9, Episode 5: Here Comes Treble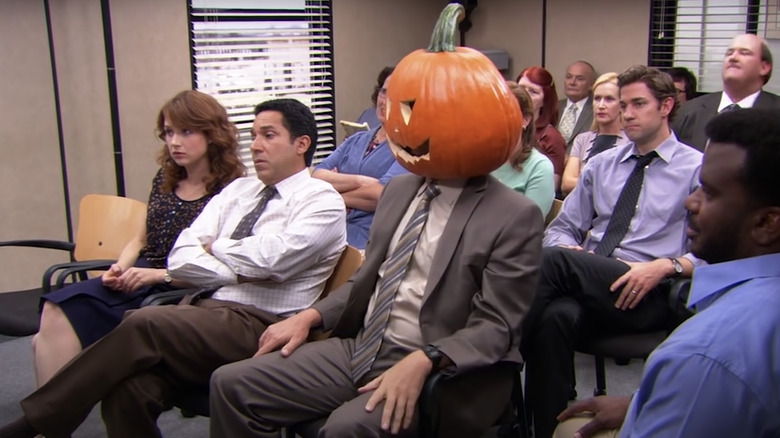 NBC
In Season 9, Episode 5, "Here Comes Treble," Andy Bernard (Ed Helms) steals the show, or at least attempts to. In reality, the episode's events go horrible for Andy, who is, let's be honest, kind of spoiled and at times insufferable (like when he disappears from his manager post yet still takes credit for the work done at the office, but we digress).
To celebrate Halloween in this episode, Nellie Bertram (Catherine Tate) dresses up as Toby Flenderson (Paul Lieberstein) as a joke — leading to some awkward flirty energy between her and Toby. Dwight Schrute (Rainn Wilson) gets a pumpkin stuck on his head. Most notably, of course, Stephen Colbert guest-stars as Broccoli Rob, Andy's longtime college friend. The two end up having a sing-off of sorts, but not before Andy invites the current members of his old Cornell University a cappella group to perform at the Halloween party.
Although he spends most of the episode throwing a pity party for himself because the younger members of the Here Comes Treble group understandably have no idea who he is, Andy also rocks a pretty wicked George Michael costume. This isn't the spookiest of Halloween episodes, but the costumes — and the comedic situations that arise from them — make it worth the watch.
4. Season 5, Episode 6: Employee Transfer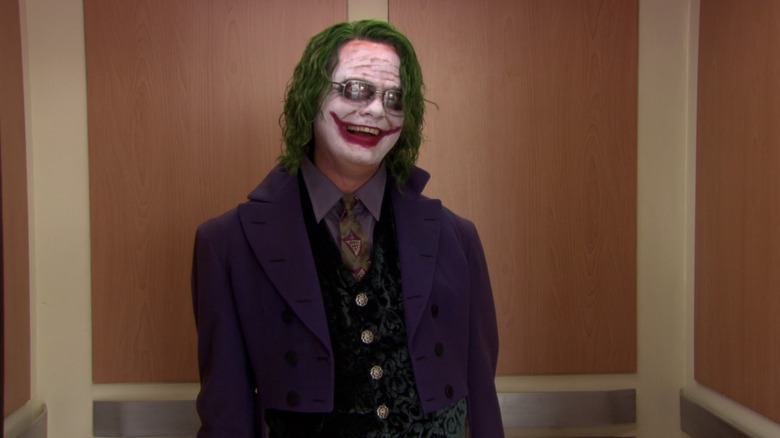 NBC
Similar to "Koi Pond," only the cold open of Season 5, Episode 6, "Employee Transfer," is Halloween-related. This time, costume mastermind Jim dresses up as a guy named Dave (his transformation simply consists of him slapping a nametag that reads "Dave" onto his normal work attire). Meanwhile, Pam (Jenna Fischer) is the sole member of the New York corporate office to dress up, making a splendid appearance as Charlie Chaplin. Theater aficionado Andy suited up in a "kitten" costume (not a cat, but a kitten, he clarifies).
This episode aired in 2008, the same year Christopher Nolan's "The Dark Knight" premiered. Heath Ledger's Joker was therefore a popular costume choice at the time, and "The Office" highlighted its ubiquity by having Creed, Dwight, and Kevin Malone (Brian Baumgartner) all dress up as the sinister clown (though quality significantly varied between the costumes). This ensemble provides the perfect outlet for Creed's effortless creepiness, and we have to admit his rendition of the Joker is a bit chilling.
Unfortunately, the Halloween festivities are overshadowed by Michael and Holly Flax (Amy Ryan) breaking up when Darryl drives the couple to Holly's new home in Nashua — which is about as awkward a car ride as you would imagine. If only the sadness could be traded in for more Halloween thrills.
3. Season 8, Episode 5: Spooked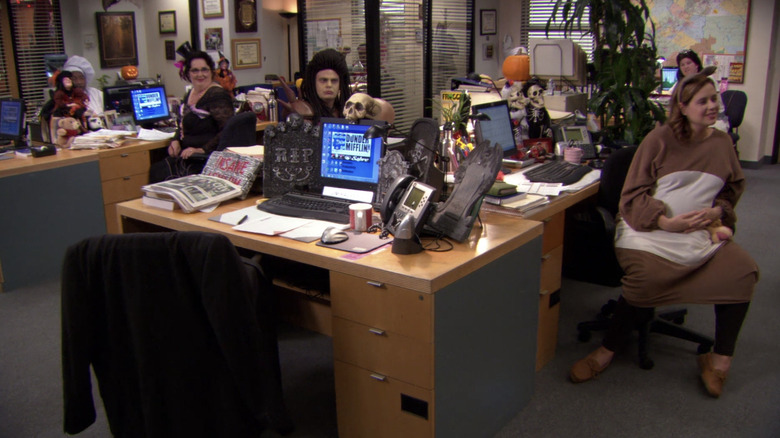 NBC
Season 8 of the series doesn't get the respect it deserves, and that's largely because Michael Scott had departed the show in Season 7. But even without his trademark shenanigans, Season 8, Episode 5, "Spooked," was a memorable episode.
While Andy spends the episode making the lovely Erin Hannon (Ellie Kemper) feel bad about the Halloween decorations she set up because they aren't scary enough, CEO Robert California's (James Spader) presence is aces through and through. Robert tries to expose his employees' deepest fears and then incorporates this information into a cringe-worthy (in a good way) scary story that he tells to the entire office.
There are a couple of good costumes as well. Ryan Howard (B. J. Novak) dresses up as Jesse Pinkman from "Breaking Bad." Meredith Palmer (Kate Flannery) rocks, in a classic Meredith moment, a low-budget Kate Middleton costume held together by duct tape — much to the chagrin of Kelly, who seems to have brought an actual bridal gown to portray the same royal lady. Pregnant Pam is a kangaroo. And Dwight dresses up as Sarah Kerrigan from StarCraft (though he has to be "censored" when Toby removes his bladed wings).
The great thing about these costumes, and most Halloween costumes on "The Office," is that the characters dress up –– and act –– exactly how audience members would expect them to. Halloween is a wonderful showcase for the characters we've come to know and love.
2. Season 7, Episode 6: Costume Contest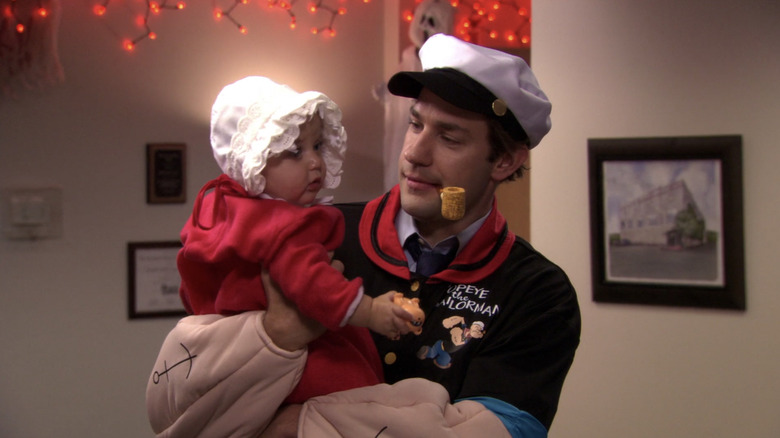 NBC
The previous Halloween episodes on this list are something of a toss-up –– there are good aspects in all of them –– but there's something special about these top two. In Season 7, Episode 6, "Costume Contest," Jim, at long last, puts some actual effort into a Halloween costume. After coworker Danny Cordray (Timothy Olyphant) admits he didn't call Pam back after a date years ago because he thought she was dorky, Jim decides to cheer her up by putting on a Popeye outfit, completing the family ensemble with Pam dressed as Olive Oyl and Cece as Swee'Pea.
Throughout the episode, the office competes in a Halloween costume contest, the prize for which is a Scranton-area coupon book that's supposedly worth thousands of dollars. In attempts to secure victory, multiple people leave the office and come back with even more creative (or in some cases, more risqué) costumes to try to outdo each other. Gabe Lewis (Zach Woods) dresses up as Lady Gaga, Michael as MacGruber, and Dwight as the Scranton Strangler. Kelly Kapoor (Mindy Kaling) shows up first as Snooki and then as Katy Perry. Todd Packer (David Koechner), off-color as ever, goes as a pregnant nun, Kevin dresses as the documentary filmmaker Michael Moore, and the list of excellent costumes goes on and on.
The costume that took the prize? Oscar Martinez's (Oscar Nunez) "rational consumer" getup, which he, ironically, had employed as a protest against the obsession with the coupon book itself.
1. Season 2, Episode 5: Halloween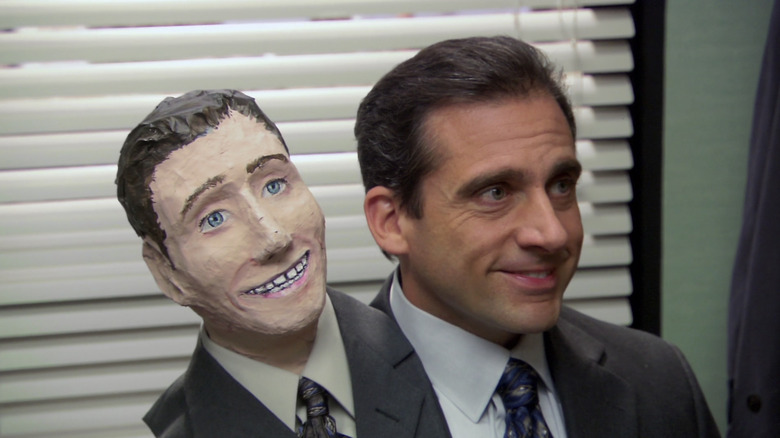 NBC
Although episode tastes are subjective, Season 2, Episode 5 is a no-brainer as the best Halloween event. The title, after all, is a simple but effective "Halloween."
Though the episode is gloomy because Michael Scott has to fire someone, that sobering fact is juxtaposed with the whimsical kittens and cowboys going about their business in the office. Of course nothing, even the sad but serious responsibilities that come with running a company, can just proceed normally at Dunder Mifflin, and common events tend to turn into spectacles. Even the notoriously poor costume originator Jim Halpert goes as an undeniably creative (but still low-effort) three-hole punch version of himself, taping three black circles onto his shirt. (Dwight, naturally, uses Jim's three-hole punch costume as an excuse to punch him.)
The cherry on top is that Michael has a second head, made of papier-mâché, attached to his shoulder (which he ordered way back in July). Just imagine the indignity of being fired by a two-headed Michael Scott. In one scene, Michael pretends the head is talking to him and encouraging him to fire Dwight (who dresses as an intimidating Sith Lord in the episode).
No matter how audience members shuffle the six "The Office" Halloween episodes, each festive installment brings its own unique spin to the table, and they're all worth a re-watch during the spookiest time of year — or any time you want to catch up on the story of your favorite paper company.