See The First Footage From The Dark Tower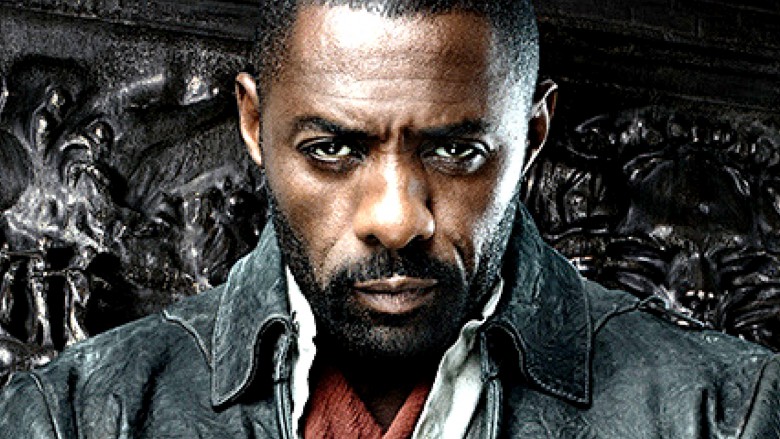 The Dark Tower trailer is finally on its way. In a Twitter exchange Tuesday, stars Matthew McConaughey and Idris Elba revealed that the official trailer for the highly anticipated film will be released on Wednesday, and they even shared a little tease of what to expect.
The Dark Tower, a sequel to the Stephen King book series of the same name, is due out on August 4, but the film has still been shrouded in mystery thus far. With the trailer still a day away, McConaughey and Elba provided small teasers for each of their characters (both of which you can watch at the bottom of this article) to tide fans over for the remainder of the wait. "The war is over," McConaughey's Man in Black says ominously in his short teaser. "You know what's coming. The Tower will fall." Elba's teaser shows his gunslinger Roland Deschain loading his weapon while saying, "I do not kill with my gun. I kill with my heart."
Here is the official plot synopsis for The Dark Tower: "Jake Chambers is a young 11-year-old adventure seeker who discovers clues about another dimension called Mid-World. Upon following the mystery, he is spirited away to Mid-World where he encounters the lone frontiersman knight Roland Deschain, who is on a quest to reach the 'Dark Tower' that resides in End-World and reach the nexus point between time and space that he hopes will save Mid-World from extinction. But with various monsters and a vicious sorcerer named Walter Padick hot on their trail, the unlikely duo find that their quest may be difficult to complete."
Tom Taylor, Katheryn Winnick, Abbey Lee, Jackie Earle Haley, Nicholas Hamilton, Claudia Kim, Fran Kranz, Alex McGregor, and Jose Zuniga also star in the movie, which was directed by Nikolaj Arcel based on a script from Arcel, Akiva Goldsman, Anders Thomas Jensen, and Jeff Pinkner. While we wait for the film to be released, plan your summer schedule by seeing all of the movies that will blow you away in the next few months.



@idriselba I know this. Deal with it. #DarkTowerMovie pic.twitter.com/NdDw4qtD0w


— Matthew McConaughey (@McConaughey) May 2, 2017



@McConaughey I deal in lead. #DarkTowerMovie pic.twitter.com/IvpjVKFHCH


— Idris Elba (@idriselba) May 2, 2017