Nine Perfect Strangers Season 2 - What We Know So Far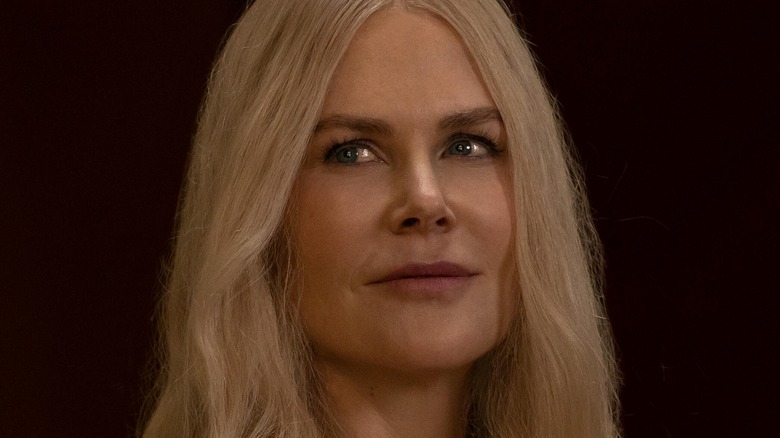 Hulu
"Nine Perfect Strangers" is a Hulu original series about the unconventional Tranquilium House, a fictional boutique therapy center in Northern California. Based on the 2018 novel of the same name by Liane Moriarty, the series is another collaboration between star Nicole Kidman and writer David E. Kelley who previously worked together on "Big Little Lies." The Season 1 finale aired on Hulu on September 22, 2021, so naturally, fans are looking forward to the second season.
The show follows Masha (Kidman), the therapist who runs the Tranquilium House, where she's known for treating patients in ways that might be controversial, but mostly seem to work. In Season 1, Masha welcomed eight patients who were all struggling to process some form of emotional pain. There was Frances (Melissa McCarthy), the novelist who'd been catfished; the Marconi family (Michael Shannon, Asher Keddie, Grace Van Patten), who were grieving over the death of their son/brother; Tony (Bobby Cannavale), a former football player struggling with addiction; Carmel (Regina Hall), whose husband left her for another woman; the Chandlers (Samara Weaving and Melvin Gregg), a couple whose relationship was on the rocks; and Lars (Luke Evans), a journalist who's secretly working on an expose about Tranquilium House. Masha herself was also grieving over the death of her daughter Tatiana (Alyla Brown).
At the end of Season 1, Masha's unusual methods helped all eight of her patients make breakthroughs with their problems. Given that, Season 2 would most likely look a lot different — if it happens at all. Here's everything we know so far about "Nine Perfect Strangers" Season 2.
When will Nine Perfect Strangers Season 2 be released?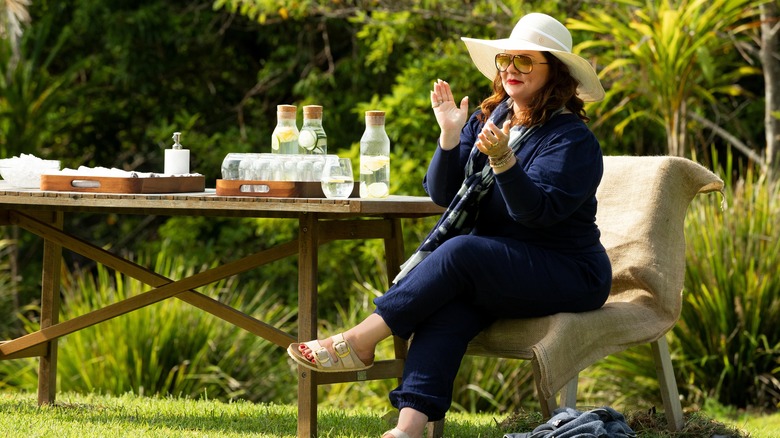 Hulu
"Nine Perfect Strangers" Season 2 is currently without a release date, which makes sense as it hasn't been 100% confirmed just yet. Variety reported that the show was nearing a deal for Season 2 in May, but the official greenlight has not been announced yet. As the new season hasn't started filming yet, it's hard to guess when we might get a Season 2, so we'll have to wait as patiently as possible.
As far as Season 1 goes, we know production began on August 10, 2020 (via IF) and wrapped on December 21 (per Nicole Kidman on Instagram) for a total of four months. It then premiered on Hulu on August 18, 2021. That's about a year between the start of production to the debut, so we expect Season 2 to follow that same sort of pattern.
What is the plot of Nine Perfect Strangers Season 2?
Hulu
First, it's worth noting that "Nine Perfect Strangers" was initially planned as a Hulu limited series, including all the events of Liane Moriarty's book. The author does not have a follow-up for the novel, so whatever comes in Season 2 will not be drawn from any source material. This makes a plot for the second season impossible to guess, as we don't even know if any of the Season 1 stars are returning. Season 2 could go anywhere — introducing new characters to the resort, following the lives of Season 1 characters, or moving outside Tranquillim entirely. 
That said, director Jonathan Levine mentioned having plans for a second season. "I hope that people enjoy it enough for Season 2 to be an option. I certainly can imagine where it would go for a second season," Levine told BuzzFeed. "The one thing I did think would be cool is if you could get, like, another group of nine. One of them would be, like, a famous person playing themselves. I would love for people to want more. And then it's about whether we could convince [David E. Kelley], the series creator, and Nicole [Kidman]." It looks like all options are being considered.
Who is starring in Nine Perfect Strangers Season 2?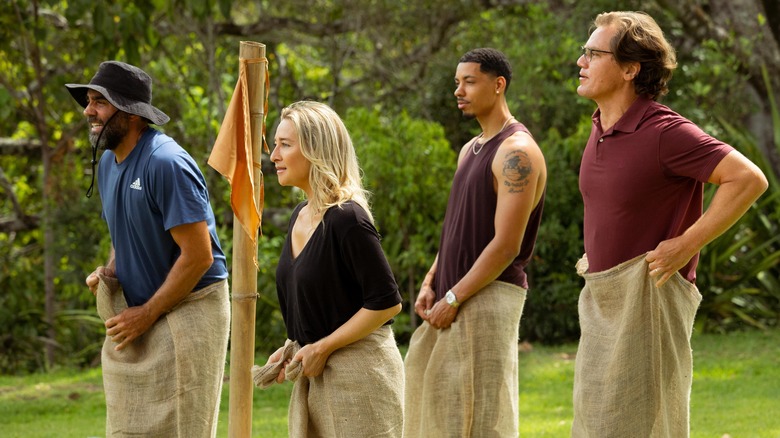 Hulu
We, unfortunately, have no idea who is starring in the probably-kinda-sort-definitely-maybe-happening Season 2 of "Nine Perfect Strangers." The cast could include all returnees — like Nicole Kidman, Bobby Cannavale, Melissa McCarthy, Michael Shannon, etc. — or all new actors might be selected for a whole new story. For now, it's a mystery.
Variety confirmed the plot and casting details were a mystery as Hulu was nearing its deal for Season 2.
Where to watch Nine Perfect Strangers Season 1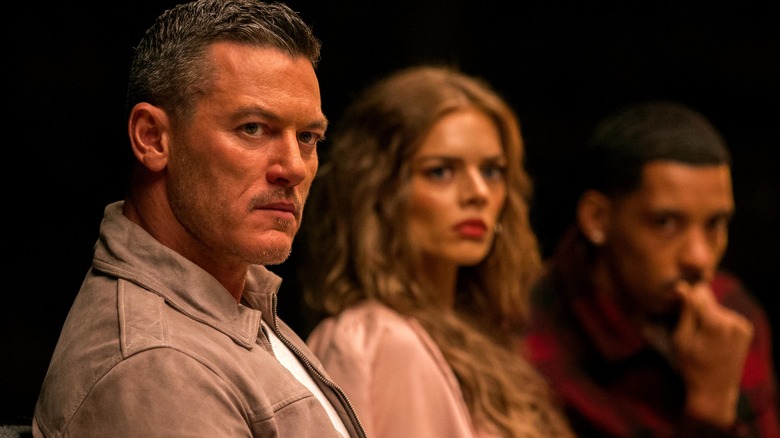 Hulu
"Nine Perfect Strangers" is a Hulu original series, so you can watch Season 1 in its entirety on the streamer. All eight episodes are available — "Random Acts of Mayhem," "The Critical Path," "Earth Day," "Brave New World," "Sweet Surrender," "Motherlode," "Wheels on the Bus," and "Ever After." Hulu also has some extras for fans of "Nine Perfect Strangers," including the "Inside the Series" and "Welcome to Tranquillim" featurettes.
Since "Nine Perfect Strangers" is an exclusive Hulu property, you can not watch it anywhere else, and episodes are not available to purchase on sites like Amazon Prime and iTunes. Thankfully, if you're a fan of the series, it means you already have a subscription (or at least borrowed a password), so there is no need to fret about getting a refresher before the new season drops.
What will Nine Perfect Strangers Season 2 be rated?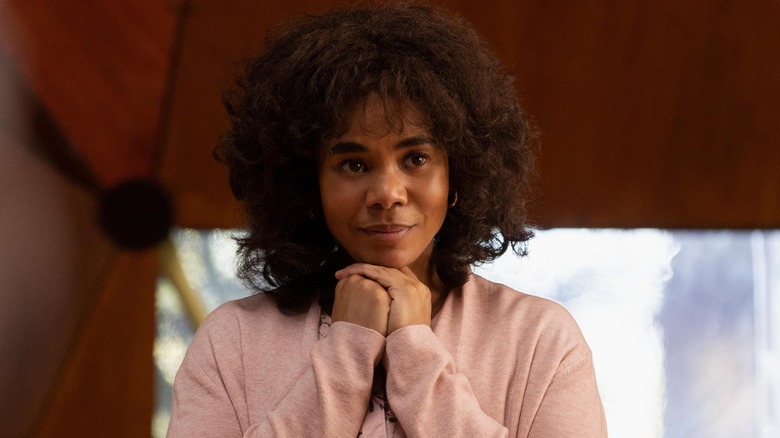 Hulu
Season 1 of "Nine Perfect Strangers" has a TV-MA rating, which means the series is unsuitable for those under 17. The show gets its rating due to language, drug use, some language, sexual scenarios, and mature content. There are depictions of sex, which include rear male nudity. 
A central theme of the show includes the guests of Tranquillim being given drugs without their consent, which sometimes leads to scary imagery as those guests hallucinate. If and when Season 2 happens, it should also fall into the TV-MA category, as seasons aren't generally given different ratings  — they belong to a series as a whole. If the next installment follows suit, we expect much more of the same adult content. We certainly do not recommend this show for children or young teens.