The Slow Burn Horror Thriller That's Killing It On Netflix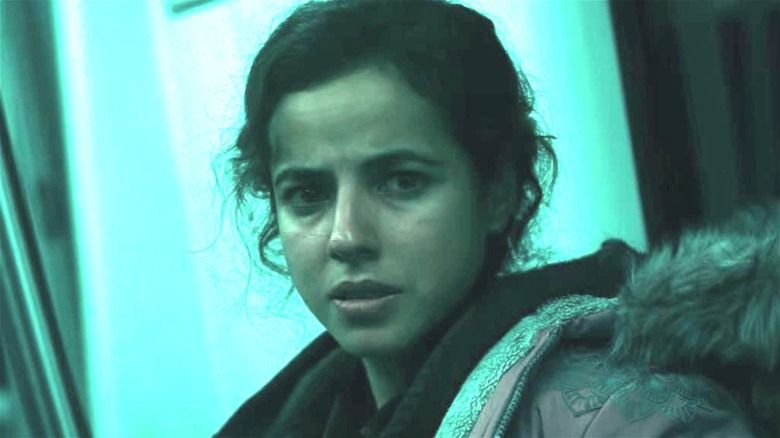 Netflix
With Halloween season just around the corner, streaming services have been adding more horror content to their platforms. Whether movie lovers are looking for comfortable, autumnal staples or heart-racing slashers, the streaming possibilities feel practically endless this Halloween season. While many horror classics, like "Halloween," "Scream," and "A Nightmare on Elm Street," will undoubtedly prove to be popular choices as well, Netflix has also found success with some original releases.
Coming off its summer of scares provided by the "Fear Street" film trilogy, Netflix's latest additions to the genre include the witchy, family-friendly "Nightbooks" and the smash hit "Squid Game," which currently holds the No. 1 spot on the platform. Indeed, while the highly-anticipated "Night Teeth" won't be available until late October, there are still plenty of other frightening flicks to binge on the service right now.
In fact, one of Netflix's most recent horror releases currently sits at No. 5 on the service's Top 10 in the U.S. chart and offers a unique twist on the haunted house genre. Here's the suspenseful new Netflix original that's gaining traction on the service and terrifying its subscribers.
No One Gets Out Alive... or do they?
Adapted from Adam Nevill's 2014 novel of the same name, "No One Gets Out Alive" is one of the latest horror movies to be added to Netflix this year. Directed by Santiago Menghini, the film combines the standard terror of haunted houses and ghost stories with the additional fears of being an undocumented immigrant stuck with limited resources.
It follows Ambar (Cristina Rodlo), who comes to the U.S. from Mexico to study business after her mother's death, but who struggles to make her dreams come true because of her undocumented status. She ends up staying in the mysterious Schofield Heights, an all-girls boarding house where the basement is off-limits. Gradually, she begins to connect with the other undocumented women staying there, many of whom are also hearing unsettling noises, seeing apparitions, and growing increasingly uneasy in the boarding house.
As its premise suggests, "No One Gets Out Alive" is a slow-burn horror-thriller that explores a grieving daughter's struggle to lead her own life, all while being forced to reckon with the increasingly dangerous situations she finds herself in. It's a suspenseful and memorable horror flick, one that forces its viewers to wonder: Will Ambar get out of the house alive, or is the film's title an ominous warning of what lies in store for her?