Read This Before You See The Harder They Fall
This content was paid for by Netflix and created by Looper.
Get ready for an all-new vision of the wild, wild West when "The Harder They Fall" arrives to select theaters on October 22 and on Netflix on November 3. The film tells a story of vengeance like you've never seen before, with an all-star cast, a visionary behind the lens, and tons of style to spare with its transportive landscapes, inventive costuming, and spectacular musical accompaniment.
The film reimagines the story of real-life cowboy Nat Love as he rounds up some fellow riders to help him get revenge against his enemy, Rufus Buck, an infamous American outlaw who has his own dedicated crew and is being released from prison. Many of the characters in the story are based on real-life historical figures, but the film puts them together for an all-new and spectacularly original adventure. Here's a look at what you should know about "The Harder They Fall" before the film arrives on screens this fall.
The sharpshooters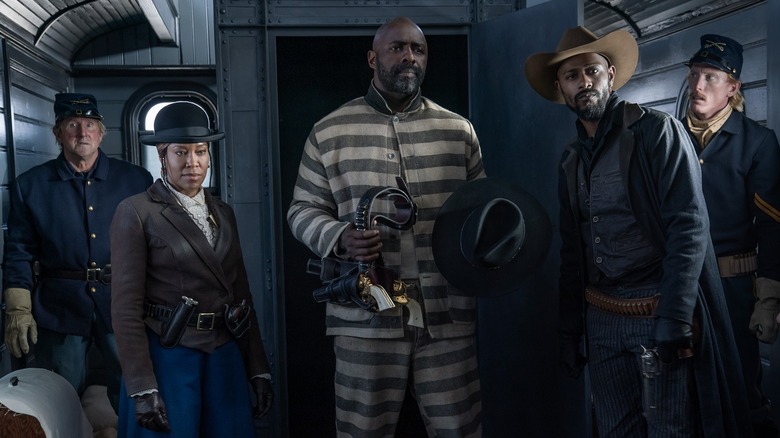 David Lee/Netflix
The cast of "The Harder They Fall" is stacked with some of the most impressive screen talents of our time. Leading the list of formidable actors is Jonathan Majors, who portrays Nat Love. Majors has quickly become one of the most in-demand actors in the business, thanks to his stunning work in films like "Da 5 Bloods" and his Emmy-nominated performance in TV's "Lovecraft Country." He also recently made his MCU debut as He Who Remains/Kang the Conqueror in "Loki" and will be seen again in the upcoming "Ant-Man and the Wasp: Quantumania."
Portraying Nat's archenemy, Rufus Buck, is the always-excellent Idris Elba. Elba is perhaps best known for playing drug dealer Stringer Bell in "The Wire" and for his celebrated title role in TV's "Luther," along with films like "Beasts of No Nation" and "Mandela: Long Walk to Freedom." Elba also has the unique distinction of being a star of both the MCU and DCEU with the "Thor" movies and "The Suicide Squad," respectively, and he comes into this film with plenty of horse-riding experience thanks to his stunning performance in "Concrete Cowboy." While the film will center around the heated enmity between these two, they're also joined by an electrifying ensemble.
The legends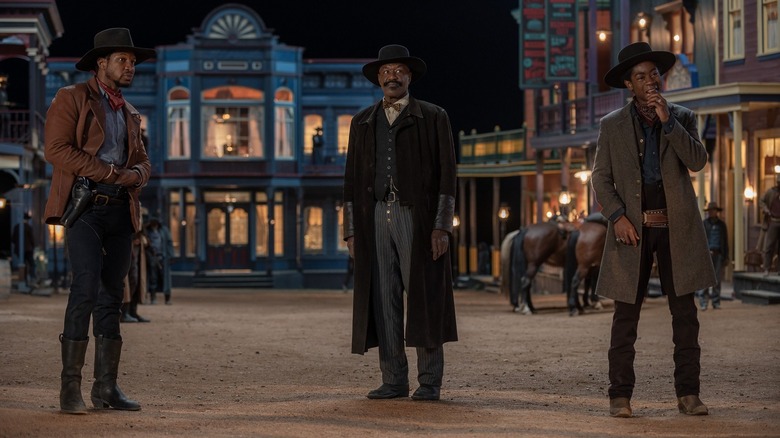 David Lee/Netflix
Oscar- and multiple Emmy-winning sensation Regina King also stars in this film as one of Buck's faithful followers, "Treacherous" Trudy Smith. Fans may know King for any number of her most celebrated screen roles, including performances in television's "American Crime," "Seven Seconds," and "Watchmen," as well as standout appearances in movies like "Jerry Maguire," "Ray," and "If Beale Street Could Talk." In addition to being captivated by the unique historical lens that "The Harder They Fall" presents, King also relished the opportunity to reunite with Elba on-screen, more than a decade after the two worked together in the 2007 holiday film "This Christmas." King said of the opportunity, "The idea of working with [Idris Elba] again was definitely an appeal."
LaKeith Stanfield also stars in "The Harder They Fall" as the notorious Cherokee Bill, who sides and rides with Rufus Buck. Stanfield was recently nominated for an Academy Award for his performance in "Judas and the Black Messiah" and is also known for his incredible work in films like "Short Term 12," "Selma," and "Get Out" and television series like "Atlanta" and "BoJack Horseman."
And in addition to reuniting with fellow "This Christmas" alums King and Elba, Delroy Lindo also reunites with Jonathan Majors in this film, after the two portrayed the riveting father and son duo in Spike Lee's "Da 5 Bloods." Lindo stars in this new film as Deputy U.S. Marshal Bass Reeves, and he said that the connection he and Majors developed on "Da 5 bloods" was a "rich working relationship" that "carried over" into their time together in this film. Along with his show-stopping performance in Spike Lee's war epic, he's also known for his work in films like "Malcolm X," "Clockers," and "Soul of the Game," just to name a few.
The gunslingers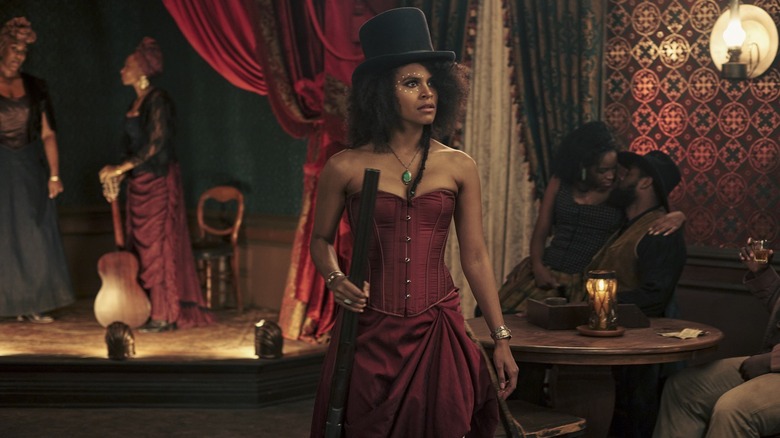 David Lee/Netflix
Meanwhile, Zazie Beetz portrays the trailblazer Stagecoach Mary, who has a history with Nat Love, and fans will no doubt recognize her for her memorable work in TV's "Atlanta" and blockbusters like "Deadpool 2" and "Joker." Edi Gathegi stars as Love's hot-tempered ally Bill Pickett, and fans are likely to recognize him for his work in the "Twilight" films and shows like "The Blacklist" and "For All Mankind." Also riding for Team Love is Jim Beckwourth, who's portrayed by RJ Cyler. Audiences may recognize him for his work in films like "War Machine" and "Sierra Burgess Is a Loser," along with shows like "Black Lightning" and "Scream: The TV Series."
Plus, look for Deon Cole as the character Wylie Escoe. Cole is known for his on-screen work on shows like "Angie Tribeca" and "Black-ish," and he's quite celebrated for his comedy writing and stand-up specials. And Danielle Deadwyler portrays the character Cuffee, and you may recognize her from TV series such as "The Haves and the Have Nots," "Paradise Lost," and "P-Valley." Put simply, this film is filled with some of the biggest names in entertainment, so fans are in for an absolute array of all-star performances.
The mavericks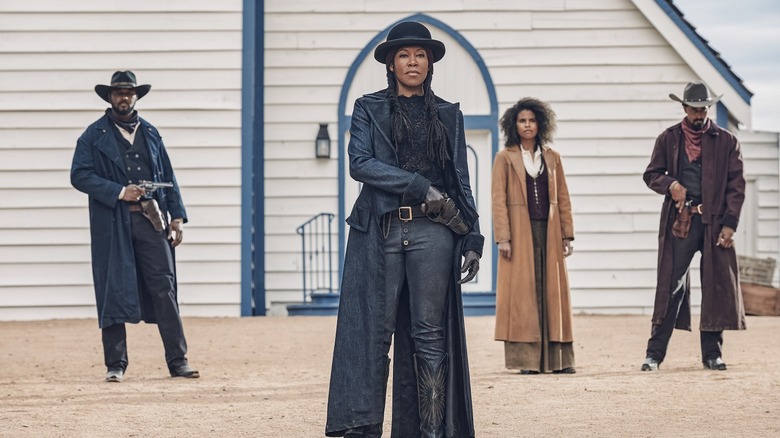 David Lee/Netflix
As incredible as the on-screen talent is for "The Harder They Fall," the caliber of behind-the-scenes talent is just as impressive. For example, Jeymes Samuel is directing and co-writing the film, and you may know him for his previous work on music for films like "The Great Gatsby" and directing the star-studded 2013 Western film "They Die By Dawn."
Samuel was a fan of Western movies when he was a kid, but he noticed something was missing from the genre once he got older — chiefly, Black cowboys and strong female characters. Samuel said he studied up on "all these fantastic characters we never got to learn about," so he got the idea to "collect all of these real characters that really existed [and] put them in one place at one time like the Avengers." For Samuel, the real-life figures of "The Harder They Fall" are essentially the "gods of the Old West."
Samuel co-wrote the script alongside Boaz Yakin, who's known for his work on screenplays for films like "The Rookie" and "Now You See Me." And Samuel also worked with Shawn Carter, aka Jay-Z, to craft the original music for the film, which he began formulating as he penned the screenplay. Carter, who's a producer on the picture, was also a go-to for some story notes along the way. As Samuel explained, "When I was stuck in places with the script, I'll call him, and he'll tell me, 'Okay, well, I've been through that before, and the person wouldn't pull out the gun then.' ... Not only does he know Westerns, he grew up in the Old West in Brooklyn, and ... he's just versed in every area I go to." Audiences can also expect to hear the stylings of other standout musicians, including Lauryn Hill, Kid Cudi, and the Fisk Jubilee Singers.
In addition to having a distinct vision for the characters, story, and music, Samuel was also immensely inspired when it came to the film's look, pointing to the artwork of Kadir Nelson as the inspiration for his sets and production design for the film. In all, "The Harder They Fall" is a genre-bending film that brings together some important historical figures for a rip-roaring new adventure, bolstered by all-star cast members and creatives at the top of their games.