Shows Like The White Lotus That Dramedy Fans Need To See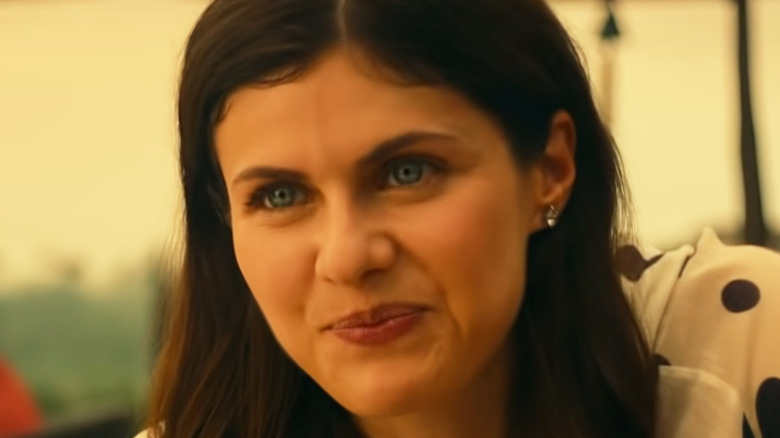 HBO/YouTube
"The White Lotus" whisks viewers away to the titular Hawaiian resort, where they're immersed in the family squabbles, power plays, and buried secrets of its well-heeled guests. Some, like newlywed Rachel, are strangers to such decadence. Others, like the Mossbacher family, have known little else. But each guest has gotten there through a number of complicated bargains, some struck long before they were even born. Now, they enjoy luxurious massages, premium suites, and plush bank accounts — but that doesn't mean they're happy.  Amidst these moneyed agonies, the resort's workers try to squeeze what they can out of their strange circumstances. This leads to scheming, disappointment, and in one case, outright murder.
TV fans fell in love with this scintillating satire, which racked up good reviews faster than you can say "pineapple suite." With just six episodes to its name, however, the explosive ending of "The White Lotus" comes all too quickly, especially for seasoned binge-watchers. Hungry for more darkly comic TV series after your whirlwind trip to Hawaii? Any fan of "The White Lotus" needs to see these cutting, clever dramedies.
New Eden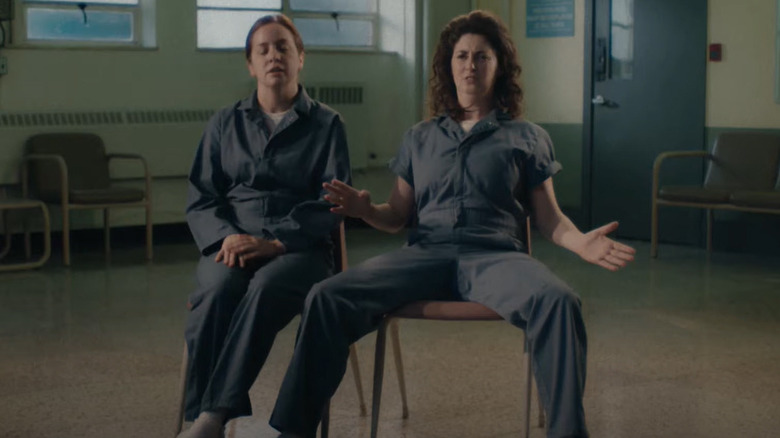 Crave
Guests of the White Lotus are surrounded by beauty, but that doesn't necessarily mean they're having a good time. In fact, these paradisal settings bring out the worst in them. The denizens of the eponymous women's commune turned cult on "New Eden" face a similar problem. They might be free of men, but they're still human beings, capable of betrayal, snobbery, and violence.
"New Eden" is a mockumentary series, purporting to be the work of early-'90s dudes eager for salacious details. Footage of life in New Eden is interspersed with "present-day" interviews with former members, pundits, and the group's leaders, Katherine and Grace. Though "New Eden" initially appears to be a simple spoof of true crime fandom at its sleaziest, it turns out to be a trenchant exploration of how the media turns real women into easily consumable characters. It's also incredibly funny. Much like "The White Lotus," "New Eden" gets many laughs out of the dissonance between human pettiness and tranquil surroundings. Puffed-up egos are everywhere here, from gleefully shark-like lawyers to former cultists who've turned their sordid past into cash. 
Yet for all the fun the show has puncturing these people, it never loses sight of why New Eden was established in the first place. Everyone wants to be happier, freer, and more peaceful, and while going to Hawaii works for some, others just want to get high on hallucinogenic honey with a bunch of other women. Too bad both pursuits end in bloodshed.
The Chair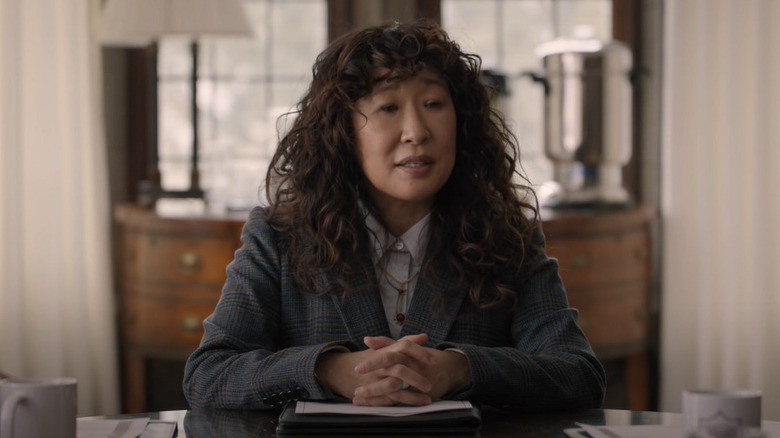 Netflix
While "The White Lotus" examines the power that wealth bestows, "The Chair" looks at what it's like to have power without wealth. Professor Ji-Yoon Kim has just been made chair of Pembroke University's English department. She might be blazing a trail, but that's not much comfort. The department is an unfashionable, unprofitable, and altogether uninspiring part of the school. Torn between professors who refuse to update their syllabi, a brilliant scholar up for tenure who threatens the department's dinosaurs, and her burgeoning attraction to a colleague, Ji-Yoon is coming apart at the seams. And that's before her love interest gives a sarcastic Nazi salute in the classroom, igniting a campus firestorm.
Ji-Yoon is a bit like Armond, the White Lotus' manager. They both head up venerable institutions yet lack the power to make significant changes to it. Moreover, both Pembroke and the White Lotus are keenly observed powder kegs of social strife. But while "The Chair" occasionally indulges in ennui, it doesn't leap into the abyss, as "The White Lotus" does. There's an earnest heart hidden beneath its frank observations of what it's like to embody change in a place that runs on pedigreed inertia. Sandra Oh's marvelously multidimensional performance as Ji-Yoon makes this balancing act look easy, as does the impeccable supporting cast. If you loved "The White Lotus" but perhaps want your next cup of bracingly black humor to come with a bit of a milk, make an appointment with "The Chair."
Hacks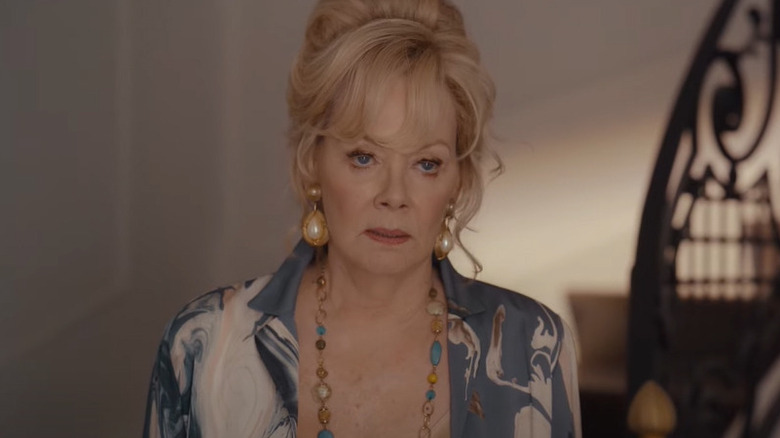 HBO Max
By the end of "The White Lotus," everyone has done something terrible — but only those without exorbitant wealth pay the consequences. "Hacks" captures a similar dynamic at work within the world of comedy. Deborah Vance, a trailblazing comedian with a record-breaking Las Vegas residency and a QVC empire, is being pushed to the side in favor of new talent. Ava Daniels is an up-and-coming comedy writer who's been tossed out of Hollywood for an iffy tweet. Forced to work together, they bristle, compromise, and eventually realize they've got a lot in common.
One of the things that most vividly unites Deborah and Ava is their relationship to money. Both women have had to forge their own path into showbiz without the benefit of family wealth or connections, which alienates them from their peers, colleagues, and loved ones. Though she's amassed a fortune, Deborah had to turn herself into a workaholic willing to debase herself in public to do so. Ava is seen as a shameless opportunist by people who don't understand that she can't afford to wait for things to blow over. If you enjoyed watching the world of the uber-rich churn in "The White Lotus," you'll definitely like seeing Deborah and Ava struggle to maintain their place in it — especially if you wish we could've spent a bit more time with the resort's employees, rather than its guests.
BoJack Horseman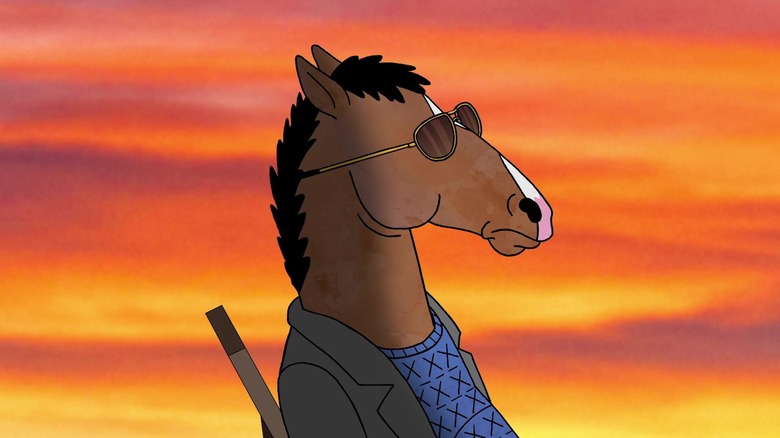 Netflix
What makes someone a bad person? Both "The White Lotus" and "BoJack Horseman" are interested in answering this question, and both come to a complex conclusion. While "The White Lotus" leans towards darkly humorous fatalism, however, "BoJack Horseman" manages to scrounge up some hope — but only after dragging itself through six seasons of trauma. 
BoJack is a washed-up sitcom star with enough money to do whatever he wants. He doesn't really know what he wants, however. His life is a string of cravings he resents yet cannot control. While "BoJack Horseman" is principally concerned with untangling the abuse, addiction, and cruelty that make BoJack this way, it's just as interested in capturing the harm he causes. BoJack's worst decisions impact people in ways that linger throughout the entire series, adding tremendous weight to the question of whether or not he can be redeemed.
To a certain degree, like the guests of the White Lotus, BoJack is able to insulate himself from consequences via wealth — but not always. And even when he can, the audience is always aware of the wreckage he's left in his wake. Does this mean BoJack is a bad person? Maybe. What's clear, though, is that his show is one of a kind.
Feud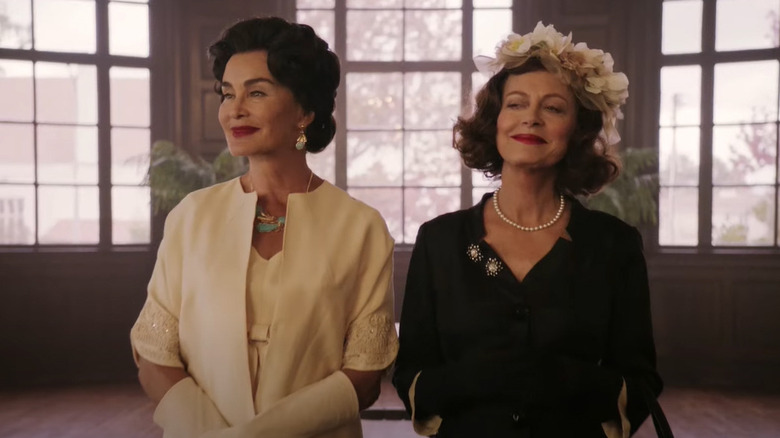 FX
Shane and Armond's brutal battle is one of the most vivid arcs in "The White Lotus." Overt aggression, saccharine entreaties, and sly subterfuge all take place within this sun-soaked war of attrition. That description also applies to "Feud," which captures Bette Davis and Joan Crawford's infamous rivalry at its most heated. This eight-episode miniseries chronicles the conception, creation, and aftermath of 1962's "Whatever Happened to Baby Jane?," the thriller that catapulted Davis and Crawford back into the spotlight. Though their hatred of each other might seem petty, it's based in deeply entrenched pain. They're women over 50, with a lifetime of harassment, assault, and sundry other cruelties behind them and a future of diminishing opportunities looming ahead. Constrained by the niceties of their station and their powerlessness within the wider world of Hollywood, they turn their anger on each other. 
Davis and Crawford's fight is a horizontal one, unlike Shane and Armond's — neither woman truly occupies a higher rung on the societal ladder. But just as "The White Lotus" examines inequality in miniature through the War of the Pineapple Suite, so too does "Feud" find culture-spanning meaning in the enmity between these legendary actors. Davis and Crawford's battle isn't just about make-up, Oscars, or dressing rooms, just as Shane and Armond's isn't down to a private patio. It's about control, authority, and freedom in a world that just wants them to shut up, play nice, and eventually fade into the background.
Made for Love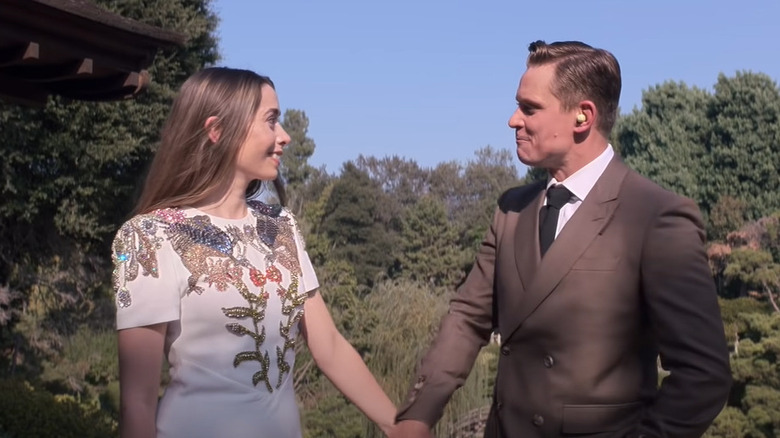 HBO Max
Hazel Green-Gogol has been married to tech magnate Byron Gogol for 10 surreal years. But even though she's finally managed to escape the virtual reality nightmare that is the Hub — Byron's sleek, modular castle of horrors — she can't fully leave him behind. See, before Hazel made her break for freedom, Byron had his latest device implanted in her brain, which lets him see through her eyes, keep tabs on her whereabouts, and otherwise treat her like a well-thumbed book. She might run, but she can't hide — even inside her own thoughts.
Like "The White Lotus," "Made for Love" plunges into the depths of elite evil. Byron and Shane would probably get along like a house on fire. They're both ignorant, childish princelings heedless of the human misery their entitlement causes. Both series also feature an intriguing mixture of shocking violence and artful distance. Blood eventually stains the White Lotus' mannerly veneer, just as literal brain surgery scars Hazel and Byron's Apple Store-shiny marriage. But of course, these seemingly sudden eruptions of savagery are only the truth, revealing itself at long last. Neither the placid White Lotus nor the Green-Gogols' bond could exist without barbaric dominance. Watching that fact come to the fore drives both of these brilliant shows — although "Made for Love" does it with considerably more technologically enhanced dolphins.
Succession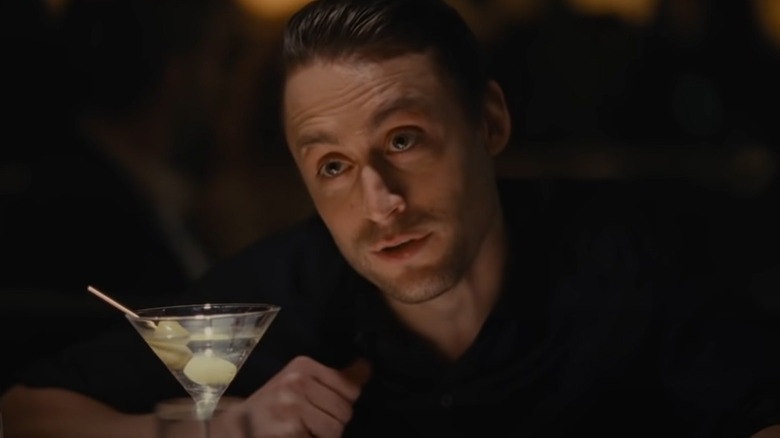 HBO
Let's be honest, if you love "The White Lotus," you're probably already a fan of "Succession," HBO's other dramedy about the ultra-rich. But if you're somehow not already familiar with the triumphs and travails of the Roy family, clear a spot in your schedule ASAP. You're about to spend a lot of time in front of a screen.
This decadent, diabolical, and devastatingly funny satire begins when Logan Roy, the Roy family patriarch and CEO of Waystar RoyCo, suffers a stroke on his 80th birthday. The stakes of this crisis are gargantuan. Waystar RoyCo is a global media conglomerate worth billions of dollars. Everyone's out to secure their place in the looming, Logan-less future, especially his four children, who are each totally messed up in their own special way. 
Like "The White Lotus," "Succession" examines what extreme wealth does to a person with an unsparing eye. Venality, neuroticism, and delusions of grandeur run rampant in this sprawling cast, which the show delights in chronicling. This isn't a lamentation for poor little rich kids, however. "Succession" is, above all, a satire that delights in skewering some of the world's most powerful people. The fact that it balances these things so expertly makes it a modern classic and enormously funny to boot.
Enlightened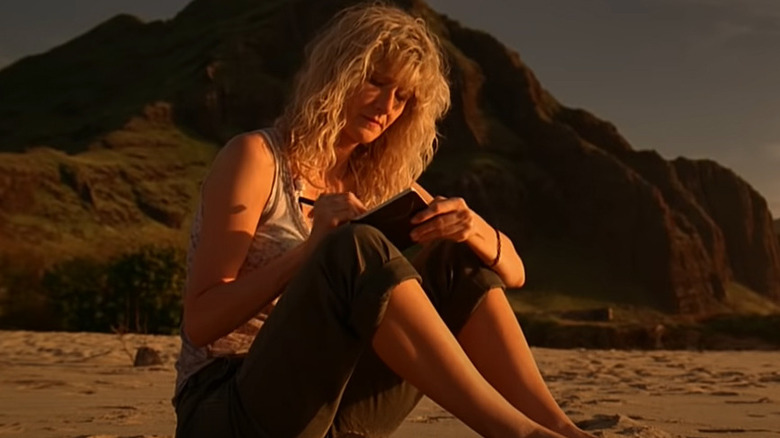 HBO
Before Mike White created "The White Lotus," he co-created "Enlightened" with Laura Dern, who also stars as Amy Jellicoe. While the White Lotus guests'  tremendous means fail to produce inner peace, Amy actually manages to grab hold of serenity. The trouble is, she achieves her bliss at Open Air, a therapeutic Hawaiian retreat she visits after an incredibly public office meltdown. It's easy for Amy to feel calm when her troubles are hundreds of miles away, but it's a whole lot harder once she's back in California. All the mantras and meditation in the world can't change the fact that her job is soul-sucking, her mother isn't buying her new lease on life, and everyone she knows is still full of memories of her at her absolute worst.
As Amy, Laura Dern delivers one of the greatest modern performances of the small screen. A whole lot of people don't like Amy, and the viewer is never in doubt as to why. She's destructive, mercurial, and often exhausting. Yet Dern keeps you on her side from the first episode until the last. Like so many characters in "The White Lotus," Amy wants to make the world a better place by being an "agent of change," which turns out to be a lot harder than she initially thinks. Traveling that rocky path is clearly Mike White's specialty, and it's never more rugged, or more glorious, than it is on "Enlightened."
The Great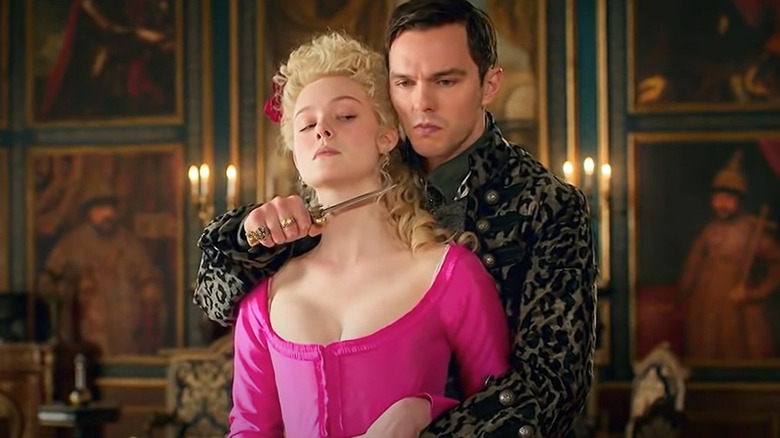 Hulu
While "The Great" technically tells the story of Catherine the Great's ascent to power, it's far more interested in capturing the absurd gyrations of the Russian court than being historically accurate. What results is gleefully ridiculous, occasionally filthy, and surprisingly slapstick. But while "The Great" occasionally makes "The White Lotus" looks downright austere by comparison, its silliness is quite serious. The fact that the highest echelons of Russian society can afford to waste their time with bizarre parties is down to their Mossbacher-like death grip on the reins of power.
Catherine would like to change this. Though she's an aristocrat by birth, her idealism recalls Belinda, the White Lotus' spa manager — neither really has any idea what they're in for. While "The White Lotus" ultimately refuses to offer its audience much in the way of hope, however, "The Great" operates according to Catherine's inevitable victory. She will eventually take the throne, and Russia will change accordingly, as the viewer knows. But the road to the crown is already changing her and not always for the best. "The Great" is rooting for Catherine, but it's also keeping track of her missteps, some of which are grievous. Can good intentions win the day? "The Great" might offer more ballgowns than "The White Lotus," but the way it treats this question is much the same.
On Becoming a God in Central Florida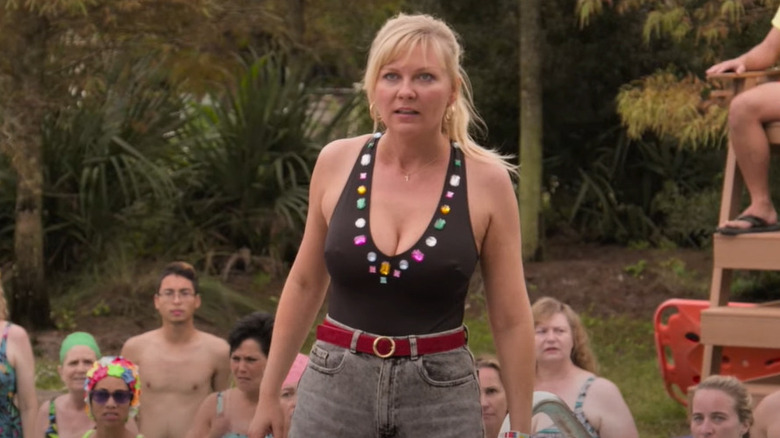 Showtime
Krystal Stubbs starts out where Belinda of "The White Lotus" ends — disenchanted with rich people's empty promises. Her husband is dead, leaving her deeply in debt, and a multi-level-marketing scheme known as Founders American Merchandise is to blame. FAM preys on people like the late Mr. Stubbs, who dream of a better life but lack ways of getting there. Desperate, furious, and determined to avoid destitution, Krystal sets out to rise through FAM's ranks so she might take revenge. But things get complicated when one decides to sell their soul — especially when Krystal turns out to be way better at doing so than her husband ever was.
"On Becoming a God in Central Florida" is a dark inverse of "The White Lotus" in many ways. They share an interest in the chasm between the haves and the have-nots, a searing sense of humor, and a strong sense of place. But "On Becoming a God in Central Florida" focuses entirely on those on the losing end of the American dream and the world they inhabit. Krystal, who lives in the Orlando area, is constantly adjacent to splendor. But unlike Belinda, Lani, and Armond, she never actually mingles with those who can access it. Though this incisive series was cut short by the COVID-19 pandemic (via Deadline), its single season is still worth the time of any fan of "The White Lotus."
Reservation Dogs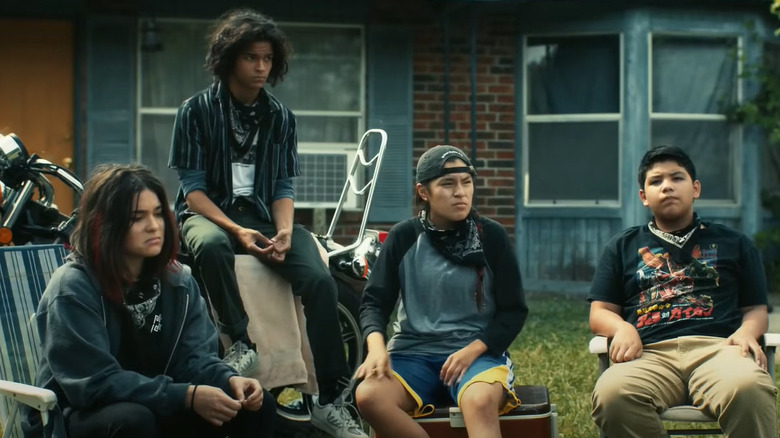 FX on Hulu
The worlds of "The White Lotus" and "Reservation Dogs" are dramatically far apart. The former show takes place in a manicured Hawaiian resort, where even the smallest desires are catered to. The latter is set on an Oklahoma reservation, where four Native American teens scheme, fight, play, and commiserate about life in straitened circumstances. Yet these disparate shows are united by their wry senses of humor, subtle surrealism, and, most prominently, their interest in indigenous communities. While "The White Lotus" uses its Native Hawaiian characters as building blocks in a larger edifice of storytelling, however, "Reservation Dogs" is entirely devoted to indigenous life.
The Rez Dogs are quintessential teenagers, full of frustrated energy, emerging pathos, and desperate desires for something better than what they've got. They're also mourning the death of their fifth member, Daniel. This loss spurs their interest in fleeing to California, a move they try to fund by stealing a delivery truck full of chips in Episode 1. But for all the hardship on display, "Reservation Dogs" isn't a misery-fest. It is, in fact, hilarious. Every single character on this show, even the most briefly glimpsed, is a flawless mix of human foibles. They inhabit a world as ludicrous as it is mundane, where visions of spiritual guardians are occasionally caught peeing behind dumpsters. What results is one of the most freshly funny series on the air, which also manages to be one of the most deeply introspective.
The Marvelous Mrs. Maisel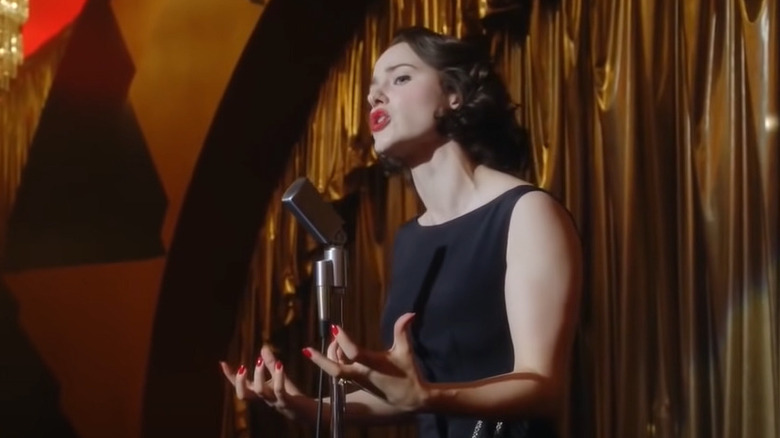 Amazon Prime Video
Beside the caustic comedy of "The White Lotus," "The Marvelous Mrs. Maisel" seems positively fluffy. After all, the titular Mrs. Maisel is a rich housewife whose shoes match her hats, out to break into the world of stand-up comedy. Admittedly, "Mrs. Maisel" strikes a markedly zanier tone, and it's undoubtedly on its well-coiffed heroine's side. But make no mistake — this is a searing look at the class, sex, and ethnic divisions that delineated mid-century society.
In "The White Lotus," Rachel contemplates the power Shane will always have over her if she remains his wife. Midge Maisel lives Rachel's nightmare scenario when her husband leaves her in Episode 1. Sure, her parents take her in, but as she's forced to confront, she has very little control over her own destiny as a woman of the 1950s. The wealth that's characterized her life thus far isn't actually hers — it's her father's or her husband's, both of whom are prone to selfishness. Moreover, though she's a brilliant comic, no one really knows what to do with a talented woman who wants to make it sans gimmick, as Lenny Bruce (who appears on the show) does. While Rachel gazes into the void during her week at the White Lotus, Midge is shoved into it, headfirst. A spirited journey into the heart of a changing culture ensues.
Transparent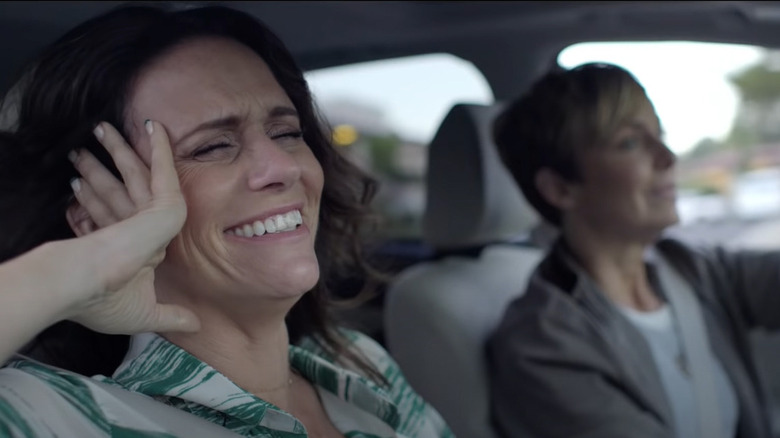 Amazon Prime Video
Though viewers spend a mere week with the Mossbachers on "The White Lotus," they're so vividly drawn that they feel instantly familiar. The Pfeffermans of "Transparent" are quite unlike the Mossbachers in many ways, but the blend of resentment, devotion, and anxiety that fuels them is just as painstakingly portrayed. Maura Pfefferman, a retired professor, comes out to her family as a trans woman over the course of Season 1. The series treats her experience, and that of her family, with sensitivity, daring, and a crisp sense of humor.
"The White Lotus" and "Transparent" both stare unblinkingly into the dark. But the former show's brevity prevents it from deep exploration of things like Nicole's clearly long-simmering anger or Kai's ultimate fate. In contrast, "Transparent" plunges into the depths of the Pfefferman family's story. Season 2 is especially impressive in this regard. Flashbacks take the viewer to Germany on the precipice of Nazism, where Maura's Jewish ancestors, including the transgender aunt she never knew, face an ever-more-terrifying reality. History, identity, and truth itself refuse to lie down and play nice for the Pfeffermans, who have to learn what every family must at some point — how to live with each other. Their journey doesn't take them to Hawaii, but it's just as dazzlingly colorful as any island sunset the Mossbachers take in.
The Flight Attendant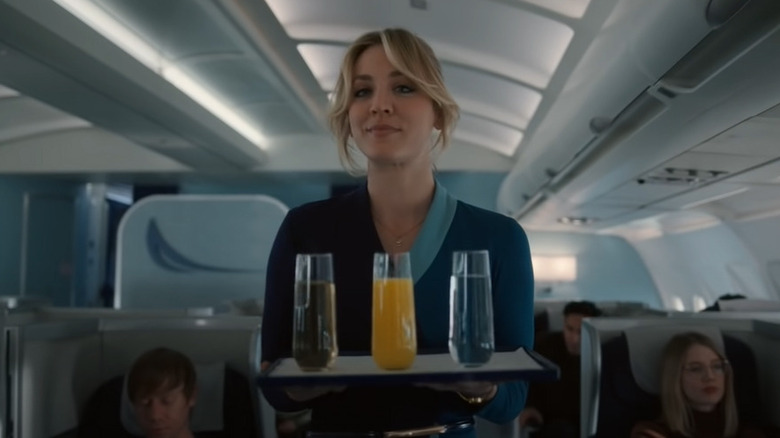 HBO Max
A lot of stories start with death. "The White Lotus" deploys this trope with chilling simplicity — by having a couple remark upon a recent, unspecified death at the White Lotus and showing a box labeled "HUMAN REMAINS" being loaded onto a plane. "The Flight Attendant" takes a pulpier route. Cassie, the titular flight attendant, enjoys a passionate night with a gorgeous passenger, falls asleep in his Bangkok hotel room, and wakes up to his throat-slashed corpse.
This attention-grabbing opening defines the difference between "The White Lotus" and "The Flight Attendant." The former show has a wacky streak and a penchant for sudden violence, but the latter is an outright thriller. Alfred Hitchcock's influence is obvious — "The Flight Attendant" even boasts a sleek, Saul Bass-ish opening sequence. But there's quite a lot of Armond in Cassie, who also struggles with substance abuse. An alcoholic of many years, her grip on reality becomes increasingly frayed over the course of the series. This is never more obvious than when she lapses into oddball dream sequences in which she reflects upon the past, often talking with the mysteriously deceased passenger she never truly knew. 
Though there are no restful spa visits here, hedonism, glamour, and bloodshed collide in "The Flight Attendant" much like they do on "The White Lotus." What results is fascinating, frantic, and fun as all get-out.
If you or anyone you know is struggling with addiction issues, help is available. Visit the Substance Abuse and Mental Health Services Administration website or contact SAMHSA's National Helpline at 1-800-662-HELP (4357).