How Robert De Niro Helped Tom Hanks Land His Iconic Role In Big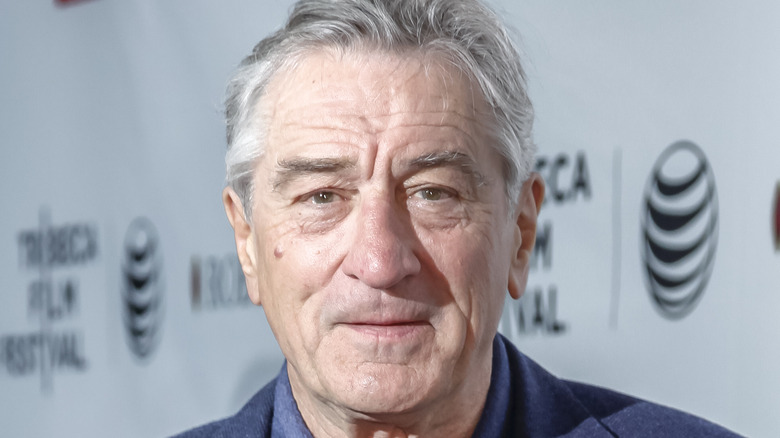 Sam Aronov/Shutterstock
For actors, sometimes all it takes is the stars aligning at just the right time and in just the right place for their entire careers to change for the better. In the case of Tom Hanks, it was in 1988 when the actor literally made it "big" — and Robert De Niro had a hand in helping him get there.
While he's known as one of the most talented comedic and dramatic American actors of his generation, Hanks' career didn't look nearly as promising in the years leading up to "Big" as it ultimately turned out to be. After making waves alongside John Candy and Daryl Hannah in 1984's "Splash," Hanks spent a long time on a path to being just another cinematic funnyman, with the actor appearing in unremarkable films like "Volunteers," "Bachelor Party," and "The Money Pit" in the years following the original release of "Splash."
At the exact same time all that was happening for Hanks, Robert De Niro had already cemented himself as a revered name in the industry. In fact, by 1984, De Niro had already appeared in acclaimed dramatic films like "The Godfather: Part II," "Taxi Driver," "The Deer Hunter," and "Raging Bull," all of which earned him Academy Award nominations (and two wins).
However, it was in the late 1980s that De Niro, one of Hollywood's most well-known dramatic actors, was offered a role unlike any he'd tackled before: a boy that wished he could grow up and become an adult in "Big."
The real reason Robert De Niro didn't star in Big
On the film's 25th anniversary, The New York Post revealed that Tom Hanks was, indeed, the first choice for the role of Josh, the wishful young boy who wakes up one morning to discover he's a fully grown man, in "Big." However, Hanks initially felt some apprehension about taking the part, which led him to turning it down. From there, director Penny Marshall offered Robert De Niro the role. The "Raging Bull" actor actually expressed interest in taking it as well, and even went so far as to meet with actor Jared Rushton, who played Josh's friend Billy in "Big." All of this came to a halt, though, when the matter of salary started being discussed.
De Niro's number exceeded what the studio was willing to pay, with neither party willing to budge, despite Marshall even agreeing to give up her fee for the film if it meant keeping the actor on board. De Niro ultimately exited the project — leaving some enormous shoes to fill in his wake. Thankfully, all this commotion had apparently made its way back to Hanks, who rethought his initial decision following De Niro's departure. It was a choice that later paid off massively for all involved. The film was a major box office success, raking in over $117 million worldwide, and Hanks earned his first Oscar nomination for his performance in the film.
Fortunately, while audiences were deprived of getting to see Robert De Niro play chopsticks on a giant keyboard, the "Big" they got is still a beloved film. Most importantly, it marked a major turning point in Tom Hanks' career, one that opened the door for him to star in films like "Sleepless in Seattle" and "Philadelphia" just a few short years later.