The Famous Rock Band You Forgot Performed In Pawn Stars' Parking Lot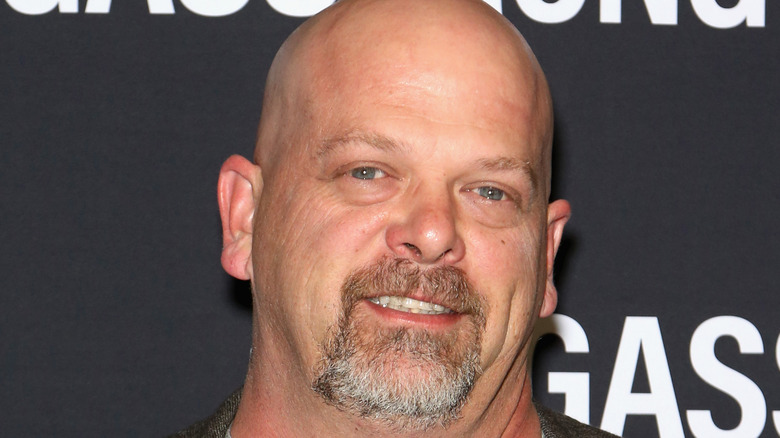 Gabe Ginsberg/Getty Images
Since Season 8 in 2013, the theme song to History's "Pawn Stars" has been "Winning Isn't Everything," an original composition for the show by Southern rock legends Lynyrd Skynyrd (via the Los Angeles Times). Lynyrd Skynyrd, of course, is the three-guitar hard rock band behind such classics as "Sweet Home Alabama" and "Freebird." They've been around for even longer than "Pawn Stars," if you can believe it -– their debut album, "Pronounced 'Lĕh-'nérd 'Skin-'nérd," came out all the way back in 1973.
There's a lot of overlap between the "Pawn Stars" fanbase and the Lynyrd Skynyrd fanbase, so it's no surprise that when Skynyrd played a concert in the parking lot of the world-famous Gold & Silver Pawn Shop, a whole lot of people showed up. The clip from the fun event can be watched on YouTube. The concert happened in 2013 to celebrate the new theme song, as well as "Pawn Stars" moving to Thursday nights, as Rick Harrison explained. And the fans who attended also had a lot to say about what a rocking time it was.
It was one of the best nights of Rick's life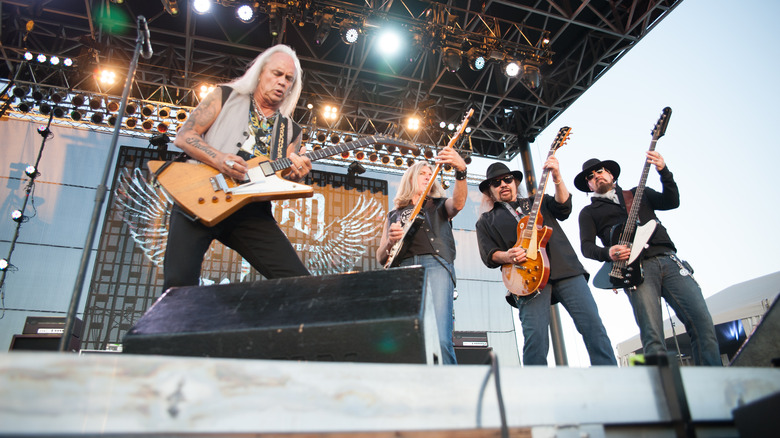 Randy Miramontez/Shutterstock
In the clip, fans testify about how much they love Lynyrd Skynyrd and "Pawn Stars." One group of fans says they flew to Las Vegas from Indiana to see them both. 
The "Pawn Stars" guys -– Rick, Corey, the Old Man, and Chumlee –- are all seen rocking out while the band performs, with Chumlee shredding on his air guitar and singing along. There's also footage of the band visiting the store and checking out some of Rick's treasures, which include a wall of rare guitars and a hat with a snakeskin band that presumably belonged to Ronnie Van Zant, Lynyrd Skynyrd's original lead singer who died in a plane crash in 1977. (His younger brother, Johnny, is the band's current lead singer).
The "Pawn Stars" boys had a great time rocking out in their own parking lot. "This is one of the greatest nights of my life," Rick gushes.
"We way overdid the budget," Chumlee says.
"Well worth it," replies Corey.
And it had to have been. Getting a classic rock band to play a show in your parking lot is the sort of opportunity that strikes only once in a lifetime.