The First Teaser For Curb Your Enthusiasm Season 11 Has Arrived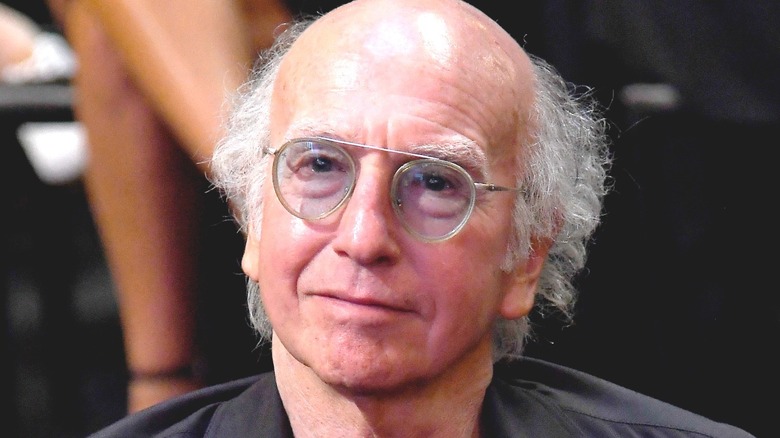 Kevork Djansezian/VMN19/Getty Images for Comedy Central
Larry David is one of the most influential figures in modern comedy. He helped bring absurdism and observational humor to the forefront of the genre thanks to "Seinfeld," which reigned supreme throughout the 1990s. While co-creating one hit show would be enough for some, David quickly followed it with his next passion project. 2000 saw the release of a show that allowed him to go even further with his signature brand of comedy thanks to its placement on HBO — "Curb Your Enthusiasm."
The show ran for eight seasons initially until 2011 before coming back for a special season in 2017 and again in 2020. The nation was heavily divided within that period, so it was the perfect time for everybody to come together and laugh at David's antics. It looks like we won't have to say goodbye to Larry David any time soon, as it's come out Season 11 is on the horizon, and we now have a special teaser to tell us how we'll soon hear that classic "Curb Your Enthusiasm" theme song.
Larry David is still the center of the universe on Curb Your Enthusiasm
You won't find any new clips in the latest teaser, but considering the fact we're so close to new "Curb Your Enthusiasm," you won't mind in the slightest. More than anything, it functions as a reminder that Season 11 will drop on HBO on October 24. It opens with an epic scope of the world in the foreground with the sun in the background alongside the phrase, "The World Has Changed." Then, it's revealed the Earth is actually Larry David's head next to, "He Hasn't." It's effective in the sense it lets us know "Curb Your Enthusiasm" will be the same as ever, filled with jokes and awkward situations aplenty.
The teaser may only be a minute in length, but it was enough to send fans' hype through the roof. As you look through the YouTube comments, you'll find plenty of praise for the series. Some of the messages you can read include "I was thinking about this yesterday....this could be the most bananas season yet" and "Larry David is on my Mt. Rushmore of comedy."
The only way to watch the new season (and every season that's come before) is with a subscription to HBO or HBO Max. Either one is only $14.99/month, which is a small price to pay to laugh yourself silly.