The Natalie Scene On Chicago Med That Had The Internet In Tears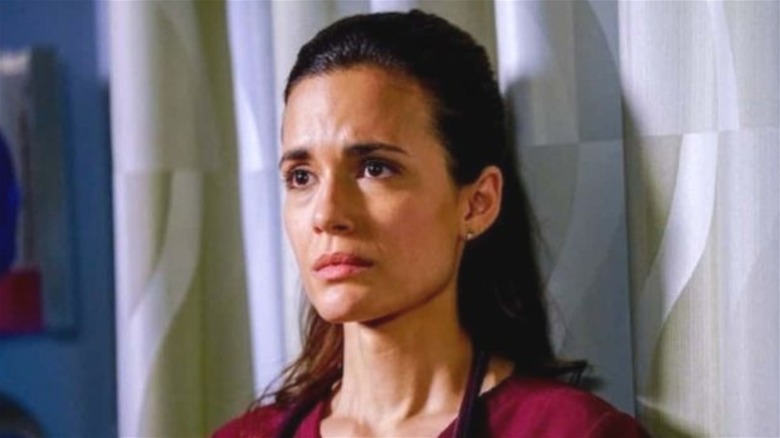 NBC
Dr. Natalie Manning (Torrey DeVitto) has remained a constant, steadfast presence on "Chicago Med" since it first came on the air. Back in Season 1, she was introduced as a pediatrician going through the unimaginable burden of losing her husband while he served in the military. To further add to the drama, she was pregnant at the time. While she got off to a rocky start, she came to be an invaluable member of the team, helping to save lives and make the world a little bit more bearable for countless individuals.
Dr. Manning seemed to be doing well until the bombshell Season 6 finale, where she admits that she stole medication from her workplace to aid her sick mother. While unprofessional, audiences could absolutely see where she was coming from. Nonetheless, she broke a serious ethical code, and as a result, she left Chicago Med with her son in tow during the Season 7 premiere episode "You Can't Always Trust What You See."
Plenty of characters have come and gone from "Chicago Med" over the years, but few have hurt quite as much as this. As Dr. Manning prepares to drive off into the sunset, more than a few fans shed a tear, knowing this could very well be the last time we see Dr. Manning on the show.
Fans weren't ready to say goodbye to Dr. Manning
NBC
Season 7 of "Chicago Med" didn't waste any time in making people cry. The opening scene shows Dr. Manning packing her things and saying farewell to Dr. Halstead (Nick Gehlfuss). They shed some tears and hug one another as Dr. Manning insists she'll be all right despite stealing the drugs. We don't know what the future holds for the character, but hopefully, she can swing by the Gaffney Chicago Medical Center at some point to check in on her old friends.
The "Chicago Med" Twitter page shared a gif from the scene, and it was enough to get fans emotional all over again. Plenty of people chimed in with their thoughts on her departure, such as @dawsn_gabby: "I haven't watched it and I'm already sad about her leaving." Most people were just happy Dr. Manning received some semblance of closure. On shows like "Chicago Med," it's not unheard of for characters to leave off-screen. Still, it doesn't necessarily ease the pain, as @nancyxmarjan writes, "I miss Natalie already! Why did she have to leave."
Of course, Dr. Manning isn't the only character to leave recently. April Sexton (Yaya DaCosta) also left Chicago Med in Season 6 but with far less fanfare on-screen. Other fans, like @bello_ricky, could only think about April with the Season 7 opener: "Hoping I missed the mention about April because she needs same, closure!" Regardless of how characters leave, it doesn't make their exits any easier. All fans can do is prepare themselves mentally for the next beloved character to move on to bigger and better things.