AHS Fans Agree That This Is Kathy Bates's Best Character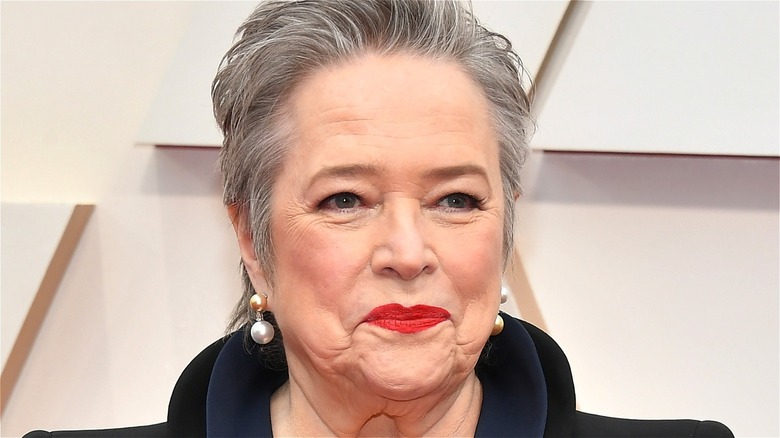 Amy Sussman/Getty Images
"American Horror Story" fans were widely disappointed when Kathy Bates had to drop out of its tenth season, "Double Feature," because of health issues. Indeed, her unfortunate absence from the season ensures that the "crazy, erotic sex scene" that was supposed to take place between Bates and "AHS" newcomer Macauley Culkin (via Entertainment Weekly) will likely never see the light of day.
Of course, that's not the only reason fans were disappointed Bates wasn't in "Double Feature." The actress is, like many of the veteran "American Horror Story" cast members, an extremely accomplished and talented screen performer. Over the course of her career, she has been nominated for four Academy Awards, and even won a Best Actress award in 1991 for her performance as Annie Wilkes in the big-screen adaptation of Stephen King's "Misery." Her other film credits include "Fried Green Tomatoes," "Titanic," "The Boss," and "On the Basis of Sex."
Bates joined the cast of Ryan Murphy's horror anthology series during its third season, known as "American Horror Story: Coven." To date, she has appeared in five total seasons of the series and played six different characters. Like many of "American Horror Story" producer Ryan Murphy's muses, Bates has also collaborated with Murphy outside of the horror anthology series, playing actress Joan Blondell in his old Hollywood miniseries, "Feud: Bette and Joan."
To her immense credit, every character Bates plays on "American Horror Story" manages to be a memorable one, but which character do fans think is her absolute best?
American Horror Story fans loved Kathy Bates as Madame Delphine LaLaurie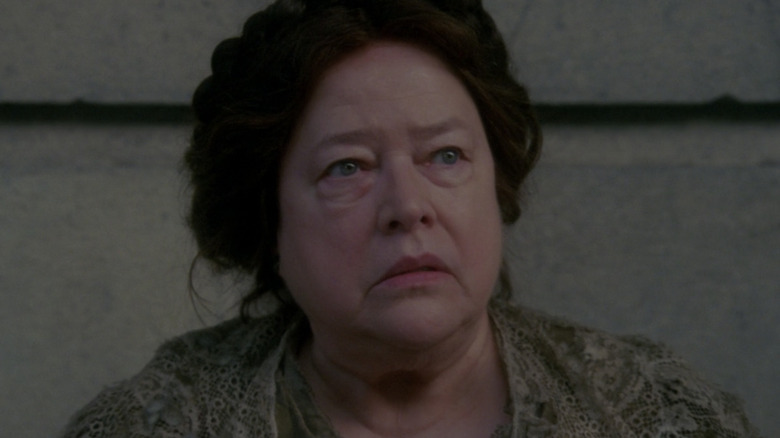 FX
Fans recently participated in a poll on the show's subreddit to determine which of Kathy Bates' "American Horror Story" characters has been her best. None other than Madame Delphine LaLaurie emerged as the winner, garnering 184 of the poll's 345 total votes. Bates played the character, a racist who tortured and mutilated slaves in the attic of her New Orleans home in the 19th century, in "American Horror Story: Coven."
After killing the lover of Marie Laveau (Angela Bassett), the voodoo queen made Madame Delphine immortal and buried her alive. Delphine was later dug up by Fiona Goode (Jessica Lange) and subsequently took residence at Miss Robichaux's School for Exceptional Girls. Although she believed death to be preferable to the modern world, Delphine had a change of heart when she was sentenced to an eternity of watching her daughters be tortured by Laveau.
Coming in second at 63 votes was Iris, the beleaguered manager and devoted mother who Bates played in "American Horror Story: Hotel." Interestingly, 57 Redditors also seem to have loved Bates' turn as Agnes Mary Winstead, the actress who played "The Butcher" in "American Horror Story: Roanoke." Many viewers hated the mid-season twist of "Roanoke," which turned its haunted house story into a reality show, but fans still seem to have gotten a lot of joy out of watching Bates' portrayal of an unhinged method actress. 
Elsewhere, Ethel Darling, the cancer-stricken bearded lady that Bates played in "American Horror Story: Freak Show," placed fourth in the poll with 26 votes. Meanwhile, it was Bates' Miriam Mead from "Apocalypse" that placed last in the poll, making her fans' least-favorite of Bates' "American Horror Story" characters to date.