What The Final Girl From Friday The 13th Looks Like Today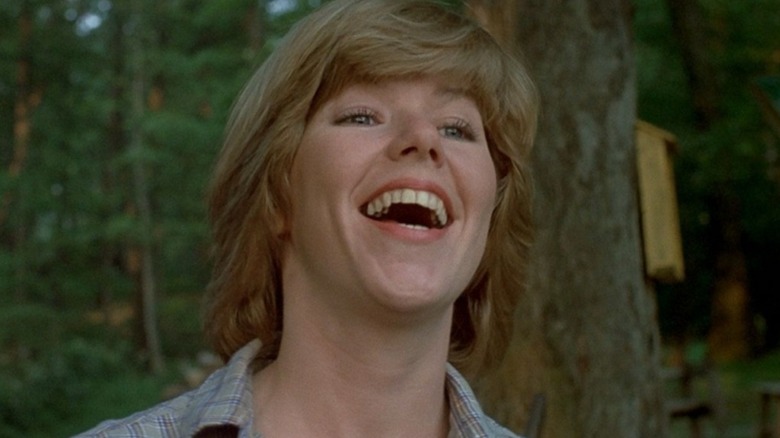 Paramount Pictures
The original "Friday the 13th" was meant to cash in on the success of "Halloween" — at least, that's the claim the film's original writer, Victor Miller, made in an interview for "Crystal Lake Memories: The Complete History of Friday the 13th" (via We Minored In Film). However, the instant classic slasher flick quickly became a sprawling franchise of a dozen films plus TV series, novels, comics, and video games. Interestingly, the legendary villain, Jason Voorhees, wasn't introduced until the end of that first film.
The film that started it all saw his mother, Pamela Voorhees, as the vengeful summer camp killer. After picking off the laidback, sex-obsessed counselors at Camp Crystal Lake, Mrs. Voorhees (Betsy Palmer) confronts Alice Hardy (Adrienne King), eventually revealing that her son drowned at the camp because of negligent counselors. A brutal fight for survival ensues, with Alice finally managing to behead the deranged, grieving mother.
And with that, Alice became the franchise's first final girl and the sole survivor of the first massacre at the camp. In a 2019 interview with Morbidly Beautiful, King was asked how it feels to be an iconic final girl. "Pretty damn cool, right?" she answered, adding, "Not to mention belonging to a great club of tough ladies who I respect immensely."
So, what has the actress been up to since the 1980 film?
What is Adrienne King doing today?
As "Friday the 13th" fans know, Alice's final girl status, unfortunately, doesn't last long. Adrienne King reprised her role in "Friday the 13th Part 2," where her character is murdered with an ice pick. Though Jason Voorhees caught up with her, Alice is still considered one of the franchise's best final girls.
After her "Friday the 13th" roles, King took a hiatus from appearing on screen because she was violently stalked by a man who had watched the films (via Uproxx). She explained that she was only comfortable taking on voice roles for a while, which allowed her to continue working and explore a new format. During this time, she did voice work on eight seasons of "Melrose Place" as well as films, including "Jerry Maguire," "Titanic," and "Almost Famous," among many others.
King returned to live-action films with 2010's "Psychic Experiment," going on to consistently take roles in thrillers and scary movies, including "All American Bully" and "Killer Therapy." She also appeared in "Tales of Poe" alongside fellow "Friday the 13th" final girl Amy Steel.
As of this writing, King regularly appears at horror conventions to connect with her fans (known as Campers), runs a wine company appropriately named Crystal Lake Wines, and showcases her original paintings.