Check Out A Disturbing New Clip From Syfy's Chucky Series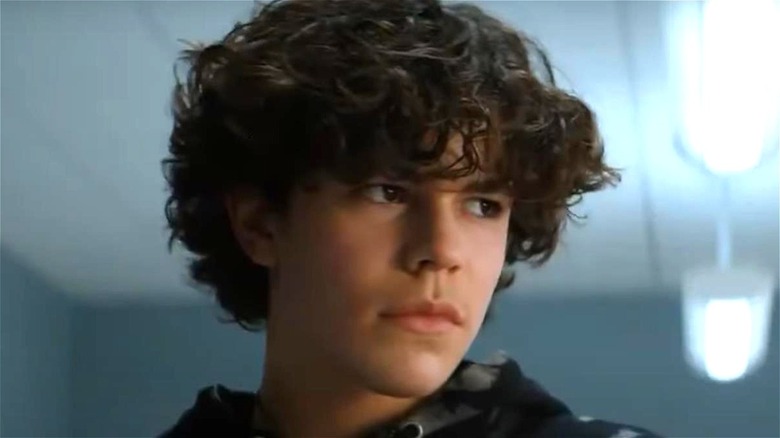 Syfy/USA
Sorry, Jack, Chucky's Back.
Horror fans have been champing at the bit for more information since USA Network and Syfy's "Chucky" was announced back in 2018. Tantalizingly, news has dripped out over the ensuing years like blood from a knife wound. "Chucky" will serve as a continuation of the "Child's Play" series of films — one that fully ignores a 2019 big screen reboot of the material — which didn't involve Chucky creator Don Mancini — and will pick up after the 2017 film "Cult of Chucky." 
"Chucky" will bring back Brad Dourif to voice the homicidal doll, as well as a host of other cast members from the original movie series, including Jennifer Tilly as Chucky's true love, Tiffany Valentine; Douriff's daughter, Fiona, as Nica Pierce, last seen possessed by Charles Lee Ray's spirit; Alex Vincent as Andy Barclay, Chucky's first nemesis and Christine Elise, who portrayed Andy's foster sister Kyle in "Child's Play 2." You can also expect a host of new characters who will be haunted by the malevolent spirit of the Chuckster.
An ad campaign inspired by the 1978 horror film "Magic" (via Bloody Disgusting) debuted this past summer for the show, and has stoked excitement to a fever pitch. Now, in this brand-new first-look clip, it appears that Chucky's back to his old tricks.
High school can be its own kind of hell
In this brand-new clip, Jake Wheeler (Zackary Arthur), the series' protagonist, is seen in his high school biology class with Chucky sitting beside him in a chair. His teacher quotes author E.B. White as she walks between the rows of tables, trying to prepare her students to dissect a frog. Jake clearly finds the notion appalling, and his teacher picks up on his reluctance and wonders if he has a religious objection to the task at hand.
"I can't stand the sight of blood," he informs her, but — in spite of some taunting from a bully, whom she tells to "shut the f*** up" — she encourages Jake to go through with cutting up the amphibian. He becomes visibly nauseous and breathes heavily to regain his composure, turning away from the table. The clock ticks away. The audience can hear Jake's heartbeat on the soundtrack. When he turns around, the frog has been split apart, a scalpel sticking out of its still-beating heart. Cue Jake's amazement and Chucky's best poker face.
The chilling sight is truly an appetite whetter for the October 12 debut of "Chucky."