Netflix's New Sandman Trailer Finally Gives Fans A First Look At Morpheus
Have you checked in on your goth friends today? At Netflix's Tudum event, the streamer released a teaser trailer for "The Sandman," which is based on the iconic Vertigo series by Neil Gaiman. For decades, a "Sandman" adaptation has been in the works, with everyone from Joseph Gordon-Levitt to Jon Peters attached. And now it's really coming out? And Patton Oswalt is going to play Matthew the Raven? It's all too much to bear.
"The Sandman" was a 10-volume graphic novel put out by DC's Vertigo imprint. It tells the story of Dream, one of the seven Endless — beings that shape the experience of all living things. Dream, also known as Morpheus, is captured by an Aleister Crowley-type magician named Roderick Burgess. Netflix's series will start with Dream's capture and will follow up with his release and reclamation of his throne and possessions.
Netflix released a behind-the-scenes sneak peek in June 2021, which showed footage of Gaiman walking through the prop house for the show. We also saw interviews with Tom Sturridge and Gwendoline Christie, who play Dream and Lucifer, respectively. But now we are getting a look at Sturridge in full Morpheus mode.
Morpheus has entered the chat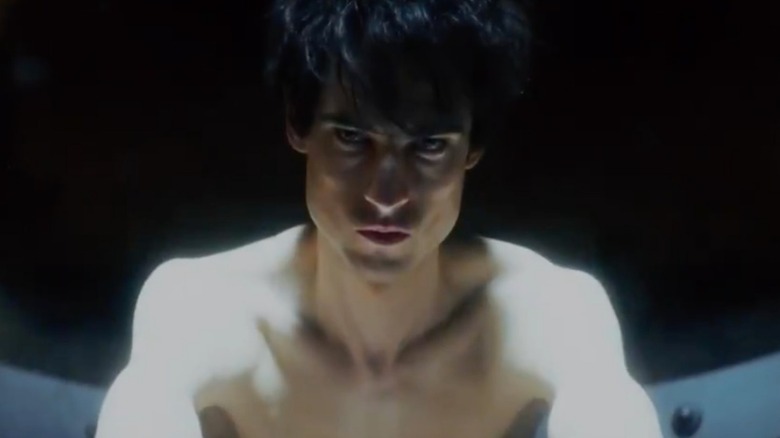 The teaser for Netflix's "The Sandman" starts with Charles Dance's Roderick Burgess attempting to trap Death in the undercroft of his manor. The spell he recites is taken from the comic book's first issue — requiring a coin made from stone, a feather from an angel's wing, and his blood. We see Ruthven Sykes, Burgess' second-in-command, look on in terror as the spell takes hold. We also see Roderick's son, Alex, taking part in the ritual. It will be under Alex's watch that Dream escapes his 70-year prison. Additionally, we also get our first look at Tom Sturridge as Morpheus.
What the trailer doesn't show is the impact Dream's capture has on the world. Several people develop a sleeping sickness, where they are never fully awake. One such person — a girl named Unity Kinkaid — is the victim of a sexual assault while in a 70-year coma. She gives birth to a child, who then gives birth to Rose Walker. Rose becomes a main character in "Sandman" and will be played by Kyo Ra in the series. Several dreams also escape Morpheus' realm during his capture, including the Corinthian (Boyd Holbrook).
"The Sandman" is expected to land on Netflix in 2022.