How Michael Oher Really Feels About The Blind Side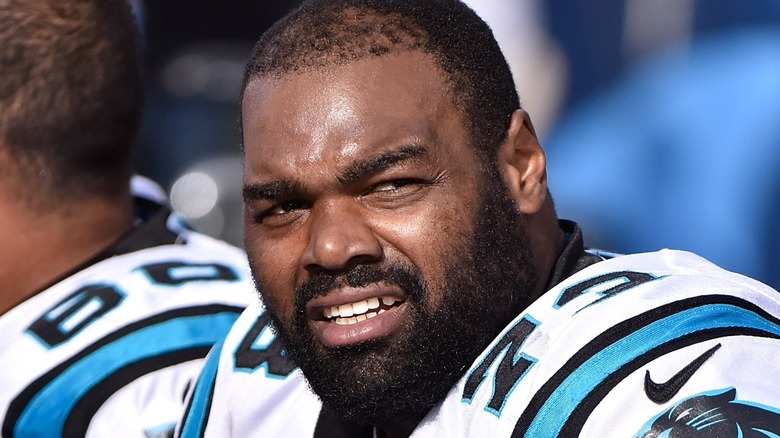 Frederick Breedon/Getty Images
The 2009 biographical sports drama "The Blind Side," based on the book "The Blind Side: Evolution of a Game" by Michael Lewis, chronicles NFL player Michael Oher's high school years and his relationship with the Tuohy family. The movie was a commercial success, earning $309 million worldwide. Sandra Bullock, who played Leigh Anne Tuohy, the outspoken matriarch of the Tuohy clan and Michael's adoptive mother, was praised by critics for her performance, earning an Academy Award for Best Actress.
In the film, the Tuohys take in Michael (Quinton Aaron), who bounced between foster homes and living with his mother, a drug addict. They encourage Michael to pursue football and provide him with a stable home and a tutor so he can achieve the minimum grade point average required to play college football, with Oher going on to play for the University of Mississippi. The movie's ending includes footage of the real Oher with the Tuohys during the 2009 NFL draft when the Baltimore Ravens selected the offensive lineman in the first round.
Controversy swirled around the feel-good movie. In a piece for The Daily Beast, Thaddeus Russell wrote "The Blind Side" is an example of the "'magic negro' genre, in which a virtuous black character saves the white protagonist." The movie often pops up in articles as an example of Hollywood's continued perpetuation of the white savior narrative. Given "The Blind Side" is about Michael Oher, how does he feel about the film adaptation of his life?
Michael Oher feels The Blind Side hurt his football career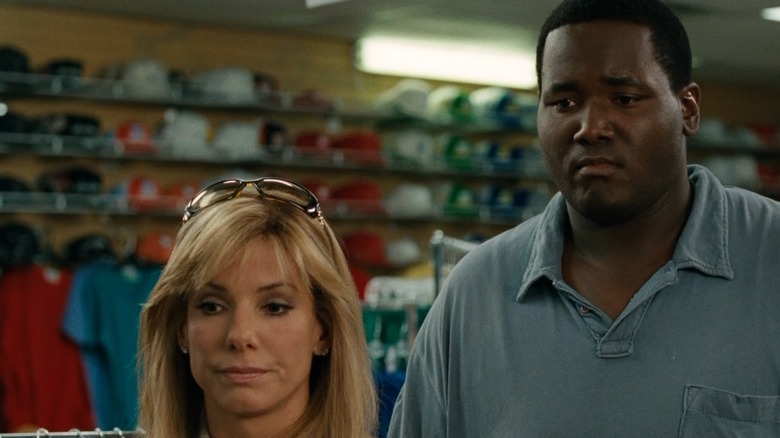 Warner Bros. Pictures
The film credits Bullock's character with instilling Michael Oher with an understanding of the fundamentals of the game. In his 2011 book "I Beat the Odds: From Homelessness, to The Blind Side, and Beyond," Oher states (via NPR), "I watched those scenes thinking, 'No, that's not me at all! I've been studying — really studying — the game since I was a kid!' That was my main hang-up with the film." The misrepresentation made Bullock's part juicier, but it also reinforces the narrative that frustrates critics of the movie. When the Ravens made it to the Super Bowl in 2013, Oher was asked about the movie, and he responded that he was "tired" of the movie. "I'm here to play football," he added. "Football is what got me here and the movie, it wasn't me." (via The Baltimore Sun)
Despite his attempts to set the record straight when it comes to his real life and "The Blind Side," Michael Oher feels the film hurt his football career. In 2015, while playing for the Carolina Panthers, Oher told ESPN, "People look at me, and they take things away from me because of a movie. They don't really see the skills and the kind of player I am." 
In other words, Oher's achievements weren't the result of "The Blind Side" — the movie was successful because of them.