The Horror Movie You Forgot Starred Kaley Cuoco As A Lead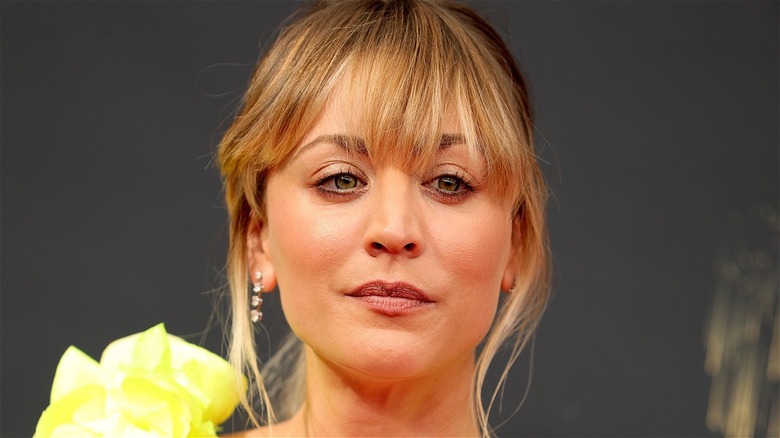 Rich Fury/Getty Images
Kaley Cuoco is best known for her role as Penny on the long-running CBS sitcom, "The Big Bang Theory," but she hasn't let that show's conclusion put a stop to her screen career. In 2020, Cuoco starred in and served as an executive producer on the HBO Max dark comedy "The Flight Attendant," which follows a woman who spends a drunken night with a stranger and awakens the next day to find his dead body in bed beside her. The series has proven to be a hit over the past year and currently holds a 97% critics score on Rotten Tomatoes as well as a 67% average audience score.
After receiving zero Emmy love during her 12 seasons on "The Big Bang Theory," Cuoco scored her first nomination for Best Actress in a Comedy Series earlier this year for her role on "The Flight Attendant." Just in case the show's success wasn't already clear, though, HBO Max also renewed "The Flight Attendant" for a second season in December 2020.
Of course, by the time Kaley Cuoco joined "The Big Bang Theory," she was already a veteran TV actress. From 2002-2005, the actress starred in "8 Simple Rules" opposite John Ritter, who unexpectedly died while its second season was in production (the show was later canceled after its third season). Cuoco also played Billie Jenkins on Season 8 of "Charmed" and appeared in "Prison Break" (via IMDb) prior to her debut on "The Big Bang Theory."
While her big-screen credits are slightly less impressive, Cuoco did also star alongside a CW heartthrob and former "Gossip Girl" star in one forgotten 2008 horror film.
Kaley Cuoco shines in Killer Movie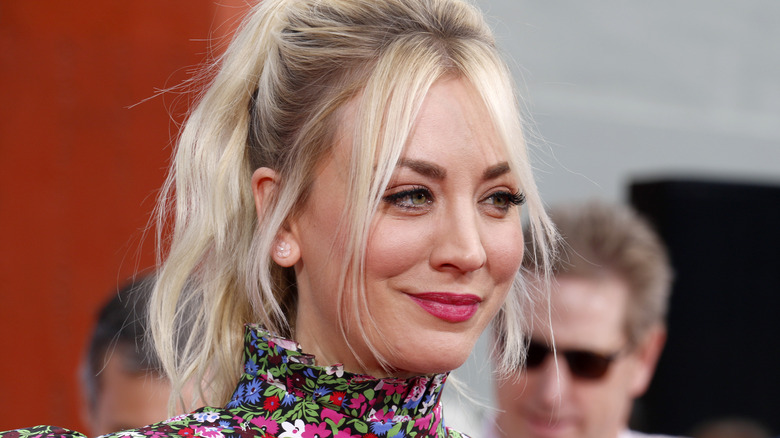 Tinseltown/Shutterstock
The 2008 slasher-satire film, "Killer Movie," features "The Vampire Diaries" star Paul Wesley as reality TV show director Jake Tanner, whose latest project is about a hockey team in a small North Dakota town. Production on the project goes off the rails, however, when the town is hit by a series of mysterious deaths, and soon enough, the film's cast and crew members start quickly being added to the growing body count.
Playing Blanca Champion, Tanner's celebrity assistant, Kaley Cuoco put her comedic chops to good use in the film, which also starred Jason London ("Dazed and Confused"), Nestor Carbonell ("Lost"), and Leighton Meester ("Gossip Girl"). Jeff Fisher, whose previous credits included MTV's "The Challenge" and "The Simple Life," wrote and directed the film.
Although "Killer Movie" only holds a 19% audience approval score on Rotten Tomatoes, some horror fans believe the movie has a few notable redeeming qualities. For instance, Jay Bond and John Lyle, hosts of the YouTube horror movie review show "Bloodbath and Beyond," praised the film's attractive cast, the grisly murder scenes that are shot in it from the killer's point of view, and Cuoco's performance as Blanca. 
While "Killer Movie" remains Cuoco's only foray into the horror genre, both Bond and Lyle feel the actress had the potential to become a legitimate scream queen. Indeed, it's hard to undersell just how enjoyable Cuoco's performance is in the otherwise uneven film. She brings the right level of cheeky self-awareness to the project, and her performance stands tall as the biggest highlight of "Killer Movie." All of which is to say that, if they haven't already, Kaley Cuoco fans may want to take the time to check out this cheesy horror gem.