The Surprising Movie Role That Andrew Garfield Regrets Filming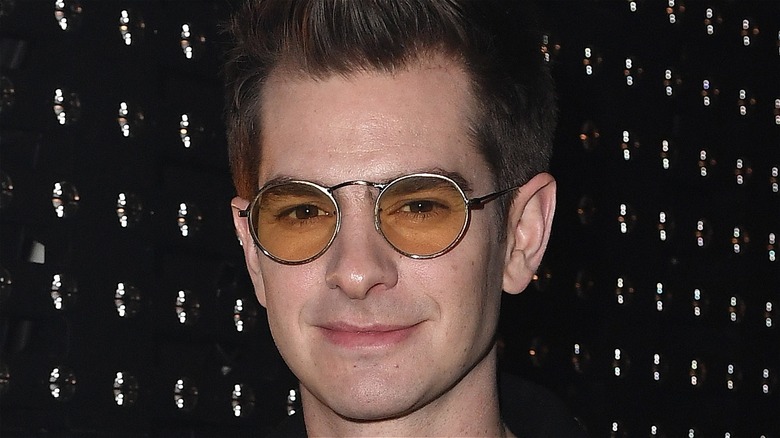 Jacopo Raule/Getty Images for Gucci
Although he's best known for his turn as Peter Parker in Sony's "Amazing Spider-Man" films, Andrew Garfield has appeared in a wide array of movies and TV shows over the years. A lot of genre fans likely first got to know him in 2007 when he appeared in "Doctor Who" as a young man from Tennessee who works in New York when The Doctor (David Tennant) and Martha Jones (Freema Agyeman) go up against the Daleks in the 1930s. He appears in both episodes of that particular "Doctor Who" story, and the character even survives his ordeal against the show's iconic sci-fi villains.
From there, Garfield took on a number of fascinating projects, like 2010's "Never Let Me Go." Based on the dystopian novel of the same name, the film sees him playing Tommy, a clone who's solely created to be an organ donor. It's not a light or happy movie, but it let Garfield fully stretch his dramatic muscles on-screen ahead of his breakout turn in David Fincher's "The Social Network."
Garfield plays real-life entrepreneur Eduardo Saverin in the Fincher-directed film, which details the story behind the creation of Facebook and how Mark Zuckerberg (played by Jesse Eisenberg) created the massive social media platform. Much of the film's story revolves around the conflict that grows between Saverin and Zuckerberg, and Garfield's performance is one of the best things about "The Social Network."
However, out of all the things he's done throughout his career, there's one surprising movie role that Andrew Garfield regrets taking.
Andrew Garfield has regrets about his time playing Spider-Man
It's easy to see why Andrew Garfield's talent caught Sony's eye when the studio decided to reboot its "Spider-Man" film franchise with 2012's "The Amazing Spider-Man." The star made his debut as Peter Parker in that film, which raked in nearly $758 million at the worldwide box office (via Box Office Mojo) against a $230 million budget. Following the film's success, Sony was keen to keep building out the newly rebooted franchise and even began developing a Garfield-led "Sinister Six" film from writer and director Drew Goddard. However, those plans essentially fell apart after the release of 2014's "The Amazing Spider-Man 2."
During a lengthy interview with The Guardian, Garfield briefly touched on the experience of making that film, hinting that he pushed back against certain studio requests while filming it. "What I'll proudly say is that I didn't compromise who I was," the actor said. "I was only ever myself."
He opened up more to Amy Adams in 2016 during their conversation for Variety's Actors on Actors series. The actor discussed his experiences working on the sequel and explained that, from his perspective, Sony wasn't interested in telling a good "Spider-Man" story. "There's something that happened with that experience for me where story and character were actually not top of the priority list, ultimately," Garfield said, before admitting that he "found that really, really tricky."
"I signed up to serve the story and to serve this incredible character that I've been dressing as since I was three, and then it gets compromised and it breaks my heart," the actor went on to say. "I got heartbroken a little bit, to a certain degree. Not entirely."