The Heartbreaking Criminal Minds Moment With Rossi And His Ex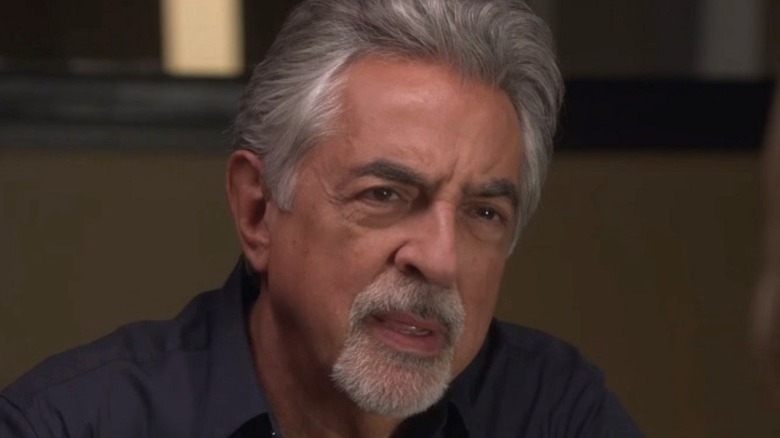 CBS
On "Criminal Minds," Derek Morgan (Shemar Moore) might be the most obvious choice to hold the title of the Behavioral Analysis Unit's resident "Ladies Man." Between the frequent shirtless scenes, years-long flirtation with Penelope "Baby Girl" Garcia (Kirsten Vangsness), and his charismatic confidence, it's hard to think of anyone in the BAU that could challenge his Don Juan credentials. But ... let's not forget David Rossi (Joe Mantegna).
While he lacks Morgan's bulging biceps and chiseled jaw, Rossi did manage to convince three remarkable women to marry him — perhaps they couldn't get enough of his famous "Carbonara a la Rossi." Even more impressive is how well Rossi and his exes got along even though their respective marriages came to an end. In fact, he and ex number three got along so well that she became bride number four. While all three of the former Mrs. Rossis appeared on the long-running series, fans experienced collective heartbreak when Carolyn Baker Rossi (Isabella Hofmann) appeared in Season 7 with devastating news.
Rossi's first wife visits to share tragic news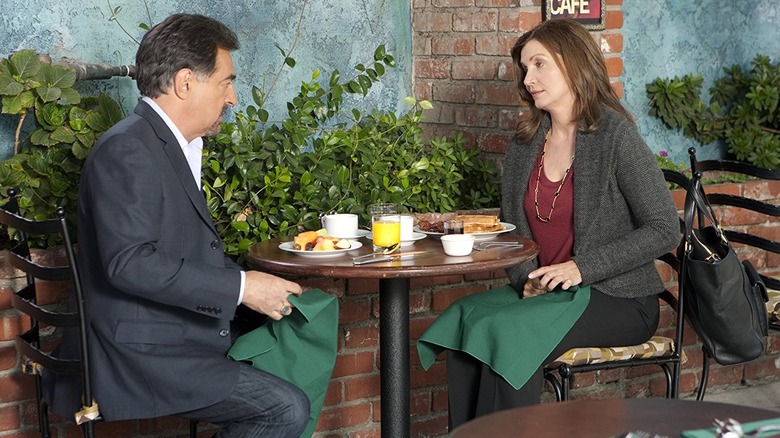 CBS
David and Carolyn originally met in a bar and began a relationship that eventually became a marriage. At some point, Carolyn became pregnant and gave birth to James Rossi in 1979, but the baby died shortly after childbirth. The pain of losing their child, and Rossi's long hours and frequent travel, strained their relationship until, in 1983, Carolyn divorced Rossi. The former couple did, however, decide to remain friends, having been there for each other after the death of their son.
In Season 7, Episode 5, "From Childhood's Hour," Carolyn comes to Washington, D.C., to inform Rossi that a year prior she was diagnosed with amyotrophic lateral sclerosis (also known as ALS or Lou Gehrig's disease). Unfortunately, as Carolyn tells her ex-husband, the disease is progressing quickly and she doesn't have much time left. She also asks him to help her end her life because she doesn't want to face the horrors that await someone in her condition.
Carolyn Rossi stole fans' hearts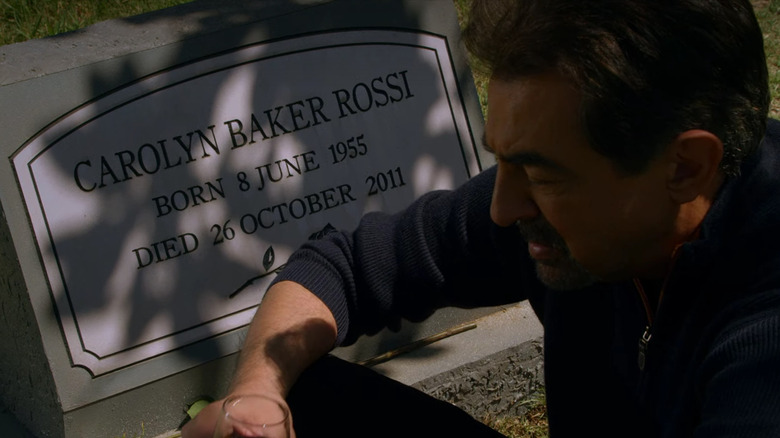 CBS
In the next episode, "Epilogue," Rossi visits Carolyn at her hotel and tells her that he can't bring himself to assist in her death. Perhaps knowing he'd refuse, or perhaps because she knew the guilt he'd bear if he said yes, Carolyn had already taken a fatal overdose of medication before Rossi arrived. She refuses his attempts to get help, instead asking him to simply be with her in her final moments. Before dying, Carolyn asks, "Do you think he'll be there?" Knowing she means their son, Rossi replies, "I know he will."
While death is a frequent occurrence on "Criminal Minds," this one hit viewers particularly hard. Recently on Reddit, user rdtusr19 began a thread praising the episode's powerful emotions, stating that Carolyn's passing hit harder than the shocking and brutal death of Aaron Hotchner's (Thomas Gibson) ex-wife in the Season 5 episode "100." Now, it should be noted that some have cited Carolyn's death as yet another example of "fridging" on the series, but the replies to rdtusr19's post suggest many fans are willing to overlook the unfortunate trope. Multiple comments agree with the original post, each sharing how much they loved Carolyn's story and how hard they cried when she died with Rossi beside her. 
It's a credit to the writers and actors that fans not only fell in love with Carolyn, but also that her death — after only appearing in two episodes — remains for them one of the most heartbreaking moments in the series.