Whatever Happened To The Cast Of Poltergeist?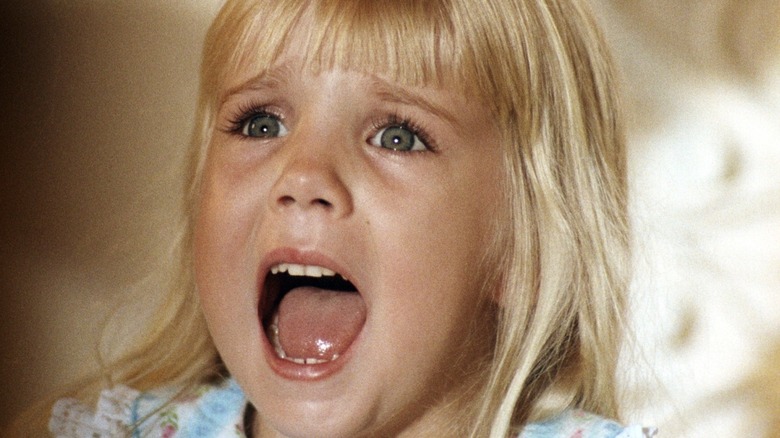 MGM
In 1982, director Tobe Hooper and producer Steven Spielberg terrified audiences far and wide with the release of "Poltergeist." Demonic trees, crazed clown dolls, and horrific ghostly apparitions haunted the minds of families who sat down to watch a seemingly appropriate PG-rated film. Ultimately, the plight of the Freeling family — as they persisted in their attempts at retrieving little Carol Anne Freeling from ghostly invaders — would proceed to leave an indelible mark on '80s children who had access to a truly horrific film for its time. 
Despite any misgivings from families with traumatized children, "Poltergeist" was a massive success and would be succeeded by two sequels. The Freeling family became well-known among audiences, with actors such as Craig T. Nelson continuing blossoming careers in Hollywood. Other actors, however, weren't as lucky. In the years that followed the release of "Poltergeist," talk of a curse on the franchise would make the rounds as a handful of cast members tragically died shortly after the film was released. For better or worse, here's a look at what happened to the cast following the successful release of "Poltergeist."
JoBeth Williams as Diane Freeling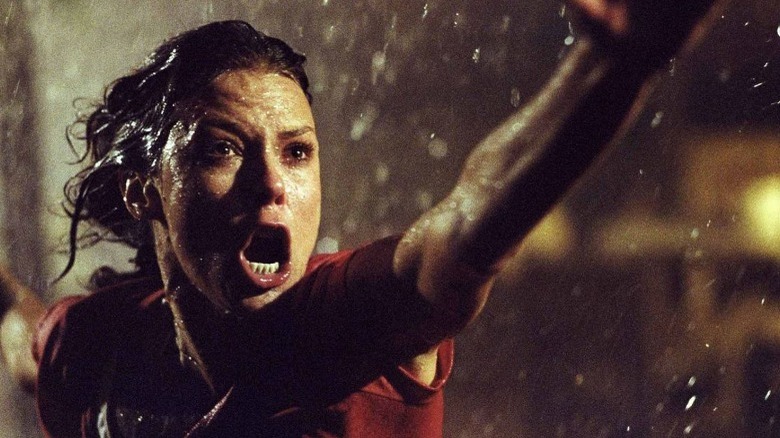 MGM
Diane Freeling (JoBeth Williams) is the fierce mama bear of the Freeling family, exhausting every last breath she has to retrieve her little girl. She plunges into the unknown spiritual void unsure of what awaits her on the other side, ultimately rescuing little Carol Anne (Heather O' Rourke). Despite being a mother of three, Diane is fearless and adventurous. At first, she is curious and thrilled about the paranormal events plaguing her home. To be fair, sliding chairs and moving objects are both fairly harmless. It's only after the spirits attack her son with a gnarly monstrous tree and kidnap her daughter that she shifts into fight mode.
JoBeth Williams continued as Diane Freeling in the sequel, "Poltergeist II: The Other Side," released in 1986. Immediately following "Poltergeist," she took part in the dramedy "The Big Chill (1983)," and then headlined the rom-com "American Dreamer (1984)" in which she loses her memory and attempts to piece together her own history. While Williams would never take a lead role again, she'd work with many prominent actors, writers, and producers of the '80s and '90s, including Ed O'Neill and John Hughes in "Dutch (1991)" and Sylvester Stallone in "Stop! Or My Mom Will Shoot (1992)." She also starred alongside Steve Martin and Rashida Jones in the 2011 comedy, "The Big Year." Most recently, Williams starred in 2020's drama "What The Night Can Do," and has appeared in a variety of television shows including "Dexter" and "Hart of Dixie."
Craig T. Nelson as Steve Freeling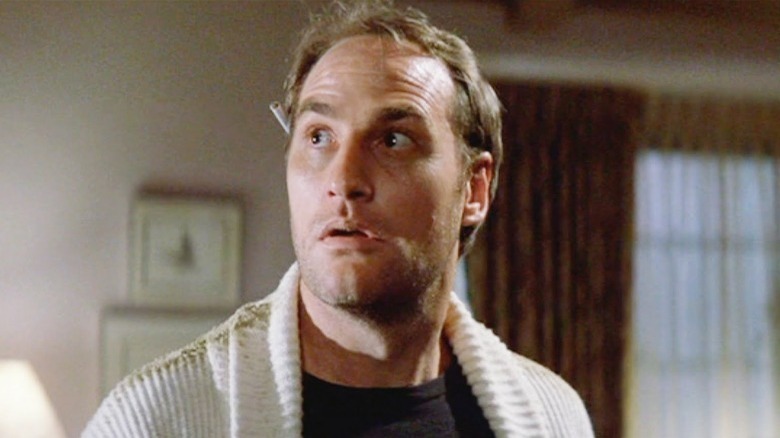 MGM
"You moved the cemetery, but you left the bodies, didn't you?" Steve (Craig T. Nelson) furiously asks his boss, Mr. Teague. "You left the bodies, and you only moved the headstones!" In this climactic moment of the film, Steve Freeling finally understands why his family is in danger. Throughout the film, Steve is a family man providing for his wife and children in the best way he knows how. When Carol Anne is taken by the specters in the home, Steve is all business and willing to go to any lengths to retrieve his daughter. Eventually, he grabs the whole family and high-tails it out of there before the home is consumed in a paranormal spectacle fit for any would-be ghostbuster.
Craig T. Nelson would eventually become a household name by portraying Coach Hayden Fox for eight years on the popular TV series "Coach," beginning in 1989. Nelson would later pay homage to his "Coach" days as a coach in the comedy, "Blades of Glory (2007)," and in his current role in the "Big Bang Theory" prequel show, "Young Sheldon." The actor is also famous for providing the voice of Mr. Incredible in the Disney/Pixar films "The Incredibles" (2004) and "Incredibles 2" (2018).
Heather O'Rourke as Carol Anne Freeling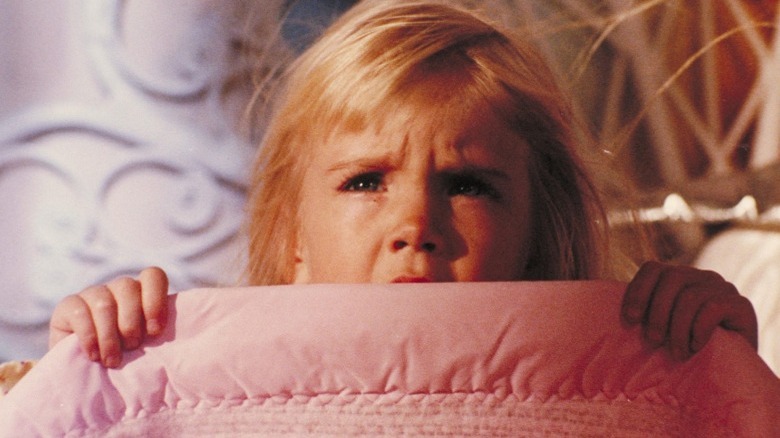 MGM
Little Carol Anne goes for the ride of a lifetime — quite literally. After the spirits haunting the Freeling home distract mom and dad by whipping up a child-eating tree monster, the ghosts suck Carol into their world. As Tangina (Zelda Rubinstein) states, those entities in the spiritual plane are attracted to Carol Anne's life force. She's trapped for days before the family is able to devise a method for freeing the girl from the clutches of the spiritual plane. Until that point, Diane converses with her little girl via the static on the TV.
Heather O'Rourke's breakthrough role in the film industry was this very performance as Carol Anne Freeling in "Poltergeist." She appeared in several smaller roles on television, including "Happy Days," but ultimately her claim to fame is the entire "Poltergeist" trilogy. Tragically, she fell ill and was admitted to the hospital on February 1, 1988. The young rising star passed away at just 12 years old on the operating table due to intestinal stenosis. O'Rourke was born with an intestinal obstruction that eventually caused septic shock and sent the young girl into cardiac arrest. She will always be remembered for being a sweet angelic face amidst the horrors of the "Poltergeist" trilogy.
Dominique Dunne as Dana Freeling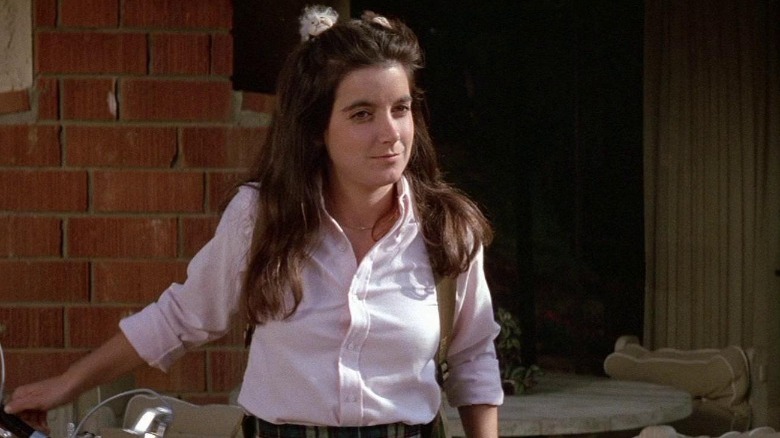 MGM
The eldest sibling in the Freeling house, Dana (Dominique Dunne), has, perhaps, the smallest role within the family. Often times, the 16-year-old isn't even in the house due to simply enjoying her teen years and hanging out with friends. In the final moments of the film, she returns home with two young bucks in tow and a massive hickey on her neck only to witness her home being decimated by otherworldly forces. She hops into the family car as the Freelings make their escape from the hell that pervades their property.
Unfortunately, "Poltergeist" would be Dominique's one and only theatrical film. Dominique Dunne's life was tragically cut short mere months after the film's June release. On October 30, 1982, the 22-year-old actress was murdered by her jealous ex-boyfriend, John Sweeney. Sweeney was tried and convicted of voluntary manslaughter and sentenced to a meager six years in prison, but only served three years and a few months of the sentence before he was released on parole. The Dunne family has lamented the perceived injustice. Before her death, Dunne performed in several TV movies and shows in smaller parts, but her most famous role will always be as Dana Freeling in "Poltergeist."
Oliver Robins as Robbie Freeling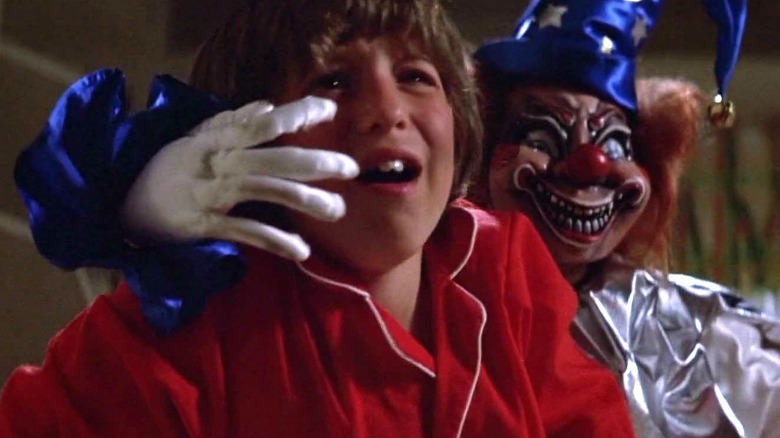 MGM
Easily the most traumatized member of the Freeling family outside of little Carol Anne is Robbie. Almost becoming tree food and getting attacked by a crazed clown doll are enough send the poor sap to therapy for life. Thunderstorms are the least of the little boy's troubles. Robbie reflects the child in all of us. Adorning his room with his "Star Wars" memorabilia, climbing trees, and teasing his sisters are all familiar territory for those of us who have been there. The fear then becomes infinitely more palpable through young Robbie's eyes.
Oliver Robins made a few onscreen appearances beyond "Poltergeist," including "The Twilight Zone" and another turn as Robbie Freeling in "Poltergeist II: The Other Side." Eventually, Robins left acting behind to pursue a career in filmmaking, attending film school at the University of Southern California. After some time, he returned to the world of movies, only this time as a writer and director. He's written horror films such as "Devil's Whisper" (2019) and directed others, including most recently "Celebrity Crush" (2019).
Beatrice Straight as Dr. Martha Lesh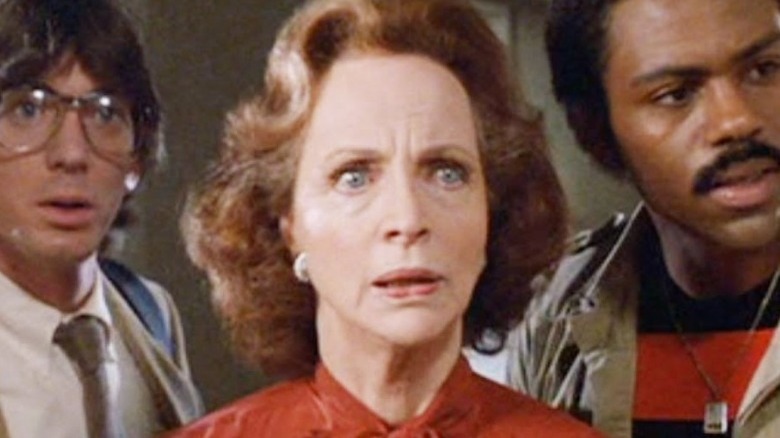 MGM
Parapsychologist Dr. Martha Lesh quickly finds herself way in over her head after beginning an investigation into the paranormal activity within the Freeling residence. Initially contacted by Steve Freeling, she's profoundly shocked by the flurry of obvious spiritual activity occurring within little Carol Anne's room. Moments later she's barely able to take a drink without noticeably quivering. Obviously terrified, she draws upon her knowledge of the supernatural to help the Freelings retrieve their daughter. Despite her clear lack of experience, she sticks it out and braves the horrific supernatural storm alongside the Freelings.
With a life well lived, Beatrice Straight left her mark on the world of pop culture, entertainment, and theater. Prior to "Poltergeist," she began her showbiz career in Broadway in 1939 with "The Possessed." She'd perform in several Broadway productions through 1968, including "Macbeth" and "The Crucible." In the 1950s she entered the world of television, appearing in countless roles across several running series such as "Alfred Hitchcock Presents," "Mission: Impossible," and "Wonder Woman." She did not work extensively in film, but earned an Oscar for Best Supporting Actress for her performance as William Holden's beleaguered wife in 1976's "Network" — at five minutes and two seconds, still the shortest performance to date to win an Oscar. Her final theatrical film was "Deceived (1991)," which starred Goldie Hawn as a woman who discovers that her husband has led a fabricated life and Straight as her mother. Straight passed away in 2001.
Richard Lawson as Dr. Ryan Mitchell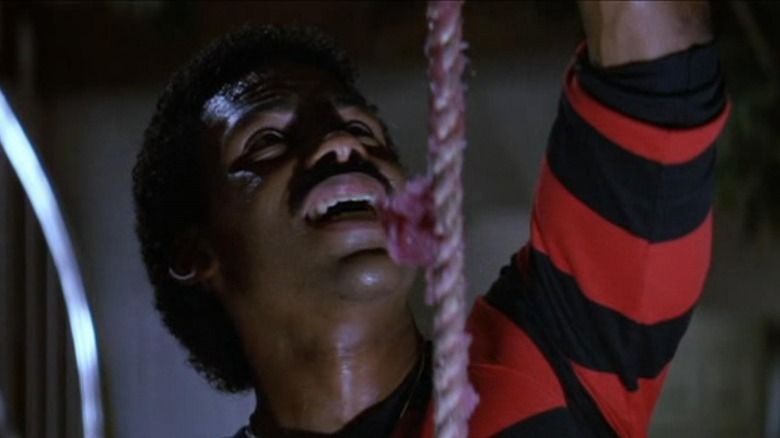 MGM
Excited by the prospect of paranormal activity, Dr. Ryan Mitchell eagerly tells an overwhelmed Mr. Freeling of an event where he captured a Matchbox car moving seven feet over a seven-hour span. "It's fantastic," Mitchell remarks. Mr. Freeling gives the PhD grad a "hold my beer" look as he opens the door to Carol Anne's topsy turvy room with toys and objects moving about all on their own. It's a humorous moment in which the "experts" learn that they don't really know all that much. Dr. Mitchell stays the course, however, and is at the ready with audio and visual recording equipment to study the phenomena wreaking havoc in the home.
The actor behind the overzealous parapsychologist, Richard Lawson, is no stranger to the looming specter of death. Lawson served in the Vietnam War, saw combat, and was injured in the line of duty. He returned home with a Purple Heart. Later, he'd survive an airplane crash after taking off from LaGuardia Airport in New York. Lawson's life story has been harrowing to say the least. In 2015, he married Tina Knowles, mother to the famous singers Beyonce and Solange Knowles.
Lawson began his acting career with an uncredited role in the film "Dirty Harry" (1971). He'd continue a career in supporting roles in films such as "Wag the Dog" (1997), "Guess Who" (2005), and "For Colored Girls" (2010). The actor has also appeared in countless television roles including series such as "Dynasty," "All My Children," and "Grey's Anatomy."
Martin Casella as Dr. Marty Casey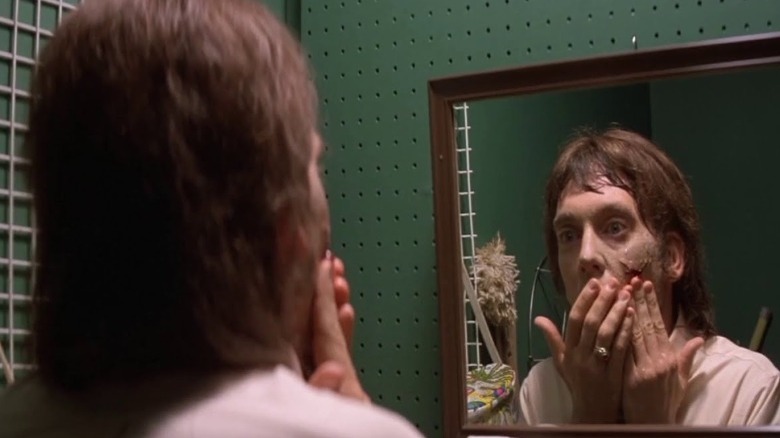 MGM
Anyone who's seen "Poltergeist" will not soon forget Marty. If you don't remember his name, "the guy who peeled his face off" will certainly ring a bell. In one of the spookier scenes in the film, Marty is tormented by the spirits while the poor guy simply goes to find a snack. After watching a steak move across the counter before erupting into meaty chunks, the hapless researcher rushes to the bathroom to clear his head. In the mirror, Marty looks unwell and notices an abrasion which he begins to pick at. Before long, he begins anxiously tearing pieces of his face off in a grisly scene that strained the film's PG rating. Thankfully, the moment was merely a hallucination and Marty was okay -– if perhaps slightly scarred mentally.
Martin Casella's acting credits are few and far between. He would later appear in "Robocop 2," but Casella largely pursued a career as a playwright. He also spent years working as an assistant to Steven Spielberg and Robert Zemeckis on films such as "Close Encounters of the Third Kind," "1941," and "Raiders of the Lost Ark," while writing screenplays that were sold to Spielberg, Whoopi Goldberg, Rob Reiner, Disney, Universal, and HBO among many others. Eventually he'd write plays such as "Saint Heaven," "Beautiful Dream," and "George Bush Goes to Hell." While Casella's career blossomed beyond acting, he clearly remembers his time on "Poltergeist" fondly and has a page dedicated to the film on his own website.
Zelda Rubinstein as Tangina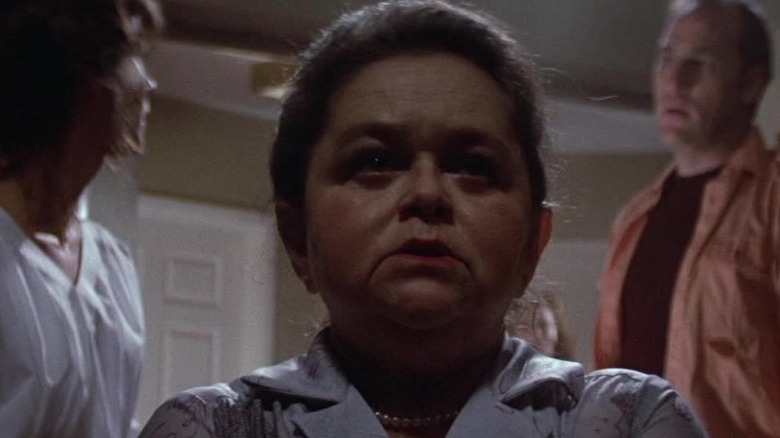 MGM
The enigmatic medium Tangina claims the spotlight the moment she enters into the Freelings' lives. The mystery behind her abilities and her blunt nature about the realities the family is about to face is captivating. Tangina acts as a channel for the spiritual presence in the home, ultimately providing the Freelings with more answers than the team of researchers ever could despite all of their fancy equipment. Tangina's popularity would endure as she'd return again for the sequel films.
In the 1970s, Zelda Rubinstein attended the University of California to pursue a career in acting. Following some minor prior experience, "Poltergeist" was her first major film role. She'd continue to appear in other major productions — but in more limited roles — in films such as "Frances (1982)" and "Sixteen Candles (1984)." Later Rubinstein would again take more prominent roles in films like "Poltergeist II: The Other Side (1986)," "Anguish (1987)," and "Poltergeist III (1988)." Throughout the '90s and early 2000s she'd land several smaller roles in television and film. In 2010, Rubinstein passed away at the age of 76 from a confluence of previous illnesses, including a minor heart attack that she suffered just months prior to her death.
James Karen as Mr. Teague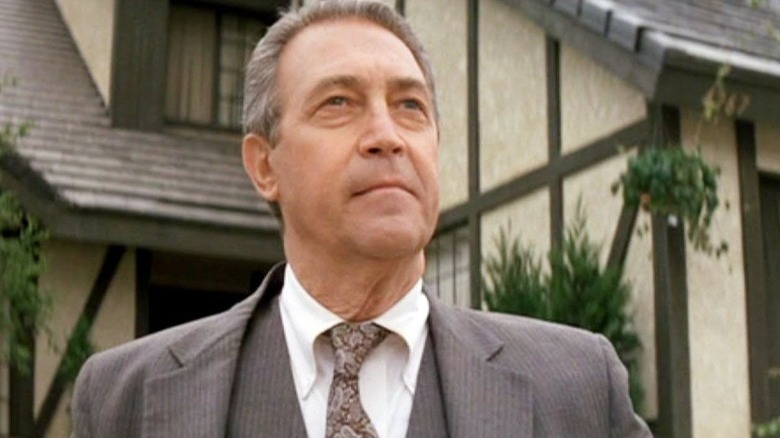 MGM
"Poltergeist" may be a ghost story on the surface, but when you begin to peel away the layers, a subtle commentary exists regarding the juxtaposition of idealism and societal greed. Mr. Teague represents that very conflict. A real estate business tycoon set on squeezing every last penny out of the Cuesta Verde valley possible, Mr. Teague shows no moral or ethical qualms about relocating a cemetery in order to continue development. Unfortunately, Steve Freeling learns too late that his boss is "widening" profit margins by putting minimal work into the neighborhood developments — not actually relocating the buried dead, only the headstones.
The greedy businessman was portrayed by long-time actor James Karen. He would go on to appear in cult classics and mainstream hits like "The Return of the Living Dead (1985)," "Wall Street (1987)," "Nixon (1995)," and "The Pursuit of Happyness (2006)." In a likely homage to his "Poltergeist" character, he also appeared in the 2018 horror-comedy film "Cynthia" as Frank Teague. The actor, who has a massive listing of over 200 credits on his IMDb page, always stayed busy, passing away in 2018 at the age of 94.
Michael McManus as Ben Tuthill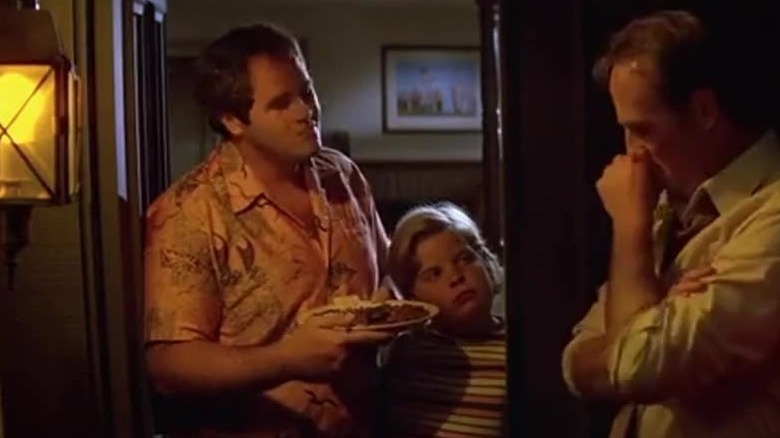 MGM
In the heart of suburbia, the most common irritants are neighbors. Whether they're nosy, or always stepping on our toes one way or another, it seems that neighbors constantly rub up against each other in tightly built housing developments that are seeking to maximize land usage and value. Steve Freeling knows this all too well. His neighbor, Ben Tuthill, has the same television set and remote. In the 1980s, this easily presents a problem being so close together: The remotes control both TV sets, so the two neighbors squabble over the shows they're trying to watch. It's a maddening concept, but one that is all too real for the era.
Michael McManus's Ben Tuthill doesn't get a lot of screen time. But he manages to embody the average American neighbor in the suburbs to great effect. Following the frightfest that is "Poltergeist," McManus appeared in several other '80s theatrical releases such as "Head Office" and "Action Jackson." Most of his talents were put to use on the little screen, as he appeared in a wide range of television series including "Lewis & Clark," "Newhart," and "Webster." His last role was in a 2001 episode of "According to Jim," starring Jim Belushi.
Lou Perryman as Pugsley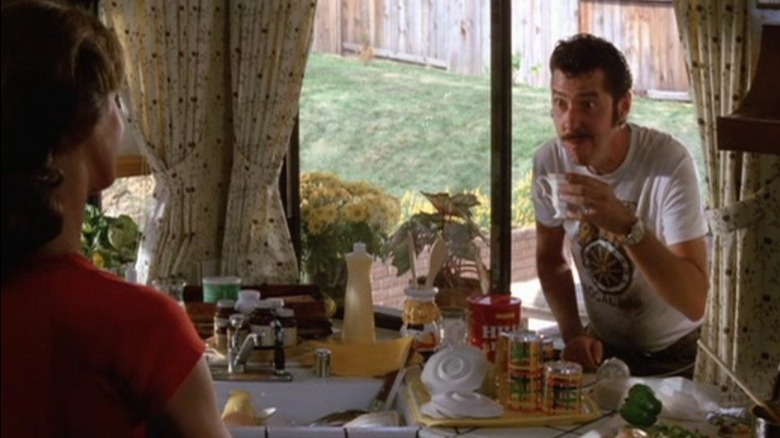 MGM
With development in the Cuesta Verde Valley happening in full force in "Poltergeist," the Freeling family has a little development of their own done — an in-ground pool to be precise. Contractors can be seen digging away at the backyard where the pool is supposed to be. In a cringeworthy moment existing long before the newfound Hollywood standards of the "#MeToo" era, the contractors even flirt with the 16-year-old Freeling daughter. One of the contractors, named Pugsley, is seen only one other time in the film — when he sneaks some coffee through the open kitchen window before being caught red-handed by Diane Freeling.
Pugsley is rather inconsequential to the overall plot of the film, but the actor, Lou Perryman, has become synonymous with the movie for his untimely death. Alongside the early demise of other "Poltergeist" cast members, his death helped stir up chatter of a possible curse on the film series. Though Perryman's death occurred years later, the nature of his passing only added fuel to the "cursed-movie" fire. In the spring of 2009, an ex-convict with a history of mental illness was on the run after attacking his mother's ex-boyfriend with garden shears. The ex-convict, Seth Christopher Tatum, randomly came upon the home of Lou Perryman, and murdered Perryman in an effort to steal his vehicle. Curse or no curse, Perryman's death added yet another dark stain to the legacy of the "Poltergeist" franchise.