This Long-Awaited Horror Movie Will Finally Get Its Premiere At Beyond Fest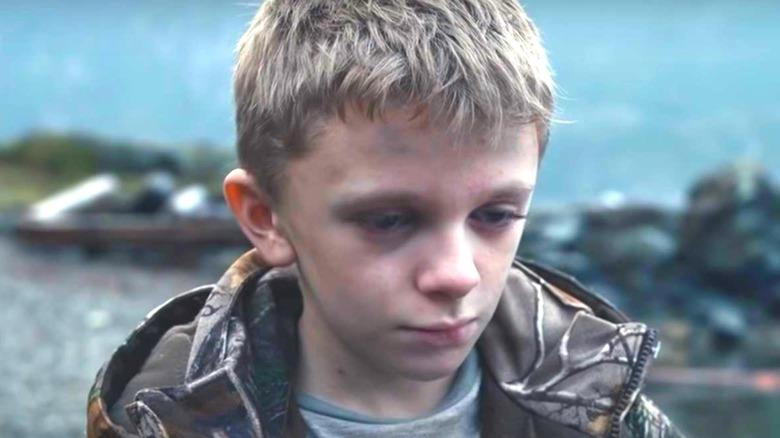 Searchlight Pictures
The buzz for "Antlers" started way back in 2018, when The Hollywood Reporter first revealed that Keri Russell was in talks to star in the Guillermo del Toro-produced supernatural horror-thriller. Inside Vancouver later reported that it was filmed between October 1 and November 20, 2018, and the premiere of its first trailer in October 2019 resulted in the film becoming one of 2020's most hotly-anticipated genre titles.
Unfortunately, thanks to the COVID-19 pandemic, "Antlers" didn't come out in 2020. In July of that year, the film's release was delayed from its original April 2020 date to February 19, 2021 (via Deadline), only to be taken off the release schedule altogether in December 2020 (via THR). About a month later, Deadline reported that the film had received yet another new release date: October 29, 2021.
Thankfully, "Antlers" appears to be on track to hit that date, following its two previous delays. Searchlight Pictures has even set a world premiere event for the film (via Deadline), with "Antlers" set to debut on October 11 as the Closing Night film for this year's edition of Beyond Fest, which kicks off in Los Angeles on September 29.
Antlers will screen several times before its wide release
In addition to its upcoming Beyond Fest premiere, "Antlers" will screen at Alamo Drafthouse movie theaters in San Francisco, California, and Austin, Texas, on October 11, and will have its international premiere at the 54 Sitges International Film Festival on October 13 in Spain. Prior to its October 29 wide release date, lucky viewers will also be able to see it at the closing night of the 12th annual Telluride Horror Show on October 17 and at the 57th Chicago International Film Festival on October 15.
The film's director, Scott Cooper, commented on its upcoming release with a new statement (via Variety), saying, "I made 'Antlers' as a communal theatrical experience for cinema lovers. I can't think of a more apt series of screenings to launch our film before audiences across the globe — audiences whom I hope share an appreciation for horror films with a different perspective on our everyday fears and ancestral mythology."
The long-awaited horror movie was adapted from a short story by Nick Antosca called "The Quiet Boy." It's set in a small Oregon town, where a teacher named Julia Meadows (Russell) and her brother Paul (Jesse Plemons), the local sheriff, become involved in the life of a student (Jeremy T. Thomas) who holds a frightening secret. Actors Scott Haze, Rory Cochrane, Amy Madigan, and Graham Greene star in the film alongside Russell, Plemons, and Thomas.
"Antlers" is set to hit theaters in the U.S. on Friday, October 29.