The Real Reason These Robin Williams Scenes Were Cut From Mrs. Doubtfire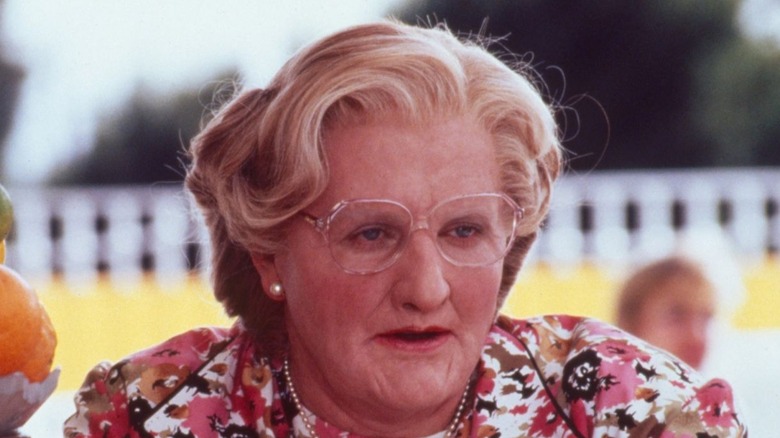 20th Century Fox
Though Robin Williams had starred in several films that will undoubtedly stand the test of time, his role in "Mrs. Doubtfire" is arguably one of the most iconic. The film follows Daniel Hillard (Williams), a divorced father who must create a nanny persona in order to visit his children who are under the custody of his ex-wife, Miranda (Sally Field). Many remember the movie for its hilarious scenes — such as Mrs. Doubtfire's blouse catching on fire and the entire "Dude Looks Like a Lady" montage — but it also dealt with the darkness of divorce, particularly its effects on both parents and children. By looking at such a topic, director Chris Columbus was able to effortlessly combine humor and seriousness into a film whose impact will last forever. 
Like any film, not everything makes it into the final cut. Most of the time, it is because of time constraints or inappropriate content — Columbus confirmed that Williams did a lot of improv that wouldn't work for a PG-13 movie, according to Entertainment Weekly. But on the other side of things, there are two scenes that Columbus felt would have damaged the balance between the light and dark context. 
Two scenes were too depressing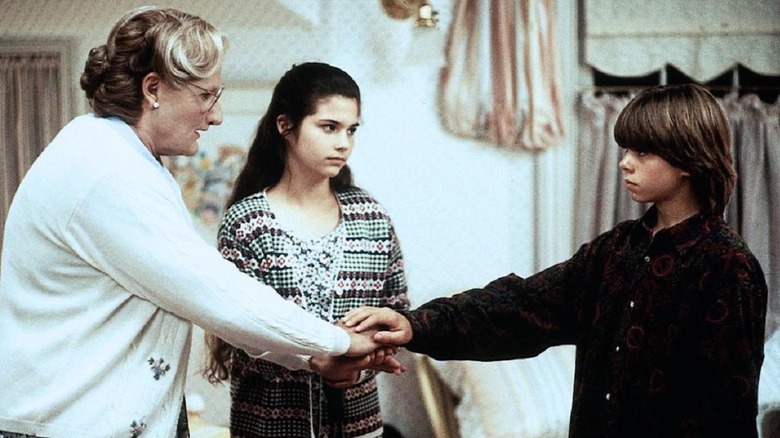 20th Century Fox
The topic of divorce is depressing enough, and "Mrs. Doubtfire" does not shy away from that. It is hard to watch Miranda tell Daniel she wants a divorce, especially because their children are witnesses to the entire thing, watching from the banister. The effects are seen throughout the film during Daniel's awkward dinner with Lydia (Lisa Jakub), Chris (Matthew Lawrence), and Nattie (Mara Wilson) in his shabby apartment and Lydia's cold reaction to Mrs. Doubtfire because she'd rather spend the time with her father. These sad moments were necessary, but according to The Independent, Columbus almost made it too heartbreaking with other scenes involving the children and their parents' separation. 
One had Lydia competing in a spelling bee — which she is seen practicing for in the film — and noticing her parents fighting. She later questions why they can't pretend to get along, despite the circumstances. If it remained, the scene would have shown how divorce isn't kept behind closed doors, and how hostile feelings can influence not just family life, but life in general. 
The next scene is similar to when Miranda ends things with Daniel, with the kids nearby. However, instead of watching their argument from an audience's perspective, viewers would have seen it through the children's eyes. Its aim was to show the raw emotion running through Lydia, Chris, and Nattie at that moment, as well as add to the heaviness of witnessing their family continue to fall apart.