Here's The Dark And Dramatic New Trailer For Hightown Season 2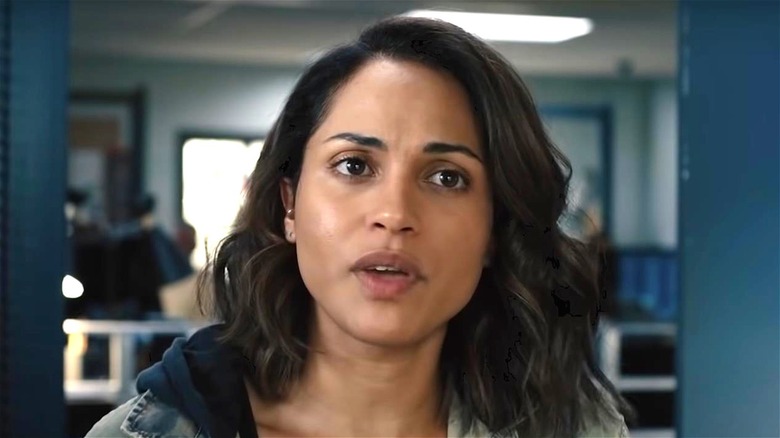 Starz
The return of the Starz crime drama "Hightown" is right around the corner, as Season 2's planned release date of October 17 inches closer and closer. As fans prepare to dive back into the world of organized crime hiding in the Cape Cod region, the network released a compelling new trailer that indicates that Season 2 will match the intensity of the show's original eight episodes.
"Hightown," which lists Jerry Bruckheimer as an executive producer, revolves around Jackie Quiñones (Monica Raymund), who began the series as a National Marine Fisheries Service agent but accepted a job with the local police at the close of Season 1. Jackie's path to becoming a proper police officer started with her discovery of a body at the start of the show, which inspired her to team up with Detective Ray Abruzzo (James Badge Dale) to try and thwart the criminal organizations flooding the region with opioids.
Season 1 impressed critics, as indicated by the show's solid 80% Tomatometer rating on Rotten Tomatoes, with its departure from overly formulaic storytelling and hard-hitting look at the costs of the opioid crisis. Here is what fans will see in the dark and dramatic trailer that just came out for "Hightown" Season 2.
The Hightown Season 2 trailer looks to pick up where Season 1 left off
Fans can find the trailer for "Hightown" Season 2 on YouTube, where they will see some familiar faces alongside some of the new characters joining the show, such as Jorge (Luiz Guzman). However, that montage quickly ends, and the trailer soon becomes darker as Jackie helps investigate a crime scene that reveals multiple dead bodies.
The trailer then sets up many of the continuing storylines from Season 1. These include Ray's attempt to regain the detective position he lost during Season 1, Frankie's (Amaury Nolasco) return to his criminal empire, and Jackie's new job with the police department. Viewers are then introduced to what could be a significant arc for Season 2, a new opioid product being sold under the name Great White.
As the stylish and impactful trailer continues, fans see that the characters they got to know in Season 1 are still wrestling with plenty of their own problems. For instance, one of the most important storylines for Jackie in the first few episodes of "Hightown" was her struggle with sobriety, and a few shots in the trailer indicate that she may have to face those issues once again.
All in all, the trailer offers fans a good idea of what they can expect from Season 2 of "Hightown" and should give viewers plenty to look forward to while they wait for the October premiere date.