Hightown Season 2 - What We Know So Far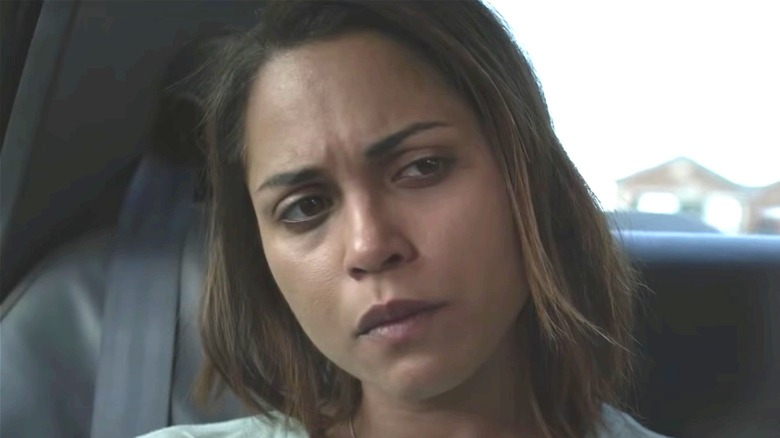 Starz
On May 17, 2020, Starz premiered the first season of a new crime drama called "Hightown." The series stars Monica Raymund from "Chicago Fire" as Jackie Quiñones, a National Marine Fisheries Service Agent with a deep history of substance abuse and self-sabotaging habits. Set in the seaside town of Provincetown, Massachusetts, Jackie finds the body of a dead woman on the beach one day, which leads to a police investigation into the area's intense organized crime and drug business. 
Interested in the case, Jackie starts trying to reform herself, though it's definitely touch and go. She starts working with Detective Ray Abruzzo (James Badge Dale), who is extremely obsessed with the case, assuming it all ties back to a drug kingpin named Frankie Cuevas Sr. (Amaury Nolasco). "Hightown" also stars Riley Voelkel, Dohn Norwood, and Atkins Estimond, among others, and the show was well-received by critics, with an 80% on Rotten Tomatoes.
While the first season of "Hightown" ends with quite a few major shockers, Starz quickly renewed the crime series for a second season, so fans don't have to wait too long until they find out what happens next with Jackie, Ray, and the others. Here's everything we know so far about "Hightown" Season 2.
When is Hightown Season 2 coming out?
Starz
Luckily for "Hightown" fans, the second season is almost here. Starz recently revealed that the popular crime show is expected to premiere on October 17, 2021 (Deadline). The first episode will air at 9 PM ET/PT, with new episodes to follow at the same time each week. The announcement about Season 2 also revealed that the new season will have 10 episodes in total, which is two more than the first season's eight. 
Season 2 of "Hightown" will be joining the first season of Starz's new drama "BMF," which stands for Black Mafia Family. The new show premieres on September 26, 2021 and stars Ajiona Alexus, Eric Kofi-Abrefa, Myles Truitt, and more. Other popular series from Starz include the fantasy time travel drama "Outlander," which is going into its sixth season, "P-Valley," about women who work at a strip club in the Mississippi Delta, and "Heels," a professional wrestling drama starring Stephen Amell.
Who will be in the cast of Hightown Season 2?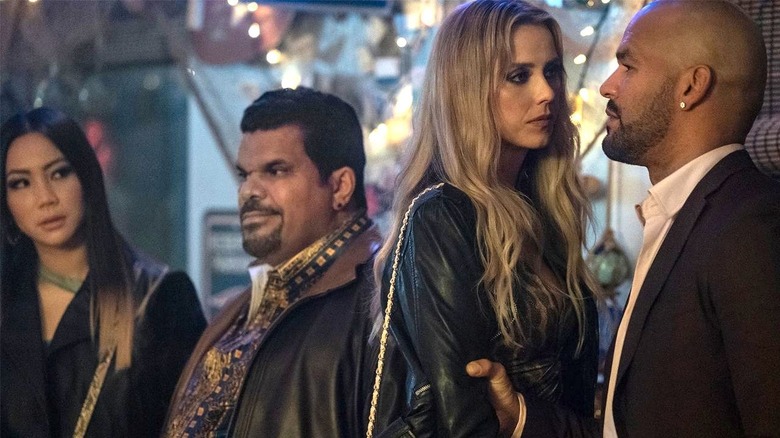 Starz
Most of the main cast from "Hightown" Season 1 will be returning, including Raymund and Dale as Jackie and Ray, the two main characters who have switched positions going into Season 2. At the end of the first season, Jackie is given the opportunity to become a real cop and do some good, which she takes. On the other hand, Ray's whole world is destroyed when Renee, an informant he falls in love with played by Voelkel, betrays him and reveals their relationship to the other police. This leads to Ray losing his position and the police starting an investigation into his activities. 
Renee will also be back in the second season to cause more trouble, having finally picked the side of her boyfriend (possibly husband now) and the father of her child, Frankie, who is out of jail and quickly starting up his criminal activities again. But this time around, Frankie has to contend with Osito (Estimond), his second-in-command who has wavering loyalties at the end of Season 1. Norwood is also returning as Detective Alan Saintille along with Tonya Glanz as Trooper Leslie Babcock, while Shane Harper, who was a main cast member of Season 1, will not be back, as his character Junior dies in the penultimate episode of the first season. 
There will also be a few additions to the cast in Season 2, with Luis Guzmán playing Frankie's cousin Jorge, Jona Xiao as Daisy, Charline St. Charles as Saintille's wife Henriette, and Dominic L. Santana as Chuleta, a man working for Frankie and Jorge as muscle (via Deadline). 
What will happen in Hightown Season 2?
Starz
In Season 2, Jackie is finally a real cop and she is intent on taking down Frankie, the man she blames for Junior's death. While Ray is not a police officer anymore, he still desperately wants to take down Frankie as well, and without the law to restrain him, there's no telling what he's willing to do to get the job done. 
According to the official logline, "Jackie finds a new partner in Leslie (Glanz), the only other female on the force. Through it all, Jackie must walk the tightrope of sobriety as she struggles to stay above an ocean of secrets, betrayal and the shame and failure of her past." Both Jackie and Ray are likely to let their emotions get the best of them, but hopefully they will be able to stay on the right path going forward. 
With his cousin Jorge by his side, Frankie is expected to reach "a new level of violence and chaos," but his path won't be so easy either. Although Renee seems to have chosen his side, she might start to regret her decision and use her close position with Frankie against him, while Osito is sure to mess things up for the drug kingpin and his plans.