The Surprising Matt Damon Dramedy That Inspired Shang-Chi's Character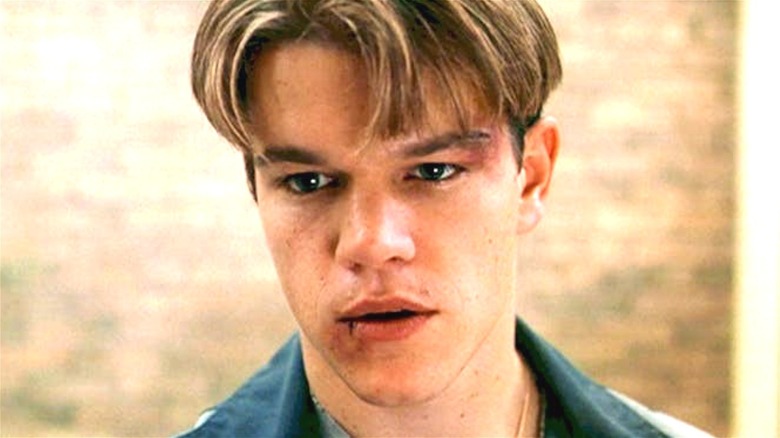 Miramax Films
When "Shang Chi and the Legend of the Ten Rings" premieres on Sept. 3, 2021, it will be the second overall film in Marvel's Phase Four, after "Black Widow," but it will also be arguably the most important Marvel film in the last several years. It's the first Marvel film with an all Asian and Asian-American cast, including Simu Liu, Awkwafina, Tony Chiu-wai Leung, Michelle Yeoh, and Benedict Wong. It's the first Marvel film that can also be classified as a pure martial arts film. On top of that, it has the task of introducing a new character and mythology that are both beloved among Marvel's comic book readers, but largely unfamiliar among non Marvel-heads.
If you number among the latter category, "Shang-Chi and the Legend of the Ten Rings" tells the story of a young man, Shang-Chi, whose father, Wenwu, trained him to become a martial arts master and assassin. In present day, Shang-Chi has tried to leave his past behind for an ordinary life in San Francisco.
Clearly, much is riding on Shang-Chi as a character. In a recent interview, director Destin Daniel Cretton talked about the films that inspired him while making "Shang-Chi." Naturally, many of his inspirations were martial arts movies, but there was one film in particular, starring Matt Damon, that Cretton relied on when designing his main character.
Shang Chi has a bit in common with MIT's smartest janitor
According to Cretton, there are parallels between Shang-Chi and "Good Will Hunting" main character Will Hunting (Matt Damon), the math genius from South Boston who works as a custodian at the Massachusetts Institute of Technology. Cretton compared the two characters in an interview with Entertainment Weekly. "The character of Will represents this mixture of masculinity and vulnerability," Cretton explained. "He also has a secret and a superpower that he doesn't quite understand and has not stepped into."
Simu Liu, who plays Shang-Chi, agreed with Cretton's assessment, adding that he personally relates to Shang-Chi as someone who wants to please his parents. "[Good Will Hunting] is all about a guy going to extreme lengths to hide who he is. He's a genius hiding in plain clothes," Liu said. "Shang-Chi is also somebody who is kind of putting on a mask day to day. It's about Shang-Chi learning that even though there is a prescribed destiny that his dad has bestowed on him, he can also carve out his own path. It's pretty Asian American."
Cretton and the producers reportedly considered "hundreds" of actors for the role of Shang-Chi. Many of them have incredible martial arts skills — Liu himself did a standing backflip at his audition — but Cretton was mainly focused on finding someone who could embody Shang-Chi as a person. To do this, he had actors audition with a monologue from "Good Will Hunting."
There isn't exactly a shortage of Marvel superheroes to root for, but everything Cretton and Liu are saying sounds like Shang-Chi will be one of the most unique among them. Get ready to meet him in just a few weeks.