The Ending Of Reservation Dogs Season 1 Explained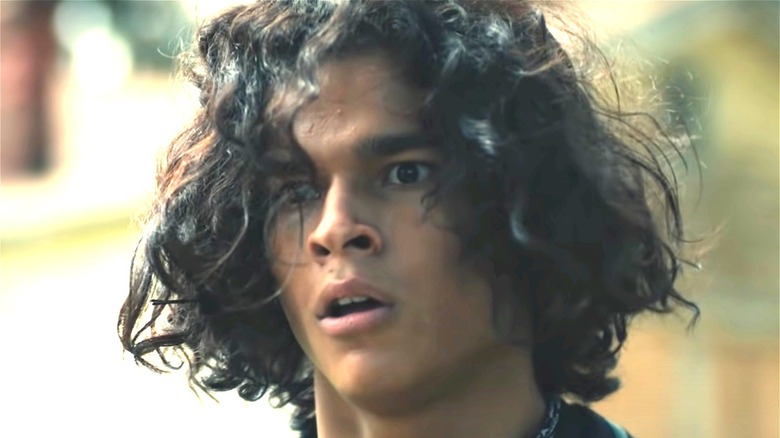 Hulu
Contains spoilers for "Reservation Dogs" Season 1 finale 
Season 1 of FX on Hulu's "Reservation Dogs" has come to an end, hitting notes both triumphant and touching as it closes the curtain on an incredible eight-episode run (thankfully, the show will be back for Season 2). Created by Sterlin Harjo and Taika Waititi, "Reservation Dogs" follows four Native teens living on a reservation in Oklahoma: Bear (D'Pharaoh Woon-A-Tai), Elora Danan (Devery Jacobs), Willie Jack (Paulina Alexis), and Cheese (Lane Factor). These friends are introduced as a wily group of thieves committing minor crimes in order to earn the money needed to flee from the confines of home. The show's focus eventually deepens, and we learn more about each character's family life, their dreams, and their various personal conflicts.
In the season finale, Bear, Elora Danan, Willie Jack, and Cheese are preparing to leave for California. The group's plans are derailed when Willie Jack reveals she wants to stay in Oklahoma, which leads to a fight between Bear and Elora Danan. The pair bicker about their reasons for leaving and whether they could legitimately survive on their own. Soon, a tornado threatens the town and forces the friends to seek shelter with other reservation residents to wait things out. As the day progresses, Cheese also reveals he wants to stay, Elora Danan ditches her friends and goes west with a frenemy, and Bear reconsiders leaving as he watches the dream he shared with his friends fall apart.
The group's California dream shatters as everyone tries to find where they belong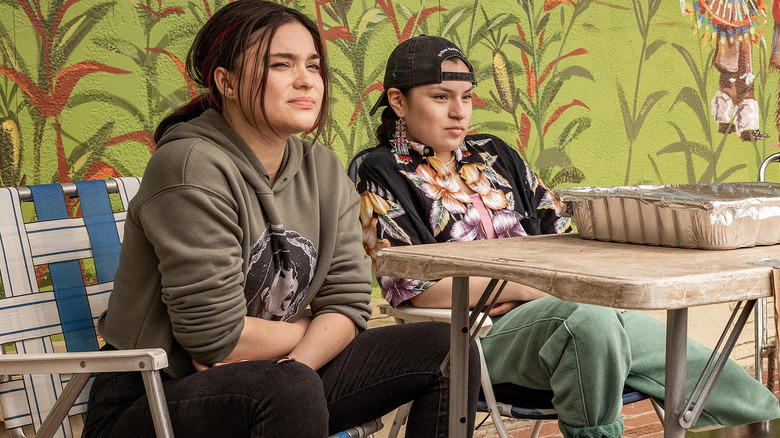 Courtesy of FX on Hulu
The group's plan to go to California falls apart early in the Season 1 finale. At the start of Season 1, Bear, Elora Danan, Cheese, and Willie Jack were all united in their mission to do whatever it took to get a fresh start in California. As "Reservation Dogs" dug deeper into this friend group, viewers began to see fractures that suggested they would not be leaving as together at the end of the season. Elora Danan's resentment over Bear's immaturity was perhaps the biggest hint the group would split up. It was also clear Willie Jack wouldn't leave after she and her father, Leon (Jon Proudstar), had vulnerable conversations about their grief over Daniel's (Dalton Cramer) death and Leon's belief that his daughter didn't need to leave home to feel fulfilled.
By the end of the episode, it's clear the season-long plan to leave Oklahoma is part of a bigger discussion "Reservation Dogs" is having about the idea of home. Where is home for these characters? How do they each define the concept of home? Can you ever feel at home when generational tradition and trauma both roots you to a place and makes you feel out of place? After watching so many around you struggle with the decision to stay in a place where your family and your culture lives, do you stay and make your home a better place, or do you leave and live on your own terms? These are questions Bear, Elora Danan, Cheese, and Willie Jack will have to answer.
Mourning Daniel's death leads to healing and personal revelations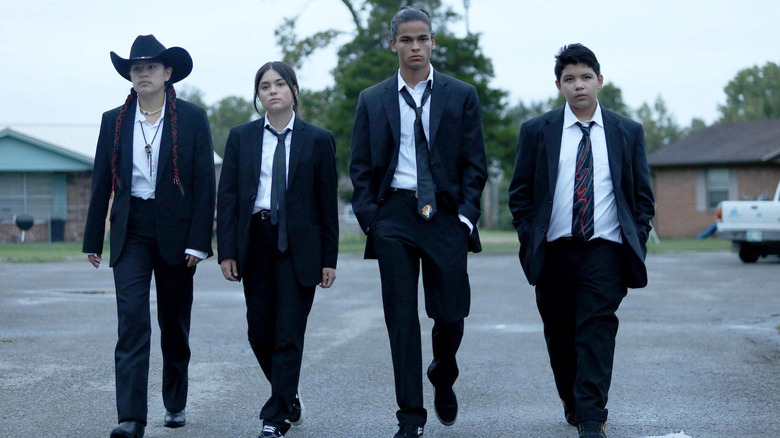 Courtesy of FX on Hulu
Bear, Elora Danan, Cheese, and Willie Jack were friends before Daniel's death, but it's clear this devastating loss has bonded them in a way they never expected. As Season 1 unfolds, it becomes clear that the group has not fully processed Daniel's passing and its impact on their lives and friendship with one another. It's evident in the way the foursome clings to the dream of going to California. Initially, it seemed like this escape plan was one born of a youthful, shared desire to leave the nest and go see what lay beyond the confines of their reservation. Later in the season, viewers learn this grand California plan was actually first proposed by Daniel. 
A year after his passing, the four friends are using his dream as a way to hold onto his memory and easily escape their problems at home. After working through their grief individually, the friends find the language to remember Daniel in a way that feels like actual progress has occurred. As they voice their pain, it becomes clear that their shared bond over California is impossible to maintain. Grieving the loss of Daniel and the impact of his absence is a turning point for Bear, Elora Danan, Cheese, and Willie Jack. From this pain, they'll be able to grow and perhaps even begin a new chapter in their lives.
If you or anyone you know is having suicidal thoughts, please call the National Suicide Prevention Lifeline​ at​ 1-800-273-TALK (8255)​.
Bear and his friends have unfinished business in Oklahoma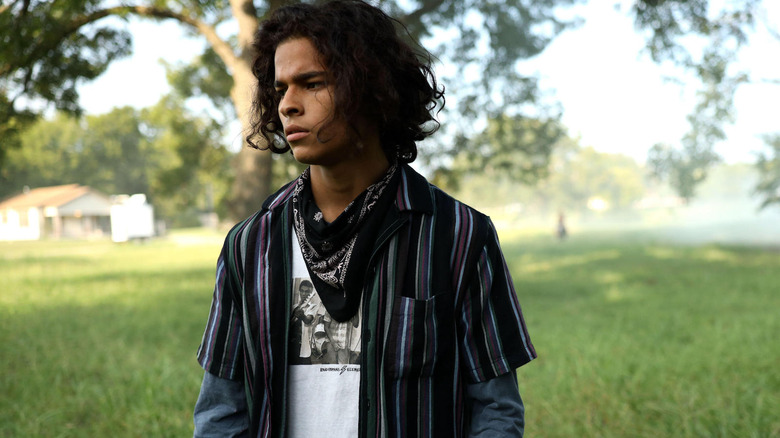 Courtesy of FX on Hulu
It's been said that a lot can change in a day. When it comes to the "Reservation Dogs" Season 1 finale, truer words have never been spoken. There is still plenty of unfinished business Bear and his friends have to deal with, as Spirit (Dallas Goldtooth) rightfully points out at the start of the episode. Bear takes this to mean he must deal with the new gang on the reservation that beat him up in Episode 2 and continues to menace the group.
But, as it turns out, Spirit's words prove to be uncharacteristically meaningful as the day progresses. It turns out that these four friends aren't as ready as they think they are to leave Oklahoma. Bear, Willie Jack, and Cheese accept that they will have to stay at home as they continue to learn life lessons and figure out who they are (Willie Jack and Cheese do this willingly, while Bear is forced to stay home when Elora Danan leaves with someone else). Although Elora Danan heads out to California, it's clear that she is choosing to run away from her problems, including her fractured friendships, rather than stay in Oklahoma and fix them. All in all, Spirit's enigmatic comment about unfinished business may have been a fun way to tease the next season of adventures for the Reservation Dogs, but it's also a reminder about how much growth is left for each character to experience.